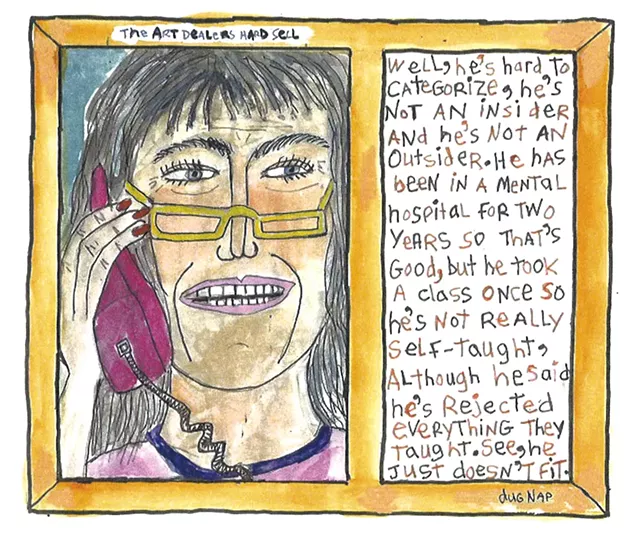 Artsy Fartsy by dug Nap, Fomite Press, 212 pages. $35.
The term "artsy-fartsy" is a fun, flatulence-inflected dismissal of the pretentiousness that can attend the art world. As such, it's an excellent choice of title for the debut book by Burlington artist dug Nap. For nearly three decades, he's been forging his own distinct, witticism-strewn path through a maze of collectors, gallerists, publishers and general characters. Now, he's telling us all about it.
Released by Burlington's Fomite Press in July, Artsy Fartsy intersperses 51 of Nap's color portraits with brief narrative descriptions written in his signature widely kerned, guileless font — which he has trademarked. Online, the book is classified as an "Odd Bird" title — one that "eludes the net of classification," Fomite cofounder Donna Bister explained in an email.
Like much of Nap's work, the book's content is drawn from his life. The cartoonlike painted portraits are visually and conceptually accessible and, at times, heartbreakingly funny in an off-color but on-point way. In addition to being autobiographical, Artsy Fartsy tells the story of its own creation, from Nap's first foray into art to his connecting with an editor and settling on a title.
"After i got fired i didn't know what to do with myself," the story begins. "i tried writing a play, but that seemed too hard. Then, after i quit smoking, i found something." In the plate that follows, a paintbrush-wielding hand renders a scene of a yellow bird sitting on a branch. Its cheeky, childlike caption reads, "Wow! This is real fun. I really like doing this. I think I'll be an artist!"
What ensues in the remaining 50 plates is a straightforward account of people (and "the cat") who approve or disapprove of Nap's career choice, as well as those who encourage or exploit his work. Some, like "Michelle — My Therapist," are mentioned by name, while others, like "Some Woman at the Show" and "Someone I Used to Know's Husband," are more vague. Those who have spent time in Nap's orbit, or even just in the Burlington area, will probably recognize a few folks in the book. (Seven Days shows up in Plate 45.)
Nap's portraits are remarkably candid, their descriptions sharp and deadpan humorous. They're also more "adult" than some of his cuter commercial works. "Isn't that humanly interesting, Frank?" asks one of Nap's "first fans" of another. "I'm a little drunk now but thanks for baring your soul to me," says "the curator."
Certain parts of Nap's texts echo in sentiment, if not in style, the textual paintings of pop artist Ed Ruscha, which emphasize the absurdity of marketing copy and art-speak. Like Ruscha, Nap seems to recognize that the silliest and most painful phrases do not need to be invented, only observed.
In illustrating the art world from a single vantage point, Nap succeeds in telling his own story clearly and honestly. Despite its satirical strains, this is not simply an anti-art art book. As he navigates a strange cacophony of people sharing — and sometimes shouting — their opinions, Nap captures much of what it is to be human.