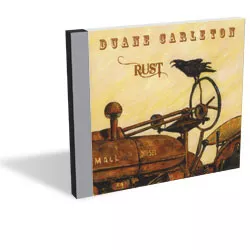 (Higher Road Records, CD)
The inside cover of Duane Carleton's latest record, Rust, on the panel opposite the album credits, presents a curious little statement. It reads: "Save a farm. Eat a hamburger. Save two farms … make it a cheeseburger." It's a funny line, in a mildly un-PC, bumper-sticker-wisdom sort of way. But it also illustrates the veteran songwriter's distinctly homespun worldview. Over the course of his 14 albums, Carleton has forged a reputation as a working man's hero. He's a blue-collar bard who fashions himself after the giants of the genre: Bruce Springsteen, James McMurtry and, in particular, early John Mellencamp — Cougar era, specifically. Heartland rock is well-traveled territory, to be sure. But the New England-born Carleton comes by his self-styled image honestly. And Rust is a ringing reminder that just because it's been done before doesn't mean it can't still be done well.
As a vocalist, Carleton boasts the requisite sandpaper growl one might expect from a journeyman country-rocker. I wouldn't be the first to draw a comparison to Gov't Mule front man Warren Haynes, and it's apt. There are moments throughout Rust that suggest he and Carleton were cut from the same cloth, vocally speaking. But what sets Carleton apart from the majority of swaggering, denim-clad tunesmiths is a surprising and sometimes profound sensitivity.
From the opening cut, "Walking Woodlawn," and throughout the bulk of the album, it's evident that beneath Carleton's gruff exterior beats the heart of a road-weary, lovelorn traveler. In particular, his searching ruminations in the title track are quietly beautiful, as he sings, "So go ahead, cry if you must. / Still, you'll feel it. You're losing your trust. / And everything is dying at the speed of rust."
Carleton is an equally impressive multi-instrumentalist, turning in tasteful performances on acoustic and electric guitars, lap steel, dobro, mandolin, baritone guitar, glockenspiel, and percussion. And his ace backing band, particularly pedal-steel whiz John Briggs, adds gorgeous atmospheric lines throughout. A common failing in electric Americana, especially with so many instrumental toys to play, is to overthink and overproduce arrangements, and that can smoothe out the rough-hewn edges that define the genre. Carleton suffers no such lapses. While not exactly sparse, his arrangements are purposeful and focused, allowing his considerable songwriting talents to take center stage.
Rust by Duane Carleton is available at duanecarleton.com.