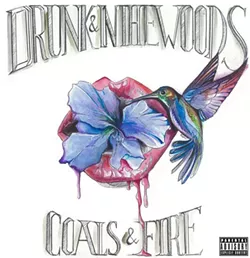 (Self-released, digital download)
Drunk & In the Woods are a Johnson-based sextet, led by front man and mandolinist Henry Clark. While Clark and five others form the core of the band, no fewer than 18 musicians appear on the group's debut, Coals & Fire. Appearing in similar quantity are the myriad styles that make up the band's sound: a fusion of jazz, funk, soul, R&B and bluegrass-informed Americana. Phew. If that sounds like an "everything-but-the-kitchen-sink" recipe, it is. Parts of the gang's debut show promise, while other spots warrant some polishing.
Coals & Fire opens with the spicy, trotting instrumental "Blue Sky Rapture." Lest you think you're in for an acoustic, gather-round-the-campfire good time, the tone suddenly shifts to late-night funk.
The electric-guitar-fueled "Can't Seem to Hear Straight" introduces us to the talented lead female vocalist, Emily Haley. Unfortunately, the band seems to be pushing the "sexy-funk" envelope a little too much. While Clark and Haley's dripping back-and-forth vocals aim for "come hither," it feels too forced, too scripted.
The band quickly bounces back with the slower, R&B-tinged number "Light Switch." When Clark and Haley strip away some of the drama and allow vocal lines room to breathe, their interplay works. Here, and on similar tracks such as "Short Lived," the harmonies are complementary rather than competitive. Haley's voice meanders like trails of cigarette smoke — teasing, nostalgic and seductive.
"Iris Rag" returns to the chipper acoustic tone of the opening track just before "Moonshine" abruptly brings a dose of Americana to the party. Banjo and fiddle provide the requisite amount of twang. It feels like Clark is indulging a personal whiskey-grass daydream, but it's a satisfactory barn burner.
More genre experimentation arrives with "Two Shoes," which swings with with trombone and upright bass. "Betwixt the Ways the World Turns 'Round" would be at home at a jazzy, mimosa-soaked brunch.
The closer, "Drinkin' Your Wine," opens with crashing glass and the sound of uncorking and pouring wine. Clark buoyantly sings of partying, and the band plays along. Drunk and in the woods, indeed.
Drunk & In the Woods' enthusiasm for different genres is apparent on Coals & Fire. But many sounds vie for attention, with the result that the band can seem overextended. Still, some of them are worth more exploration. With the right setting, Haley's soulful vocals could launch her to queen status in the Vermont funk scene. As a bandleader, Clark's energy and varied taste is abundant. If he can channel his appreciation for diverse genres into a more coherent sound, Drunk & In the Woods will make their mark.
Drunk & In the Woods' debut album, Coals & Fire, is available at drunkandinthewoods.bandcamp.com.