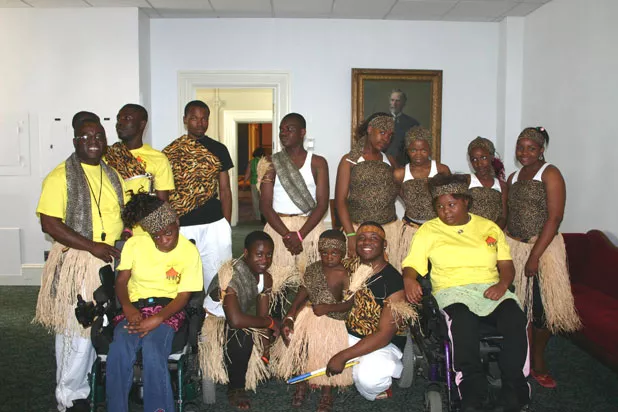 Grass skirts and faux leopard skins from Wal-Mart are among the props Lusenge Siriwayo uses to transmit the Congo's culture to his children in Winooski.
The costumes are worn by the dozen or so Siriwayo family members who form the core of Ngoma ya Kwetu (Swahili for "Drums of the Homeland"). The 3-year-old African singing, dancing and drumming troupe recently received a $2750 grant from the Vermont Arts Council that will enable it to purchase more instruments for its performances this summer at various Vermont venues, including the Burlington Farmers' Market.
"I learned this from my elders," Siriwayo, 52, says in the basement of his Winooski ranch house as he taps on a djembe, an African hand drum. "And now I'm teaching it to my kids so they won't forget where they came from."
Siriwayo's six children, ages 15 to 28, fled to the United States in 1999 along with their mother, Françoise Nzoli Kahindo. "Living in Vermont since that time, they're beginning to lose their languages," Siriwayo laments. His children spoke Swahili, French and Kinanda, a local tribal language, while growing up in the Kivu region of the Democratic Republic of the Congo.
Being part of the family-based troupe "does make me feel connected to my culture," says Makasi Siriwayo, a 21-year-old son home for the summer from a design school in Utica, New York. Speaking without a hint of an African accent, Makasi adds, "My ancestors used to do the same kind of drumming and dancing. There's a lot of African influence in the music and dance here in the U.S., and now I feel more aware of that."
Some Vermonters are so taken with Ngoma ya Kwetu's kinetic performances in schools and at festivals that they inquire about learning to play the drums, as well as the ndara, an African xylophone. But the elder Siriwayo tells them apologetically that he doesn't have time to give lessons. In addition to rehearsing his troupe two weekends a month, he works part-time as a caregiver for the Visiting Nurse Association and studies accounting at the Community College of Vermont.
A short, muscular man, Siriwayo frequently flashes a bright smile - even as he relates the harrowing circumstances that brought him to Winooski.
He left his family's farm as a teenager to study at a university in the Congo's Equator Province and later landed a job with the United Nations. After working for 20 years as a U.N. project manager in West Africa and Haiti, Siriwayo returned with his family to his native Kivu region in the late '90s. He soon got caught up in the political and ethnic convulsions that have roiled much of Central Africa since the Rwanda genocide of 1994.
Siriwayo was abducted by a local militia that assumed, incorrectly, he must be engaged in some form of espionage because of his association with the U.N. He was held incommunicado for three months at a camp 200 miles from the nearest town. Siriwayo says he wasn't mistreated, however, because the leader of the militia had been a friend of his in high school.
He eventually escaped and walked four days through the bush until he encountered a group of missionaries, who helped him return to his home. But meanwhile, thinking he was dead and fearing for their own safety, Siriwayo's family had fled the Congo without telling friends and relatives where they were going. He did not know that his wife and children had been granted political asylum in the United States.
Through his U.N. contacts, Siriwayo made his way to Haiti, where he lived from 1999 to 2001. He finally learned of his family's whereabouts and was himself admitted to the U.S. as a refugee.
Siriwayo now serves as a director of the Association of Africans Living in Vermont. It was through this organization that he recruited a few other young Congolese refugees to join Ngoma ya Kwetu. The troupe will include another new member this summer when it performs traditional dances such as "The Crowning of the King." Four-year-old Bila, one of Siriwayo's two U.S.-born grandchildren, will be swaying, stomping and singing along, perhaps barely realizing that he embodies a vital link between Winooski and the culture of the Congo.