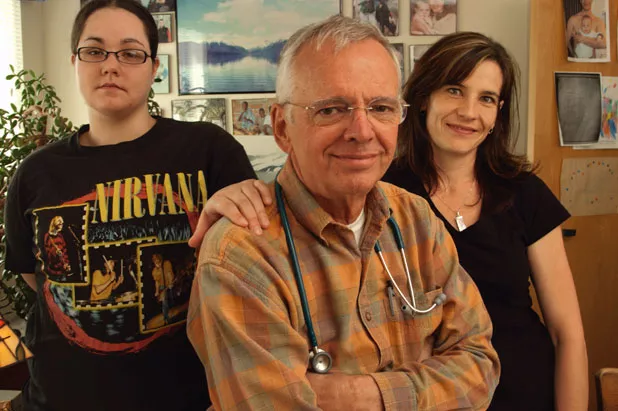 Katie Tanner, Dr. Fred Holmes, and Nicky Hayden, LPN
It goes without saying that in devoting his entire State of the State address to the "crisis" of opiate addiction, Vermont Gov. Peter Shumlin was changing the subject.
"The state of our state is strong and growing stronger," he said. Jobs are coming back; house prices are up; unemployment is low. "Most people" he meets "are hopeful and optimistic."
In fact, Vermont is in a stubbornly sorry state. Yes, jobs are coming back, but largely in low-wage sectors such as service and retail. Housing is unaffordable to many, so homelessness is rising. Unemployment is down because workers are giving up looking for jobs and dropping out of the labor force.
Optimistic? You tell me.
It's understandable that the chief of state would like us to think about something else. But if you're going to drag attention from the sickly elephant in the room, you've got to choose your distraction carefully. You must win not just the minds but the hearts of the public. You must, in short, scare the bejesus out of them.
Your plague of choice must be big and growing. A 770 percent increase in this, a 250 percent rise in that — Shumlin ticked off the statistics.
To solve the puzzle of a massive problem that almost no one has noticed, you should describe the scourge as clandestine — opiate addiction is "bubbling just below the surface."
Besides invisible, it must be stealthy and tenacious. "Addiction comes at people insidiously," the governor said. Before you know it, recreational drug taking "devolves into an uncontrollable, unrelenting addiction … a lifetime battle," sometimes to the death.
Incomprehensible, amoral, stronger than human will, the enemy must strike at the innocent and defenseless — "our children," "Vermont families" — and strike indiscriminately. At his speech, Shumlin showcased Dustin Machia, a recovered addict and prominent subject of The Hungry Heart, Vermont filmmaker Bess O'Brien's doc about St. Albans pediatrician Fred Holmes and the opiate-addicted kids he treats. Dustin is the handsome son of a loving farm family. The governor also mentioned Will Gates, a University of Vermont science major and skier, "born to opportunity," dead of an overdose. Heroin — in a phrase that could have been plucked from Reefer Madness — "stole Will."
But the most important criterion for a politically profitable crisis is this: Culpability cannot reside anywhere near you or your policies.
Among blame-free catastrophes, natural disasters can't be beat. Terrorism and pedophilia run close seconds. But for reliable bipartisan panic production, you can always count on drugs.
Drugs are firewater to the Native Americans, syphilis to the upstanding soldier, a moral and physical contagion smuggled into Eden — from "Boston, New York, [and] Philadelphia," said Shumlin. Drugs are the Other. They are not "our" fault — or, if you're the governor, not my fault.
Or so he'd like us to think.
To begin with, as Seven Days reporter Mark Davis wrote recently, that galloping epidemic is hyperbole at best. The nearly eightfold increase in addicts showing up for help in getting clean is "attributable not just to a surge in demand … but also to an increased supply of treatment" in the state. In plain numbers, the doubling of heroin deaths in 2013 — from nine to 17 — is matched by an almost identical drop in prescription opiate fatalities, from 46 to 39. And all those break-ins and thefts, the crimes addicts commit to fund a fix? These, too, "have steadily declined in Vermont since 2008, according to federal statistics."
As for dealing and possession, Max Schlueter of the Vermont Center for Justice Research told Davis that drug arrests reflect enforcement activity: "They aren't a measure of actual crime."
In fact, national and global data show that if there are now more prescription painkillers on the street, they've simply replaced other drugs. Heroin gives way to cocaine, crack to meth. And over the long term, the percentage of addicts in a population remains steady, closely correlated with mental illness.
Opiate addiction is not a gangsta-mobile from Philly parked outside the barn. According to a 2006 report from the University of New Hampshire's Carsey Institute, in virtually every category of illicit drugs, abuse among rural people ages 12 to 25 equals or exceeds that of their urban counterparts. Less educated and unemployed youth turn to heavy substance use the most. And country kids drink more and start younger than kids in the city; Vermont ranks high in underage alcohol consumption.
Maybe the heroin syringe is not a common sight in the households of farmers and foresters. But Mom and Dad getting shitfaced on a case of beer every Friday night is an indigenous custom.
A kid who takes a snort in the schoolyard is not destined for the shooting gallery, or an early grave. The influential work of New York City researcher Charles Winick in the 1960s uncovered what he called "maturing out" — the common cessation of drug use between the ages of 20 and 30, not by death but by quitting. Subsequent research yields a complex picture of an opioid user's career. According to University of Glamorgan (Wales) criminologist Trevor Bennett, "It usually takes more than a year to become addicted and … even when addicted, the opioid user is frequently able to control his or her habit." Although it's not easy, people stop for various reasons — from the departure of the lover who supplied the drugs to an intolerable weariness with the constant, arduous, often-criminal pursuit of the high.
Of course, if narcotics were decriminalized and the core population of congenital addicts maintained with substitute medicines, the profits would disappear, and with them the costs and crime required to feed a habit.
"Recovery" — the word used to describe what the kids in The Hungry Heart are engaged in — implies a return: to safety, to health, to home and people who care for you. But, aside from Machia and a few others, the teenagers in this film started out with none of these, or lost them early, and repeatedly. Child after child speaks of emptiness, pain and a sense of worthlessness. Drugs "made me feel like a human." "That hole got filled up." "It was the only thing that didn't betray me." One young woman holds up a sign printed out for Holmes: "Fred's Kids." She says, weeping: "I was never anybody's kid."
Given the circumstances, painkillers, though not a healthy choice, are a rational choice.
The Hungry Heart is heartbreakingly intimate. But it drives home a bigger point: Addiction is a disease; it alters the brain and body. Stigma is cruel, criminal punishment counterproductive, and treatment is desperately needed. As for prevention, the few intact families interviewed stress keeping a close eye on your kids and talking a lot about drugs.
But Holmes and the experts whose interviews are posted on the film's website express another, more damning message. These young people need more than medicine and counseling. They need education, housing, jobs, food and money.
In other words, addiction is a disease. But, as with tuberculosis or malaria, social factors make some people more susceptible and some more resilient; social factors are critical to a cure. A massive, early-1970s study of returning Vietnam Army vets found that almost half the soldiers used opium or heroin while deployed; 20 percent were addicted. But a year after coming home, only 5 percent were still using. The vast majority quit without treatment or abstinence. What happened? They no longer needed to numb themselves. Now they had families, jobs and homes. Lives.
People need a reason to get clean. In the film, one boy, 18, skinny and homeless, arrives at the doctor's office on a bike that's too small for him; he is traveling to manhood on a beater of a childhood. "What's to make him keep trying?" asks Holmes, who keeps helping the boy to try.
Bob Bick, the HowardCenter's director of Mental Health and Substance Abuse Services, tells O'Brien these teens' addiction is the community's failure.
I'd put it this way: Addiction is a political failure, an economic failure.
Addiction "comes at people," Shumlin said. But watching The Hungry Heart, you can't help but feel that some people have been on a forced march toward addiction since the day they left the cradle. What put them on that path may be DNA or mental illness. But what vigilantly foils escape is income inequality coupled with social-service cutbacks — a growing governmental indifference to human need, couched in false claims of economic scarcity.
That state of the state is failing. It is afflicted by growing epidemics — poverty, hunger, homelessness and joblessness. Opiate addiction is not the illness. It is a symptom. When children are dying of a preventable disease in a wealthy state in a wealthy nation, it's not just "the community" at fault. The people elected to lead are to blame.