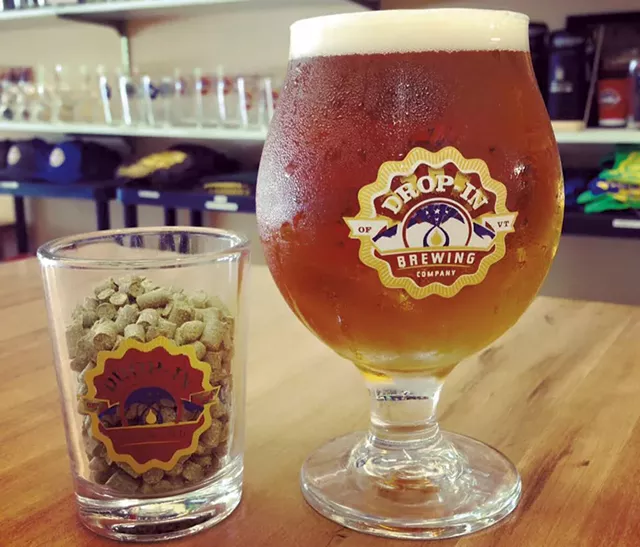 Fans of Middlebury's Drop-In Brewing have a reason to raise their glasses. "We managed to clear all hurdles to serve beer in larger amounts than we were before," says cofounder Steve Parkes. He's talking about Drop-In's new first-class liquor license, which will allow the brewery to serve pints on the premises.
"When we began, we were mostly focused on beer education, using the tasting room to give samples and, of course, selling our bottles," Parkes continues. "As time went on, people started saying it would be great to have a glass of beer on-site after tastings. I thought, Hey, that's actually a nice idea."
Parkes and his wife, brewery cofounder Christine McKeever-Parkes, obtained a license from the state and, on August 24, the team started serving full pints in the brewery's tasting room.
A partnership with Drop-In's neighbor, the Grapevine Grille, ensures there's plenty of beer-centric fare on offer. Think spent-grain crackers, beer-pairing cheese boards, chocolate cake made with Drop-In's Heart of Lothian, and shrimp steamed with Old Bay Seasoning and a brew called Sunshine and Hoppiness.
The tasting room's vibe will remain "eclectic," says Parkes, with mismatched tables, chairs and sofas providing extra room to lounge with a pint. A guitar, microphone and amp will be plugged in, continues Parkes, "just in case."
Also exciting, he notes, was the arrival of Drop-In's new canning machinery last Thursday. In keeping with the brewery's initiative to "serve beer in larger amounts," Parkes hopes cans of Heart of Lothian and Sunshine and Hoppiness will hit shelves by early November.