Caleb Kenna
Outdoor dining at Lake House Pub & Grill
For 80 years, the Lake House Pub & Grille has been Lake Bomoseen's premier waterside dining spot. New owners gave the time-honored space an extensive renovation in the spring of 2016. That May, it opened doors with a new-and-improved take on summertime noshing worthy of the restaurant's main attraction: spectacular sunsets over the lake.
Caleb Kenna
Lobster roll
The Lake House is not just lake-adjacent; its back patio extends to a trio of docks right on the water. Boaters can tie up and come ashore for frozen margaritas and housemade pulled-pork sandwiches.
Inside, an oar mounted over the sanded wood bar continues the nautical theme. Wide windows glaze the room in light, a boon for the dining room and bar seats if the patio's packed. A pounded-brass "EAT" sign whets appetites for elevated surf-and-turf fare from executive chef Jon Gatewood — who helms the locally acclaimed kitchens at the Dorset Inn and Barrows House. Chef de cuisine Kraig Willis, a Rutland local, takes charge of daily operations.
3569 Route 30
Rutland/Killington
Bomoseen, VT
802-273-3000
American (Traditional), American (New) and Pub Food
After a sun-soaked day on the lake, diners tuck into summer classics such as clam "chowda," baskets of fried clams, fish and chips, and buttermilk-breaded popcorn shrimp. Landlubbers can opt for chicken quesadillas, Cobb salads and grilled steaks with maple-bacon jam — or hearty prime-rib dinners on Friday and Saturday.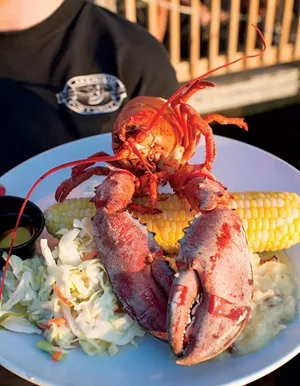 Caleb Kenna
Lobster
Wednesday, however, is dedicated to "lobsta": whole lobsters, twin tails and luxurious "lazy man" (no shells, just meat) crustaceans sided with butter. Bar manager Colleen Cushman keeps the mood buoyant with local beer, spirits, and housemade syrups and sangrias.
A well-made Painkiller cocktail of rum, coconut cream, pineapple and orange juices, and nutmeg dust is a beautiful thing in the August heat. Summer lovin' like this will carry anyone through long-underwear season.