17 slides
Hang around the taxi stand at Burlington International Airport and you'll observe a slow-moving parade of modest sedans and minivans, each adorned with a simple appliqué logo. As their cars inch forward to collect just-arrived travelers, the cabbies chat, smoke and josh with each other, pausing only to dash off for a sandwich from the Aviation Deli on Airport Drive. It's a convivial scene.
Most of the drivers are male and have a cartographer's grasp of local roads. Ethnically, though, they're quite diverse, hailing from Morocco, Ethiopia, Iraq, Tibet and other countries; several are lifelong Vermonters.
Similarly varied are the cabbies' opinions about the taxi business in Burlington since Benways closed its doors last month. Some see it as an opportunity to expand their small companies. Others are worried about the future of the local livery business, as web-based car services such as Uber and Lyft set their sights on Vermont.
Seven of them took time to tell us about the fare trade.
Matt Kelsh
Owner-driver, Majak Taxi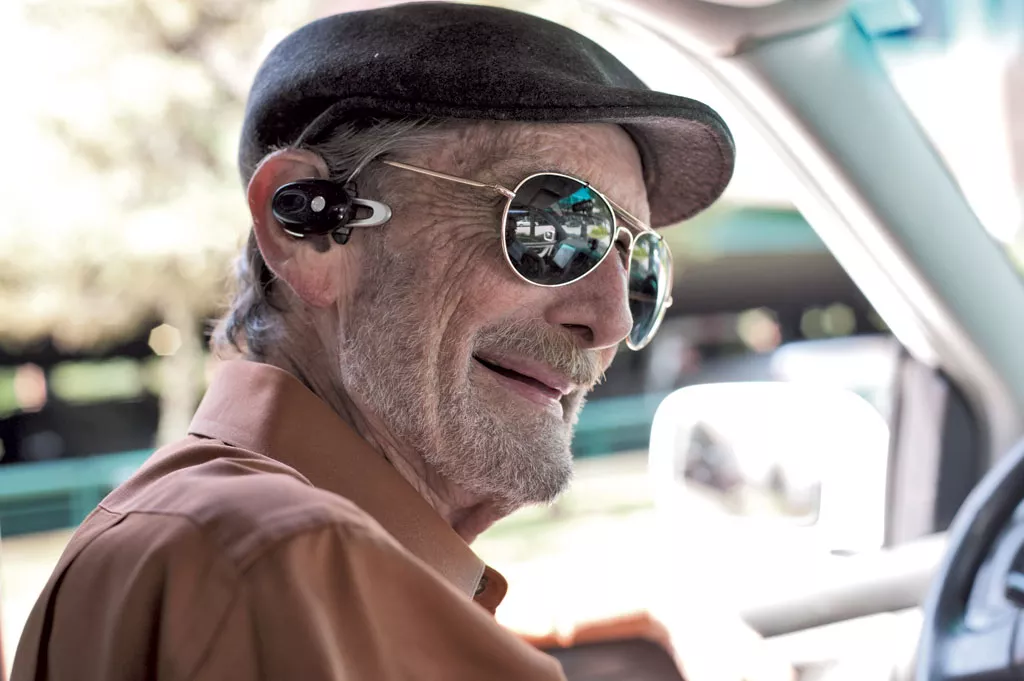 Natalie WIlliams
Matt Kelsh
Matt Kelsh, 70, is the owner and sole driver of Majak Taxi, a company he's run since 2001. Prior to that, he drove for Benways for about seven years. He's friendly and happy to chat, welcoming Seven Days into his idling minivan.
Like every cab company that dispatches vehicles to the airport, Majak pays an annual $500 per-vehicle fee for the privilege of queuing up in the waiting area. Kelsh says the surcharge is a worthwhile expense. "I like this clientele," he says. Paying for airport privileges "offers an opportunity, generally, to get different places than you might ordinarily get working for a fleet company."
The downside is that airport taxis live and die by the volume of air traffic at BTV. When bad weather cancels flights — and Kelsh estimates that this year's winter weather cut air traffic by 25 percent — taxis take a hit, too.
Still, Kelsh will take the airport any day over the downtown bar scene. "I don't have too much interest in hanging around with drunks all night," he says with a laugh. "Having them throw up in my car is not high on my list."
Much of Majak's business comes from what he calls "steady Freddies," for whom calling a cab means calling Kelsh. Partly for this reason, he hasn't noticed a big uptick in business since Benways shut down. "I've had a few phone inquiries, and some of them have come from referrals from Benways drivers," he says. "But for the most part it wasn't an overwhelming thing."
Kelsh figures that some of the bigger local taxi services — he names Green Cab, Dunwright and Quik Cab — are "the ones who are probably going to benefit the most."
Over the last eight years, Kelsh says, he's seen a major increase in the number of independent taxi companies at the airport, a fact he attributes to the overall economic recession rather than to the departure of Benways. During every economic downturn, Kelsh says, "You'll see an increase in the number of taxi drivers around town. There's a real simple reason: It's an easy way to employ yourself while other employment opportunities are rather diminished."
Robert Burnor
Driver, Blazer Transportation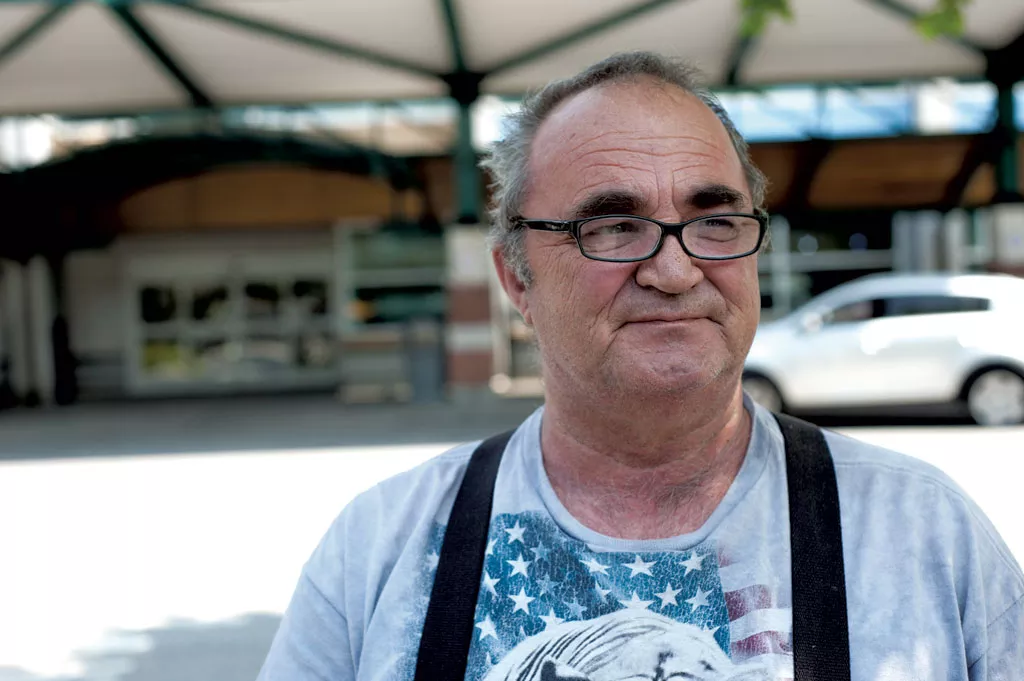 Natalie WIlliams
Robert Burnor
Many of Vermont's airport taxi companies are one-man shows, but a few of them operate modest fleets. At any given moment, you'll find at least a couple of Blazer Transportation vehicles in the queue. The Burlington company employs 10 drivers, all of whom pilot gleaming-white SUVs; it offers, among other flat-rate packages, a $65 shuttle between BTV and Stowe.
Blazer's website — which is somewhat of a rarity in the Burlington taxi business — boasts that its meter rate is the "cheapest around."
Robert Burnor, 56, of Waterbury, has been driving for Blazer "off and on for about 15 years." Before that, like so many other veteran drivers, he worked for both Yellow Cab and Benways. Though he's a part-time driver, Burnor says he'll go where the fares ask him to — he once slogged his way in a snowstorm from Vermont to downtown Philadelphia, earning a $100 tip on that $800 fare.
Burnor says unequivocally that Blazer's business has improved since Benways called it quits. Requests for rides to and from the airport are up, he says, as are "city calls."
"We're kind of picking up the slack," he says, estimating that business has doubled since June.
Burnor points to another, less measurable change in that brief period of time. "People are more polite compared to what they used to be," he claims. His theory is that Benways drivers had a tendency to be rude, and the company's still-extant Yelp reviews appear to confirm that. Now that passengers no longer encounter those drivers, Burnor claims, manners have improved all around. It's an unsubstantiated claim, but one echoed by at least one other driver, Burnor's young colleague, who was also waiting at the airport for a fare.
Another Burnor observation: Benways' cabs used to occupy a lot of prime downtown parking spaces. With their cabs out of the picture, he says, negotiating downtown streets and parking areas is easier. "Now that they're gone, we got a place to sit," he says.
Addisu Eshete
Owner-driver, Bella Taxi
Natalie WIlliams
Addisu Eshete
Back in his home country of Ethiopia, Addisu Eshete ran a drivers' training school. When he arrived in Vermont in 2007, he went through a few short-term jobs before once again finding vehicular employment. Eshete is now the owner of and sole driver for Bella Taxi, which he incorporated in 2008. Several of his countrymen have followed him into the business.
Eshete doesn't think the local taxi business has changed much since he founded Bella, though he does acknowledge a small increase in business since Benways closed. "Maybe the lines move a little faster now," he says, referring to the queue at the airport.
Like many other sole owner-operators, Eshete depends on a small group of consistent customers who call him when they need a lift. He estimates that he has about 15 or 20 such regulars, and he'll work even on his one day off to meet their transportation needs.
Like several other drivers who spoke to Seven Days, Eshete says he prefers the airport gig to plying his trade downtown, and he views the $500 fee as a worthwhile investment. "If you go downtown right now, it's very hard to get to the corner, you know?" he says. He prefers to line up at the airport and take his chances scoring a longer-distance fare, even if that means waiting for an hour or two.
Still, too much waiting around, Eshete admits, can add up to a major liability. BTV is a small airport with a relatively modest passenger volume. According to Caroline O'Reilly, senior manager of communications and marketing for Airports Council International-North America, BTV ranks 94th among U.S. airports for passenger volume; in 2013 it processed 1,182,539 travelers. By comparison, in the same year, Atlanta's Hartsfield-Jackson International Airport — the busiest airport in the nation — processed 94,430,785 passengers.
Eshete says it's not uncommon to work the airport shift all day long and only pick up five or six fares, at "eight or 10 dollars" a pop. If most of those fares wind up being shorter rather than longer, more lucrative hauls, the day's profits take a hit. Razor-thin margins are a way of life for independent cabbies in the Burlington area.
Youness Jamil
Owner-driver, Star Cab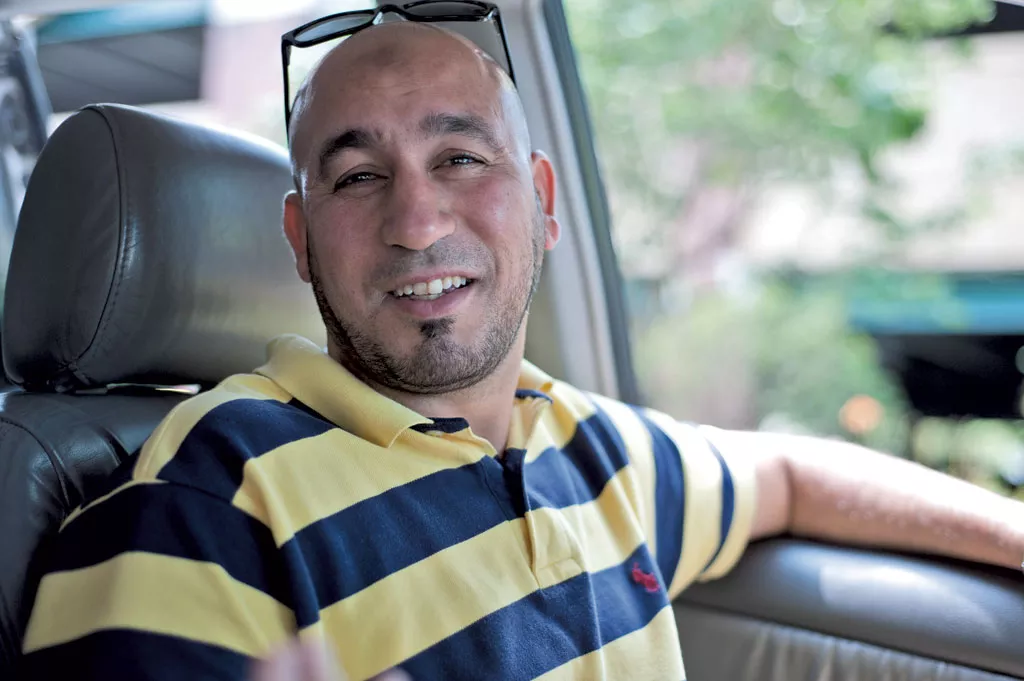 Natalie WIlliams
Youness Jamil
Youness Jamil's amiable demeanor suggests he has experience with customer relations, a fact borne out when he relates his backstory. In his native Morocco, the 43-year-old was a tour guide of historic sites. Upon arriving in Vermont, Jamil found work as an IT professional, but, in 2008, rejoined what is effectively an arm of the hospitality industry by founding Star Cab. He enjoys introducing visitors to his adoptive home.
"We used to have four employees, but now I am a one-man show," he says with a laugh. He says he had a few drivers who proved unreliable. Despite that recent reduction, he says, "Business is booming. It's fantastic." Star receives many calls, Jamil says, from hotel guests, tourists and steady customers — enough that he's seriously considering adding another vehicle or two.
He'd maintain a presence at the airport, Jamil explained, while stationing Star's second vehicle in the downtown area. "So when I'm really far away, I can call the other driver to pick up my business," he says. "You know, cover all the bases ... But finding a good driver is always a challenge."
With his tech background, Jamil clearly understands the importance of creating a favorable online impression; he speaks proudly of his website, and of his company's presence on Google and Yelp. He's surprised that so few of the smaller local cab companies can boast the same. "They don't want to pay for advertisements, but it's worth the money," he says.
Jamil doesn't seem to miss Benways much. He says some of the company's cabs weren't clean and the drivers were "sluggish" and unhelpful. But, he says, "We really need more cabs here."
Even the recent proliferation of independent taxi companies, Jamil says, has not been sufficient to handle passenger demand, especially when festivals or other major events happen in town.
Is there room in Burlington's market for even more taxi companies? Jamil responds without hesitation: "Oh, definitely."
Mesfin Tessema
Owner-driver, Abbey Taxi
Natalie WIlliams
Mesfin Tessema
When he's not in the airport queue, Mesfin Tessema works a job at IBM — and has since 1999. A native of Ethiopia, he refers to his part-time driving gig as a "secondary job" to help pay the mortgage. He owns Abbey Taxi and its sole car, but just a month ago hired his first employee.
Like many other local drivers, Tessema has a connection to Benways. He worked there, he says, "to see if I could become a taxi driver." He stayed three weeks. After learning the business and the local geography, he decided to go it alone.
Unlike a lot of other cabbies, however, Tessema bears no ill will toward Benways. "I feel so bad for the owner when I saw that she'd closed," he says. Tessema claims the company's closure hasn't boosted his business, since, as an airport regular, he never really competed with the larger company for the downtown market.
His biggest worry is that Uber and its ilk might set up shop in Burlington. "That's a very scary thing," Tessema says, though he admits he's not as knowledgeable about the potential competitor as he should be. With his IBM job taking the majority of his working hours, Tessema knows that at least he has an "out," which is not the case with every local cabbie.
Plenty of IBM workers these days are looking for an out, too.
Stanley Barnes
Driver, J.J. Transit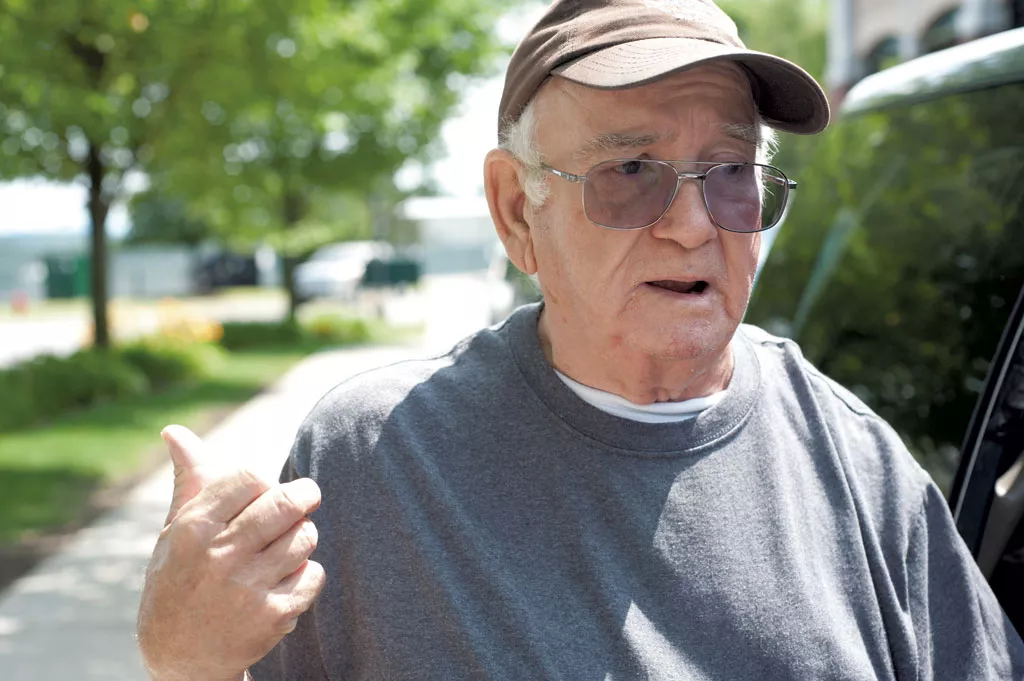 Natalie WIlliams
Stanley Barnes
Stanley Barnes has been driving a Vermont cab for more than half of his 80 years — 49, to be exact. More than one other cabbie referred to him as an authority on Burlington's taxi business. He's BTV's gravel-voiced, cab-driving éminence grise, and he remembers when the fare from Burlington to Essex Junction was just 85 cents.
"I tried retiring last September," Barnes says. "My retirement lasted 12 days, 'cause I got sick of watching 'The Price Is Right.'"
Barnes is somewhat unusual, though, in that he drives on a contract basis. He used to own his own cab, but at the moment he drives for J.J. Transit, a small outfit affiliated with Everywhere Taxi of Vermont. He achieves a certain degree of independence by leasing his cab from J.J. and sticking to the airport run, which permits him enough free time to "play the horses" and visit casinos. (He once took a fare all the way to Washington, D.C., but calls the trip a bust because he lost much of his earnings in Atlantic City on the drive back.)
Barnes currently maintains a regular, nine-to-five workday, and he likes it that way. At the same time, he seems game for a little industry disruption. He's been talking with Uber. "They want me to do some contract work for them," he says. Barnes is opposed, though, to Uber's business model, noting that the city's taxi regulations mandate the use of a meter, a device Uber eschews. (Seven Days reporter Alicia Freese asked Barnes to expand on his comments about Uber, but he declined.)
"Things definitely have changed," Barnes says, describing some of the people in the local industry as "a little bit more greedy now. It's always been like that, but it's getting to be more and more so, because everybody is wanting a piece of the pie here."
Farkad Abdulrazak
Owner-driver, 89 Taxi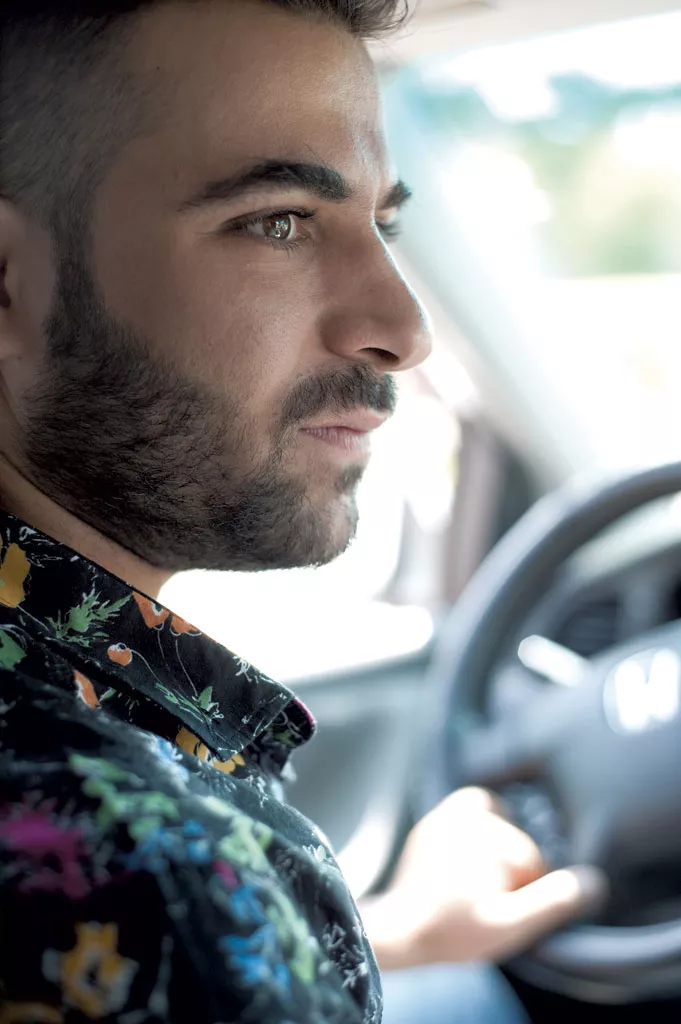 Natalie WIlliams
Farkad Abdulrazak
Iraq-born Farkad Abdulrazak, 27, is younger than most of the taxi drivers who spend their days at Burlington International. And he's web-savvy. He changed his company's name from Ali Baba Taxi because "89 Taxi" yielded more favorable returns in Google searches. In the coming months, he plans to do more online marketing and to add vehicles and staff to what is now a three-car, three-driver operation.
89 Taxi bills itself as airport-to-airport conveyance, but Abdulrazak only pays the $500 annual airport fee for one car to sit in the line at BTV. The company's website suggests the other cars are running regular routes to Manchester-Boston Regional Airport in New Hampshire and New York's Stewart International and Maine's Augusta State airports, among others.
Abdulrazak isn't daunted by the emergence of such companies as Uber and Lyft. Rather, he looks forward to joining forces with them. "When the right time comes, we can work with them. Why not?" he says. About Uber, he says, "I think it's going to be fair to everybody. Whoever's closer gets the call."
Another potential advantage in working with Uber: He won't get stiffed anymore — a pretty significant problem, according to Abdulrazak. He believes working on contract for Uber, which requires payment online, will minimize some of the risk in his business.
Abdulrazak thinks that Burlington's taxis could be better regulated. He believes that the ease with which "anyone" can become a cab driver here has splintered and destabilized the industry — a situation exacerbated by the closing of Benways.
But Abdulrazak doesn't seem worried — after all, he says, 89 Taxi's business has increased 50 percent since the demise of Benways. "The market will fix these issues," he says.
The original print version of this article was headlined "Around the World ... in Seven Cabs"