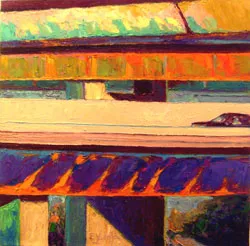 "Wedge Way" by Robert Chapla
Billed as a "group show exploring moments of navigational confusion, uncertainty and chaos," the exhibition "Lost in Traffic" at Studio Place Arts in Barre sounds disorienting. But it's more of an artistic survey of roads, maps and vehicles than a journey into "The Twilight Zone." The show's 14 selected artists easily negotiate several different media and seem to know exactly where they're going, at least aesthetically.
Robert Chapla now lives in Newbury, Vt., but the recent transplant from California retains his West Coast influences. Wayne Thiebaud's luscious paint and Richard Diebenkorn's geometric approach to abstract landscapes can both be seen in Chapla's canvasses. Chapla's bright, raw colors, however, are his own. "Wedge Way" is a lush, 24-by-24-inch abstraction of highway overpasses described in orange, purple and variations of beige. The top half of a car is seen at right, almost hidden amid Chapla's decisive brushwork and patterns created in the shallow space.
"Directed Crossings" is a 36-by-48-inch piece with a similar theme and equally vibrant hues. It has a more traditional, deeper space than that found in "Wedge Way," with naturalistic details such as a blue sky and scruffy grass. Both of Chapla's oil paintings are dated 2008 and resemble vistas from Orange County, Calif., not Orange County, Vt.
Maggie Neale's "Intersection" is another painterly abstraction. The Montpelier artist's 20-by-20-inch oil with collage elements includes Vermont maps. Barre appears in the center of the piece, while pictured below is collaged traffic from a 1960s European metropolis, complete with yellow, double-decker buses. It's as if this little corner of New England had a cosmopolitan flair and proximity to the wider world.
Digital photography in this exhibition includes ink-jet color prints by Gary Miller. "Coolidge" and "Bottle" are up-close details of dilapidated store signs from a seedy part of town. In "Bottle," the red sign with white letters, probably from a liquor store, looks particularly shabby with its neon tubes exposed to daylight. Miller's composition is strong and angular. "Coolidge" depicts a round, white-on-black painted sign for Coolidge Cleansers, a vintage dry cleaner. "Go Greyhound" features the fast dog on the side of a bus. Out of context, it's a striking pop image.
John Brickels' "Steam Punk Cycle" is an old tricycle altered and built up with clay. The title is a reference to fanciful variations on Victorian-era technology. Brickels is known for making clay robots, and one can imagine a robotic tyke loving this trike, with its clay rivets and strange mechanical details.
Montpelier artist Eric Zency's "Site 3" is an assemblage of nine vertical, 4-by-48-inch strips of wood, these wrapped in the sliced-up site map of a road project. Zency organized the assemblage into a minimal yet sturdy composition based on bold graphics that seem to march across the mostly white space.
Jessica Hatheway Scriver presents three 12-by-12-inch, mixed-media paintings from her "Healing in Paris" series, each with a map of that city superimposed on it. One is blue with an anatomically correct heart at its center, another is yellow with the palm of a hand, and the third is green with a brain. How could a sojourn in France's City of Light be anything but healing?
When Vermont's most famous motorist, Burlingtonian H. Nelson Jackson, made the first North American coast-to-coast trip by car in 1903, he lacked decent maps but was never lost in traffic — there just wasn't much of it. In the 21st century, even downtown Barre can suffer enough roadwork and detours to inspire an intriguing art show.