Courtesy Of Stowe Mountain Resort
Stowe Mountain Resort
Burlington is a great place to live, work and play. But the fun doesn't stop at the city limits. Whether you're looking for beaches and snack bars, mountain peaks and pine-scented forests, or skyscrapers and city streets, there's a great escape just a short drive away. Take the quiz below, and we'll point you in the right direction.
My favorite season is...
Winter! As soon as the snow flies, I strap into my snowboard to shred that sweet, sweet gnar.
Summer! Bring on the creemees, kayaks and sunshine, please.
Um, pass? Whatever the weather, you can find me hangin' out indoors.
If I could vacation anywhere in the U.S., it would be...
In a rustic cabin in Boulder, Colo. Being so close to the mountains and Mother Nature makes me feel alive.
In a beachside bungalow in the Florida Keys. I love waves, water and sand.
In a high-rise hotel in New York City. There's nothing like the hustle and bustle of a big city.
My Saturdays usually go a little like this...
Wake up at the crack of down for an invigorating hike. Hit the farmers market for lunch, then it's straight to the bike path or swimming hole. The more my weekend resembles a triathlon, the better.
Sleep in 'til noon, then head outside with a blanket, picnic basket and group of friends to straight-up chill.
Brunch first, to kick that hangover. Then I wander in and out of shops and cafés and see where I end up. Chances are, it'll be another late night of drinks and dancing.
Where are you headed?
Mostly A:
Scenic Stowe — one of the East's top destinations for skiing and riding, not to mention every other outdoorsy activity under the sun.
Mostly B:
Lake Champlain Islands, baby! You're all about the sun and sand, and Vermont's own island towns are about to deliver big-time.
Mostly C:
Bonjour, Montréal! Hope you've got your passport handy, 'cause you're skipping the country for a cosmopolitan outing in Québec.
Stowe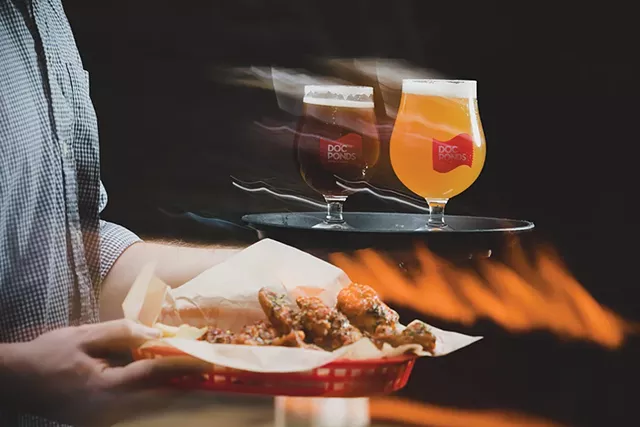 Brent Harrewyn
Doc Ponds
Just 45 minutes from Burlington, Stowe offers amazing, four-season access to Mother Nature. Since that's what brought you here, let's talk outdoor adventures first.
Stowe Mountain Resort is your spot for snow-season skiing and riding. The rest of the year, reverse your mountain course and hike up Mount Mansfield instead of sliding down it. Or drive the Toll Road for a different kind of adrenaline rush — the unpaved zigzag to the summit is not for the faint of heart. At nearby Trapp Family Lodge — founded by the famous Austrian family of singers — the hills are alive with hiking, cross-country skiing and snowshoeing. Make sure to visit the on-site von Trapp Brewing Bierhall Restaurant for lagers and Linzertortes.
Down in the village, there's easy access to the 5.3-mile Stowe Recreation Path. Spin your wheels along the west branch of the Little River, stopping for restaurants, galleries and gorgeous scenery along the way.
For good eats, hit up the Stowe Farmers Market, held every Sunday from May through October, or Doc Ponds, a gastropub serving everything from calamari to Cubans to craft beers. Speaking of adult bevvies, don't miss Stowe Cider and the world-famous Alchemist brewery.
Now that you've filled your belly, feast your eyes at the Helen Day Art Center or West Branch Gallery & Sculpture Park — follow the outdoor sculptures at the latter to the river. Then squeeze in some extra playtime — whether that's a round of mini golf at Stowe Golf Park or striking out at Stowe Bowl. If you've done Stowe right, you won't think about heading home until every single muscle aches. And for that, there's the hydrotherapy waterfall at Stoweflake Mountain Resort & Spa.
Lake Champlain Islands
File: Monica Donovan
Lake Champlain Islands
You've chosen to have a summertime adventure in the Lake Champlain Islands — now it's time to choose how to get there. If you want to beach-bum ASAP, take a car and head straight for any one of these five island towns' spectacular sandy stretches. Sand Bar State Park, technically in Milton, is just 20 minutes from Burlington and boasts picnic grounds, boat rentals and warm, shallow waters. Grand Isle, North Hero and Alburgh Dunes island state parks are similarly equipped, less-trafficked options.
If, however, you're looking to do more than laze by the lake, bike from Burlington to the scenic Colchester Causeway, a former rail trail jutting out into the water. There, the Island Line Bike Ferry will connect you to cycle-friendly South Hero, where food and farms await.
Push your pedals to Seb's, a snack bar known for fried fare and creemees as big as your face. Then sample wine and wander through vines at nearby Snow Farm Vineyard. Its Thursday evening concert series is alcohol-friendly picnicking at its finest, complete with eats from Pizza Papillo and locally churned Island Homemade Ice Cream. Or maybe take a trip to Allenholm Farm for berry picking, cute farm animals and homemade pie.
Finally, if you're curious about the formation of this island archipelago, visit the Goodsell Ridge or Fisk Quarry preserves to walk the nature trails and learn about the 480-million-year-old Chazy Fossil Reef — a true geologic wonder.
Montréal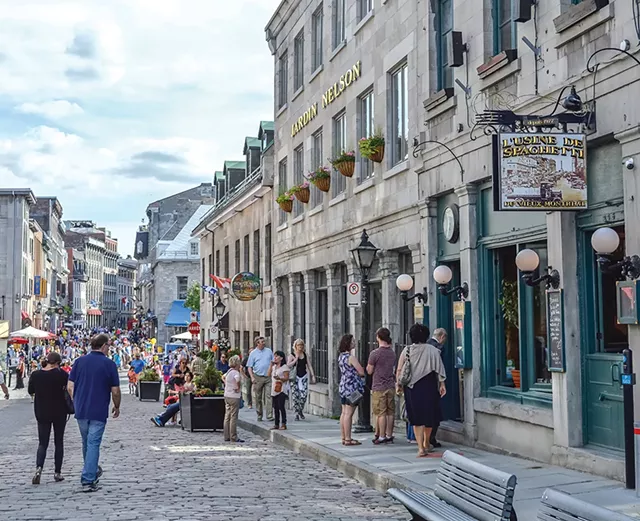 Dreamstime.com
Old Montreal
Just over an hour and a half from Burlington, Montréal offers young adults something they can't find in Vermont: a drinking age of 18. But La Belle Ville's bars are the least buzzworthy of its attractions. The cultural capital of Québec is your ticket to cosmopolitan sights and sounds, and it's just one passport (or Enhanced ID) away.
Begin by exploring the city's old-world charms — that is, the cobblestone streets of Old Montréal. Duck into the Notre-Dame Basilica, an ornate Gothic-Revival masterpiece built in 1829. Then check out the unique boutiques and bar scene along the banks of the St. Lawrence River. In winter, this is a hot spot for massive music and arts festivals, Igloofest and Montréal en Lumière among them.
Now that you've had a history lesson, get some culture at one of Montréal's museums. The centrally located Museum of Fine Arts houses one of Canada's finest collections. The Rio Tinto Alcan Planetarium, Biodome, Insectarium and Botanical Garden are all located in the same district, just a stone's throw from the Montréal Tower Observatory, which offers a stunning panorama 500 feet over the city.
Hungry? The open-air Atwater and Jean-Talon markets are stocked with gourmet edibles from around the globe. Don't forget to sample some poutine — gravy fries with cheese curds!
Called Montréal's Central Park, Mount Royal Park is a natural oasis in the middle of this bustling metropolis. The Tam-Tams hold an unofficial hand-drumming festival here every warm-weather Sunday, and the surrounding grounds are perfect for picnicking, jogging or ice-skating, depending on the season.
But if the weather's crappy, you can wander Montréal's Underground City — a subterranean network of shopping malls, cinemas, restaurants and museums — for hours without setting foot outside.
Survival Tips:

You might hear "802" as a nickname for Vermont (i.e., "Dang, it's good to be back in the 802!"). It's a reference to the state's sole area code.

Winter wreaks havoc on Vermont roads. Months of snow and ice create frost heaves — broken pavement due to frozen water expanding in the soil beneath. It's especially a problem in early spring. So watch out! (And for the love of Old Man Winter, slow down.)

Vermont's cell service can be spotty — especially in rural areas. Download maps to your phone before you leave home on the off chance that you lose service during your trip.

If you've had a DUI, you can be barred from visiting Canada for 10 years. Just another good reason not to drink and drive.