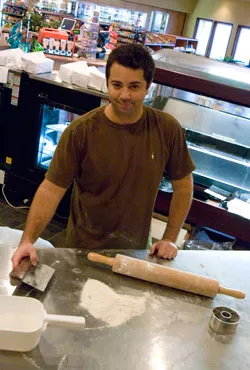 Matthew Thorsen
Nick Larose
Mother Hubbard's Bakery, Deli & Country Store is a classic case of the right thing in the right place at the right time. And Raymond Hubbard saw his family's venture coming 100 years ahead — sort of.
Back at the dawn of the 20th century, Hubbard prophesied to his brothers, Horace and Clark, and his son, George, that businesses would one day dot farm-lined Route 207 connecting Swanton and Highgate. A century later, Raymond's great-great-granddaughter, Melissa Larose, and her husband, Nick Larose, have brought his vision to fruition. The pair of 30-year-olds have opened a much-needed store on a small Swanton parcel of family property — some of the oldest and prettiest farmland in Vermont.
Raymond Hubbard's presage came true with the construction of Interstate 89. Now right off Exit 19 in St. Albans, Route 207 — colloquially known as "the Highgate Road" — boasts a car dealership, home furnishing center, garden-supply company and homes galore. And more is coming. Mother Hubbard's was the first project proposed for Swanton's 492-acre "designated growth center," which has an expected build-out of 30 years.
Seems the farmer knew what he was talking about. "How a man back then could have looked that far ahead and known … well, it's beyond me," said Eugenia Hubbard, Raymond's 78-year-old daughter-in-law, during a recent interview with Seven Days.
Question is, are his descendants as farsighted? Initially, some locals wondered why the Larose couple would gamble on a bakery, deli and store in the middle of a field on rural Bushey Road, just off 207.
But, with a controversial Wal-Mart planned to spring up approximately 2 miles west and a nearby Mormon church under construction, Swantonians seem to have realized the Laroses have vision. While Mother Hubbard's is still celebrating its soft opening, and its advertising is minimal, customers have swarmed the spot since Nick and Melissa opened the doors on October 20.
It helps that Bushey Road sees 2800 cars a day. Many northeastern Franklin County residents who commute to Chittenden County, from Sheldon all the way to Richford, get to I-89 via Route 105, Bushey Road and Route 207. Mother Hubbard's is in the right spot for them to coffee up in the morning and snag last-minute items — from snacks and juices to over-the-counter medications and cleaning supplies — at night.
Some customers may also come for the drive-through grocery, perhaps the only one in Vermont. Need cigs? Beer? Wine? Simply pull up to the window, place your order, and linger while staff retrieves your items. In a hurry? Call ahead for a sandwich and coffee.
It's convenient, and also a bit of a curiosity. But not everyone comes for the ease of grab 'n' go. Some like to linger a bit, like Denise and Roger Rainville of Swanton, who stop at Mother Hubbard's each Sunday after they attend 8:30 a.m. mass at St. Mary's Catholic Church in St. Albans City.
"It's nice, clean and neat," Denise said one recent Sunday morning, dressed in church garb and sipping a cup of Green Mountain Coffee Roasters brew. The Rainvilles weren't the only churchgoers at Mother Hubbard's that day. A family of six, just in from mass in Swanton, occupied two nearby tables, and a petite, short-haired woman with a small, silver crucifix around her neck sat reading a newspaper and sipping hot chocolate.
Seated across from her husband at one of Mother Hubbard's custom-made wooden tables, Denise Rainville explained why they keep coming: "The food is good. The doughnuts are really good. I'd hate to have to get up early to bake them, though."
Mother Hubbard's deli offers daily soup specials and sandwiches on homemade white, wheat or oatmeal-molasses bread with a full range of filling choices. (Suggestion: Start with a half sandwich or wrap unless you feel like bringing leftovers home. Which will happen. Guaranteed.)
The Thursday before Thanksgiving, customers lined up and asked about that day's offerings. A pair of hunters ordered BLTs. A blonde woman had something sweeter in mind.
"I've heard nothing but rave reviews about this place on Facebook," she told CJ Santore, a Mother Hubbard's worker who was punching buttons on the cash register. (The biz has a fan page on the popular social networking site.)
"You gotta try one of those blueberry muffins," advised a tall, black-haired man in a gray sweatshirt, work boots and blue jeans. "That's what I'd want, if I wasn't getting something else."
She went for the muffin. He opted for a chocolate whoopee pie.
Who does get up early to make those popular doughnuts, muffins and other baked goods? Nick and Melissa Larose share doughnut and cookie duty. Melissa's aunt, retired schoolteacher Mary Wood, bakes monstrous pies. All together, Mother Hubbard's staffers turn out 10 dozen doughnuts, two dozen cinnamon rolls, two to three dozen muffins, 10 dozen cookies and 30 loaves of bread each day. On Saturdays, said Melissa, all the bread often disappears by 1 p.m.
David and Carol Hubbard, Melissa's parents, also pitch in. Enlisting their flock of nearby relatives with strong ties, the Laroses have managed to keep their payroll to two full-time and two part-time employees. That's despite Mother Hubbard's ambitious hours: Monday through Sunday, 6 a.m. to 10 p.m.
"My family [members are] always asking, 'What can I do?'" Melissa said, sitting in Mother Hubbard's with her grandmother, Eugenia. "I shouldn't be surprised by it, though. I knew that about my family already."
With a laugh, she added, "I try to get Dad to leave by 1 every day, but it's hard. He lingers."
Opening the café helped Melissa realize a dream she'd harbored since high school. She and Nick were sweethearts at Missisquoi Valley Union in Swanton. When they graduated in 1997, he went to Utah — ostensibly for college, mostly for snowboarding — while she enrolled in a one-year baking program at Paul Smith's College in upstate New York.
"I always, always loved to bake," Melissa said.
"She sure did," Eugenia interjected. "She had her own little rolling pin and dough and cookie cutters. She always wanted to make something."
The summer after she attended Paul Smith's, Melissa baked for the Tyler Place Resort in Highgate Springs. "It was a bad experience," she recalled. "I was just too young and didn't assert myself. I got taken advantage of and walked all over."
Disheartened, Melissa moved to Utah with Nick and reenergized herself with a job at Cookies by Design, a national chain that substitutes cookies for flowers in its bouquets and gift baskets. During her three-and-a-half years in the Beehive State, she earned an accounting degree. With the baking and business know-how down pat, all she needed was her own gig.
The young couple returned to Vermont in 2002 to be closer to family and start their own. They wed that October, built a house across from the future site of Mother Hubbard's, and had three children — Parker, now 6, Hunter, 4, and Burke, 2.
They worked hard, too. Melissa spent seven and a half years at Marsh, a Burlington company that manages captive insurance agencies, making an annual salary of about $70,000, while Nick was warehouse manager at University Wholesalers, a Colchester tire distribution company.
Even with great jobs, the twosome dreamed of working for themselves. To help them get started, David Hubbard suggested they subdivide a 1.5-acre piece of his former farmland. (His brother, Jim, is the only Hubbard still farming on the Highgate Road.)
Nick and Melissa started planning their business before the recession hit. They nearly balked when the economy took a nosedive, but realized they were already waist-deep in the process and decided to move ahead.
"I still have [a] conservative accountant in me," Melissa said. "That side still gets nervous. I don't think it'll ever go away."
Nick has consistently supported Melissa's vision. "You have to have complete support if you're going to do something like this. You can't go into this half-assed," he said. "Was I nervous? Sure. I had some nerves. There are still some nerves."
The Laroses designed the entire building, from the big bay windows that overlook Lake Champlain and portions of the Green Mountains to the soft indoor lighting and a restroom sink that resembles an antique wash bin with a hand pump. Walking through Mother Hubbard's, it's hard not to find yourself humming classic country tunes about farming and family.
But to town boosters, the store also means newfangled prosperity. Kathy Lavoie, a former GOP state lawmaker and vice chair of the Swanton Planning Commission, said she's happy to see it in the "designated growth area": "Mother Hubbard's is representative of our intentions in our town plan. Additionally, it's nice to see a local farm family using the district to diversify their business endeavors."
In that respect, the Laroses are following in the footsteps of Raymond Hubbard, who diversified his dairy farm before diversification was trendy. During his time, farmers just farmed — unless they also tapped maple trees — but Hubbard sold turkeys and ran a milk-bottling business. "The Hubbard family is once again taking a business risk to support themselves and the citizens of Franklin County," Lavoie suggested. "In today's economy, that is encouraging and refreshing."
The owners recently took another leap of faith. Despite garnering a promotion with earning potential of $50,000 annually, Nick quit his job at University Wholesalers earlier this fall to take on Mother Hubbard's full time.
"Money's not everything," he said.
Melissa has returned to Marsh with the option of working from home three days a week, an arrangement that allows her to keep tending Mother Hubbard's. The plan: She'll bake from 4 to 7:30 a.m., while Nick sees the children off to school.
"It wasn't what we envisioned," Melissa said, "but it's taken some time to get this up and running and decide what works best here, and for our family. We just hope that we can keep it going and keep it in the family."
Eugenia believes Raymond Hubbard would be proud. The turn-of-the-century farmer embraced risk and understood that if he didn't leap, he'd always wonder where he might have landed.
"If you want it, try it," she said, putting his attitude in a nutshell. "If it fails, move on to something else."