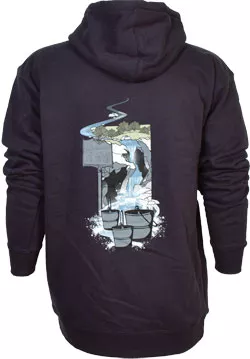 Do the following images mean anything to you? A winged and haloed slice of what looks like angel-food cake sits on a wooden bench in front of a mountain (within which is hidden a gray banana). Seven planets hover in the sky above.
Here's a hint: Ever skied out of bounds at Stowe?
Ringing any bells yet? If so, you'll want to make your way over to benthereclothing.com. There Burlingtonian Ilsley Colton is selling a trio of hoodies he designed to honor some of his favorite off-the-beaten-track recreation spots in Vermont. These aren't the places you read about in the tourist guides; they're the local spots with eccentric names that you have to be in-the-know to, well, know.
"I'm not trying to blow these places up," says Colton, a 29-year-old outdoor enthusiast who works a day job at Burlington's HowardCenter. Each hoodie comes with only one giveaway: the location's longitudinal and latitudinal coordinates stitched into the cuff of the left sleeve.
Colton worked with Burlington's Select Design to hone his designs, one of which features three metal buckets at the bottom of a steep waterfall; another, a rastaman, a burning spear, a coffee cup and a campfire.
The hoodies may look like nonsense to the uninitiated, but Colton says he watched people put the clues together at a launch party in September at Maglianero Café. "Their faces sort of light up," he says, when they get it.
Colton isn't expecting to make millions off BENTHERE Clothing — though the hoodies do cost a hefty $75 each. He just wants to immortalize some of the places "that make us feel alive and that we never want to leave," he writes on his website.
Now you can (sort of) take them with you.