The HGTV Dream Home in Stowe, Vt.
The white plastic toilet seat atop the gleaming porcelain commode sailed to the ground with a clatter. Oh. Shit. I just broke the HGTV Dream Home.
I didn't mean to. I was just checking to see if there was actual water in the toilet or if it was all for show. How was I supposed to know the toilet seat wasn't completely affixed?
Actually, I should have known. The HGTV Dream Home — conveniently located this year at Stowe Mountain Resort — is as much a television backdrop as any Hollywood soundstage. That's not to say the 3400-square-foot neo-Adirondack minimanse is fake. It's not. But it's what's known in the industry as a "hot set" — one where continued filming requires that all the furniture, appliances and other accoutrements stay in place to preserve the integrity of the shoot.
This means that when you tour the house, as I did on a recent Saturday, you need to resist the urge to put your greasy mitts on anything. Don't open any cabinets, don't turn on any faucets, don't thumb through any books. And for God's sake, do not sit on any furniture.
If, like me, you are a tactile and somewhat toddlerish person and need to touch everything you lay your eyes on, touring the HGTV Dream Home can be a bit of a challenge. But the experience is worth it, if only to see what all the fuss is about.
For the past 15 years, the HGTV cable network has built one dream home annually to give away to an unfathomably lucky viewer. It has erected million-dollar houses in Winter Park, Colo.; Islamorada, Fla.; Sonoma, Calif., and other swank locales. This year, HGTV chose Stowe after lead project designer Jack Thomasson fell in love with its resort lodge during a visit in late 2009.
Construction of the three-bedroom house, which sits at the base of Spruce Peak and looks toward the resort's famous Front Four trails, began last summer and finished in October. On January 1, the network ran a special to introduce the world to this year's Dream Home, and contest entries started rolling in shortly afterward. Besides the house itself, the giveaway includes a 2011 GMC Acadia Denali and $500,000 to go toward the oppressive tax bills that await the winner.
By the time the contest period closed in mid-February, the network had received 76.5 million entries. Yes, that's 76,500,000, with five zeros. Last year, the contest for the Dream Home in New Mexico garnered a comparatively anemic 41 million entries.
That's a lot of eyeballs checking out Stowe, crows Michael Colbourn, the resort's vice president of marketing, sales and communications. Stowe may have been unfamiliar to many viewers before the project began, but now it's the talk of HGTV and its cultish following of people who like to rubberneck at luxury real estate. "To reach 75 million people in a year is impossible" without that kind of free advertising, Colbourn says. "We have had a far greater number of new impressions than we would have otherwise."
While it's all well and good to admire the HGTV Dream Home on TV and follow the progress of the project on the web, it's far more fun to visit the house. You know, to check out your future pad.
Since 2004, HGTV has offered tours of the dream houses, the proceeds of which go to a local charity. This year, the partner "charity" is Mount Mansfield Winter Academy, a private ski school in Stowe.
For the privilege of wandering around the Dream Home for 20 minutes, nearly 2000 visitors have paid $20 a pop. That's a major windfall for MMWA, says Cassie Smith, tour coordinator and teacher at the academy. Most of the money will go toward scholarships and infrastructure enhancements, she adds.
The day I took the tour was bitter and gray, and the slopes were jammed with flashy out-of-towners. From Spruce Camp Base Lodge, 10 of us wandered up the access road that skirts Slalom Hill. The road will stay closed except to tours and HGTV folks until the house has been given away.
The object of all this attention and coveting, designed by Stowe architect Paul Robert Rousselle, sits about 200 feet from the bottom of the road on a basic one-third-acre lot. It looks decidedly less grand than it does in photos or on TV.
I'm not saying that if I win, I won't move in because the house is too small. But the Dream Home isn't grossly ostentatious, and it meshes with the character of the surrounding terrain. The exterior, with its bark shingles and exposed hardwood beams, suggests a late-19th-century Adirondack mountain retreat, while the giant picture windows and copper-paneled chimney add contemporary touches.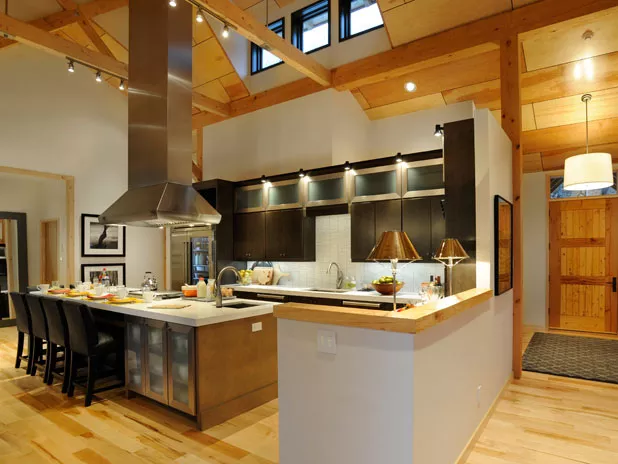 Kitchen island. Courtesy of HGTV.
We entered through the mudroom and stood huddled on the slate tiles. Our tour guide — a parent volunteer from MMWA — asked us to remove our shoes and leave them in the boot tray. I ditched my boots reluctantly, but was immediately appeased when I felt the warmth of the radiantly heated floor tingling my toes.
The handsomely appointed mudroom is representative of the rest of the Dream Home. It's full of products — Anon goggles, R.E.D. helmets, Burton beanies and scarves. Inside the closets are enough Burton jackets and pants to outfit a snowboarding team, and a Bissell vacuum strong enough to clean up after one.
The house serves as an unapologetic showpiece for stuff. The network calls the giveaway "one of the most successful consumer promotions in cable TV history." In short, it's one big product placement. There's Lumber Liquidators flooring, Sherwin-Williams paint, and Sub-Zero and Wolf appliances, among other items. And all of it can be yours — if you entered, that is.
The first thing I noticed about the Dream Home, besides the off-gassing smells from the new rugs and upholstery, was how much local art was hanging on the walls. Iconic Vermont photos by Peter Miller cover the mudroom. Two abstract paintings by Lois Eby decorate the master bedroom. A painted-steel sculpture by Charles Orme dangles from the living-room ceiling.
The second thing I noticed was the house's collection of books. Not just their quantity — volume upon volume rests on custom-built shelves — but also the wackiness of the selection. There are copies of the compendium Feminism in Literature; India: The Next Decade by Manmohan Malhoutra; and David Sedaris' When You Are Engulfed in Flames; as well as a smattering of Vermontiana. Designer Linda Woodrum, who's done 12 Dream Homes, is responsible for the interior.
There is much to drool over in the house, which sleeps 14: a gourmet kitchen with a nearly 20-foot hood; a dorm with bunk beds for eight of your friends; a hot tub and outdoor fireplace; and a double shower in the master bath for when you want to get naughty. People have been salivating over the place every weekend since it opened, Smith says.
Outdoor hot tub and fireplace. Courtesy of HGTV.
The sold-out tours have attracted not just HGTV diehards who go on vacation specifically to see the Dream Home, but also people collecting decorating ideas to make their own houses look just as dreamy. Smith says one visitor came with a binder full of floor plans and layouts and jotted notes on the changes he would be making when he moved in.
"The house is more of a celebrity than I would have expected," Colbourn says.
After accidentally touching a leather armchair, peeking into the refrigerator and lingering in the house far longer than my allotted 20 minutes, I took my leave. As I wandered back to my car, I couldn't help but indulge in fantasy. What would I do if I won the house?
Sadly, I'd most likely have to unload it — and I wouldn't be alone. All but two past Dream Home winners have sold their prizes to finance their other dreams, according to HGTV.
But if I put the Dream Home on the market, I'd make sure that toilet was fixed before I did.