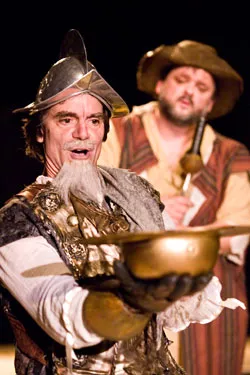 Peter Boynton as Cervantes and Charlie Cerutti as Sancho Panza
Imagination brings a blank page or an empty stage to life. A composer's song can take a theatergoer anywhere his mind and heart allow him to travel.
The 1965 musical Man of La Mancha, based on Miguel de Cervantes' 1605 novel Don Quixote, brilliantly plays with layers of fiction and fantasy. The lead character is Cervantes himself. The most terrible episode from the novelist's real life — imprisonment by the Inquisition — provides the departure point for reenacting the deliciously mad world of his fictional knight errant, Don Quixote.
There is no better setting in Vermont than Waitsfield's Skinner Barn for conjuring La Mancha's rough but richly imagined realm. And no one is better equipped to do it than barn owner and producer Peter Boynton, who also stars in the show. For La Mancha, as in summers past, Boynton blends Broadway talent with Vermont vets and greener gems into a smashing cast. The result? The best musical theater in Vermont.
Cervantes' Don Quixote is often considered Western literature's first novel — and one of its greatest. The author's literary success came near the end of his life, however. (He died in 1616, at age 68, just a year after publishing the book's second part.) As a young soldier, Cervantes was gravely wounded, then later captured by pirates, enslaved for five years in Algiers, and freed when ransomed by his parents. Poetry and playwriting paid poorly, and his day job as a tax collector ultimately landed him behind bars. His colorful adventures and perilous scrapes show up in many of the Don's tales.
Man of La Mancha marries the author's quest — surviving his difficult, sometimes dangerous life — to his lead character's fantastical stories. The action opens with Cervantes thrown in jail and set upon by his fellow prisoners. For the out-of-his-element scribe and his companion to retain control of their meager possessions — including a manuscript that the hooligans threaten to burn — they must defend themselves in a mock trial.
Cervantes pleads guilty to the charge of being an idealist and a bad poet. But he seeks a lenient sentence by recounting to the "court" what Quixote — his manuscript's subject — does as he "lays down his heavy mantle of sanity and sallies forth into the world." From a hamper, Cervantes brings out props, donning the Don's gray goatee and mustache and silver, conquistador-style "comb morion" helmet. His companion becomes the knight's sidekick, Sancho Panza, and the other prisoners — a motley lot of men and women — take on the tales' other roles.
As the story unfolds, the audience learns that the "Don" is the fanciful alter-ego of a country gentleman, Alonso Quixano. The power of his delusions turns the dungeon into the sunny plains of La Mancha and a rowdy inn that he thinks is a grand castle. Through his eyes we see monsters and windmills, and the kitchen wench Aldonza, changed by Quixote's starry-eyed chivalry into the beautiful maiden, Dulcinea. Rough characters ridicule his optimism and exploit his naiveté. Aldonza rejects his chaste protestations of love while suffering repeated abuses by other men. Meanwhile, Quixano's worried family seeks to end the adventures altogether and cure his insanity.
The musical is wildly entertaining, but the underlying messages are moving, too. The creators (Dale Wasserman, Joe Darion and Mitch Leigh) capture wonderful connections between Cervantes and Quixote. About poets and madmen, Cervantes says: "We both choose from life that which pleases us." The scribe has seen and survived terrible things. "When life itself is lunatic, who knows where madness lies?" Cervantes asks. Despite everything thrown at Quixote, the openhearted dreamer remains tenacious, gracious and unbowed. It is a timeless lesson, thrilling in song.
The simplicity of the Skinner Barn's hand-hewn post-and-beam architecture is an apt setting for bringing Man of La Mancha to life. A large pine platform, with three elevated levels in the back and a pathway thrust into the audience at front, gives the cast's 13 members plenty of room for the dancing, singing and brawling action. Props — along with sets and costumes, created by Boynton, director Nick Corley and cast member Ann Harvey — are spare but evocative, such as a wooden water bucket and iron cooking pot. Quixote's imagination transforms other elements for us: floppy leather bags and long poles become trusty horses, for example.
The scenic design's rough textures and earthy colors harmonize beautifully with the Barn's exposed structural elements, which frame the stage. The costumes match well in this visual scheme, featuring tattered layers of coarse linens in a palette of wine, rust, mustard and ivory. The only shiny exceptions: Quixote's gorgeous quilted pewter vest and two flashy helmets. James McNamara's effective lighting emphasizes how location changes depend on subtle shifts in the Don's moods.
Wonderfully warm acoustics are the barn's greatest asset, showing off the dynamic singing voices of the entire cast. Boyton's honeyed baritone gives great emotional depth to his portrayal of Cervantes/Quixote. The character is crazy, yes, but deeply spiritual in his passion for life and love for Dulcinea. As an actor and a singer, Boynton shows wonderful range. He connects tenderly — with smooth vocal tone and gentle facial expressions — in the quiet moments of the love song "Dulcinea." In the vigorous fight scenes, brilliantly choreographed by director Corley, Boyton's physicality is bruisingly real.
Charlie Cerutti makes a delightful Sancho Panza. The faithful, hard-to-faze friend can't articulate why he stays with the nutjob knight, beyond "I Really Like Him" — Cerutti crafts the song into a knee-slapping jewel. He masters the musical-comedy technique of varying his voice to fit the scene, making it reedy for comic effect or rich to demonstrate deeper feelings. Cerutti is funny and charming, using his jowly facial expressions especially well, but he doesn't ham up the role too much.
Rachel Bruce turns Aldonza/Dulcinea into a hissing spitfire, fierce as a wounded cat and just as unpleasant to be around. Her body language is violent, always recoiling from human contact, and her eyes narrow with suspicion and hate. Bruce projects her singing voice forcefully, matching her luscious tone with her character's lyrics, whether fiery or bittersweet.
In a show of outstanding numbers, the trio of Kevin Berdini (Padre), Laura Wilson (Antonia) and Michael LeMay (Dr. Carrasco) turns "I'm Only Thinking of Him" into a hilarious highlight. Quixano's family expresses its concern for him with their words, but the actors show with exaggerated breast-beating and saucer eyes that they're only thinking of themselves. All three sing with clear articulation, and wring every ounce of comedy from the song.
The rest of the cast is terrific as well, especially the craggy Jim Hogue as the Governor/Innkeeper who plays along with Quixote's delusions. Ann Harvey's physical-comedy skills shine as the much-abused barber. Music director Jono Mainelli leads the tight instrumental ensemble — screened by a wooden half wall to one side of the set — from the keyboard. Guitarist Zachary Cooper occasionally strolls on stage to accompany the singers, and plays beautifully. Chris Barosky fills out the trio well, handling both bass and percussion.
"The Impossible Dream" is the number that emerged from Man of La Mancha to become a standard. It's often hard to hear such a song with fresh ears. In this production, you do. Boyton's battered Quixote sings it plaintively, but full of hope. Just try to listen to the final verse and remain hard of heart:
And the world will be better for this
That one man, scorned and covered with scars
Still strove with his last ounce of courage
To reach the unreachable star.