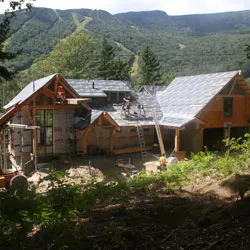 Paul Robert Rousselle's "Dream Home"
It's a long shot to win HGTV's "Dream Home" — not to mention the accompanying $500,000 and new GMC Acadia Denali — but at least local fans of the cable show can do a drive-by. HGTV house planner Jack Thomasson tapped Stowe architect Paul Robert Rousselle to design a handsome "ski lodge" with spectacular views of Stowe Mountain. Inspired by the great camps of the Adirondacks, it was constructed over the summer as part of the Spruce Peak development. The finished house opened for a media peek this Tuesday.
Rousselle, who has lived in Stowe for 16 years and operated a one-man firm there since 2005, says Thomasson found him through referrals from local builders. The architect confesses he had "no idea what HGTV dream homes were about" prior to this gig. Thomasson "was looking for an architect who could provide what he called a 'wow' factor, and he said I had it," Rousselle says. Spruce Peak, he adds, was Thomasson's choice.
Rousselle reveals that HGTV will have a float in the Rose Parade in Pasadena, Calif., on New Year's Day, with a scale model of his house … made of flowers. That same day, a "Dream Home 2011" special — the 15th annual — will be broadcast at 1 p.m., and viewers nationwide can enter a sweepstakes to win the house. Details can be found at HGTV's website — and, starting December 20, so can "teaser" virtual tours of the interior. The site already offers a construction slide show.
So, will this national exposure get Rousselle more work? "There's, like, a 60 million audience of the show," he says. "It certainly isn't going to hurt."