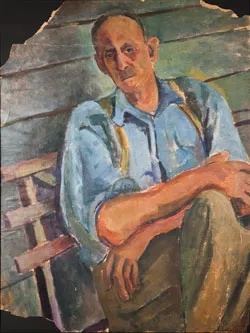 "Man on Porch, Hazard, Kentucky"
Downtown Barre looks like a miniature Grand Canyon this summer. Instead of a main drag, a 20-foot-deep ditch cuts through the city while crews install new sewers and make other improvements. But navigating the big dig is worth it, if your final destination is D'Ann Calhoun Fago's retrospective at Studio Place Arts.
Considered one of the founders of Vermont's arts-and-crafts movement, Fago has devoted her life to art. Even now, at 94 and a half, the Bethel artist draws every day.
Her artwork, created over 76 years, is on display at SPA through September 8. From Fago's early paintings of rural Kentucky natives to recent drawings of her own backyard, the works offer a glimpse into Fago's compelling life story and vibrant spirit.
Fago spent her youth in Lexington, Ky. — with the exception of one year, which she spent on the road with her family while her father, whom she describes as an "itinerant gambler," looked for work around the country.
Even as a child, Fago was a defiant artist. "I used to get punished for drawing on the walls," she says. A placard at the SPA exhibit reads, "A sensitive and often lonely child, she identified with society's marginalized people."
Fago describes Lexington as "a small town with big ideas about itself." She wasn't interested in its pretentious, wealthy residents; she was drawn to the bums who hung out in the public square. So she began hanging out there, too, drawing and painting them.
"I was interested in 'the other side,'" says Fago. In one 1936 piece at SPA, she depicts three men in a Kentucky brothel, guzzling booze and gesturing aggressively. When asked how she ended up in such an establishment, Fago answers frankly, "I went in for a drink."
Fago studied art at the University of Kentucky and, shortly after graduation, took a teaching job at a Presbyterian junior college in a rural mining town that had Kentucky's highest homicide rate. The school was academically rigorous and strict, says Fago, who recalls hiding in her closet to smoke cigarettes, which were forbidden on campus.
"I was interested in the job because I love country people," says Fago. But the experience was scary, too. She was practically the same age as her students, and she remembers her first emergency call in the dorms: A girl had tried to perform an abortion on herself.
Fago's work from this time is primarily portraiture. In a 1936 drawing called "Stubborn Old Woman," an African American woman wearing a cap gazes out at the viewer with a searing expression of displeasure. In the oil-on-board "Workers on a Truck," from the following year, Fago renders two sturdy-looking men in gorgeous rusty browns and smoky greens and blues, their thick legs dangling off the back of a vehicle.
In her 1938 painting "Man on Porch, Hazard, Kentucky," a middle-aged white man sits with his arms crossed and his sleeves rolled up, looking intently at the viewer, as if he's ready to hear a story or tell his own.
In the 1940s, Fago moved to New York City, where she earned her MFA from Columbia University and married Vincent Fago, editor at the time of Marvel Comics. She found new inspiration in her husband's heritage. "His people were immigrants from Italy," Fago says. "I was fascinated by them."
So she began painting her neighbors, New York's Italian immigrants. In "Bronx Woman With Moon Through Window," a 1968 watercolor, a round woman of indeterminate age is cloaked in a yellow dressing gown, her head tilted up toward a gleaming yellow moon.
The Fagos lived in Greenwich Village and spent their evenings in the uptown jazz clubs, where they mingled with some of the era's biggest stars. "Do you know Billie Holiday?" she asks a recent visitor to her Bethel home. "We used to have her over for dinner. She was magnificent."
When Fago interviewed for the position that would bring her family to Vermont — director of the Arts & Crafts Service, a division of Vermont's agriculture department — she was in her fifties and feared she was too old for the job.
But Fago was hired in 1969, and, until funding was abruptly cut in 1977, she worked to build a network of Vermont artists and artisans from the ground up. She traveled around the state, connecting artists to resources and materials, and laid the groundwork for institutions such as Frog Hollow. When the service was eliminated, Fago and her husband retired, and she poured her energy into her own artwork.
In her latest drawings, Fago has turned her focus to the landscape she can easily observe from her Bethel porch. Her most recent drawing at SPA was completed just months ago. "Garden View" is a simple sketch of a well-examined patch of land rendered in graphite — overgrown grasses tangled over the curvature of the Bethel earth. These days, Fago does a lot of what she calls quick drawings. "I try to discipline myself to draw every day," she says. "It's a habit I don't want to break."
D'Ann Calhoun Fago, a retrospective. Studio Place Arts, Barre. Through September 8. Info, 479-7069. studioplacearts.com