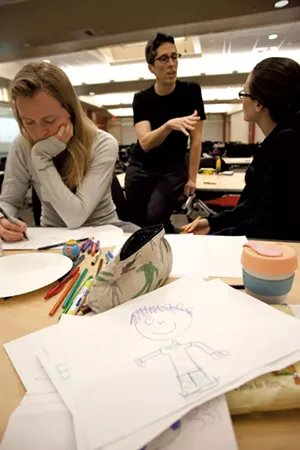 Eleven University of Vermont medical students and faculty members sat in small groups, studying photographs of a chickadee at a bird feeder. Their assignment: to arrange the images into a coherent story. Cartoonist and MacArthur "genius" Alison Bechdel flitted from table to table, coaching them encouragingly.
Bechdel is a James Marsh professor-at-large at UVM — the type of honorific post that comes with occasional teaching duties — and she was at the school recently to help medical students metabolize their own experiences into comic sequences.
Cosponsored by the offices of medical student education and diversity and inclusion, Bechdel's two-day workshop was focused on the experiences of LGBTQ students and faculty managing their identities in a health care setting. By the second day, attendance, capped at 20, had dwindled to fewer than a dozen — casualties of homework, clinical duty and illness.
As a warm-up, the group played a round of the game Exquisite Corpse, which invites a trio of players to draw the head, torso and legs of a creature that is revealed only at the end.
"I like doing this with you guys because of all your cadaver talk," Bechdel told them.
Assessing one six-legged, tattooed result, she commented, "That's very lovely." Then, after a pause: "Is she pregnant?"
Turning her attention to a corpse with a misshapen, featureless head, wearing a collared shirt and pink skirt, she queried the room: "Who drew the cell head?"
A first-year student claimed it, and Bechdel got plenty of laughs when she noted with the air of an art critic: "It's very reminiscent of your earlier work."
The Bolton-based cartoonist comes off as both earnest and tongue-in-cheek. Clad in a black T-shirt, black pants and black shoes with orange shoelaces, she looks a lot younger than 54. Bechdel's comic strip, "Dykes to Watch Out For," ran in newspapers from 1983 to 2008, and she's authored two autobiographical graphic works, Fun Home and Are You My Mother?
While such credentials don't suggest your typical med school professor, storytelling is gaining recognition as a key component of medical education. The basic concept is that when doctors understand their patients' stories, they treat those patients more effectively.
One of Bechdel's workshop attendees, Aaron Hurwitz, is a curriculum coordinator at the UVM College of Medicine, where he helps direct a narrative medicine course. Columbia University offers a master's in the subject.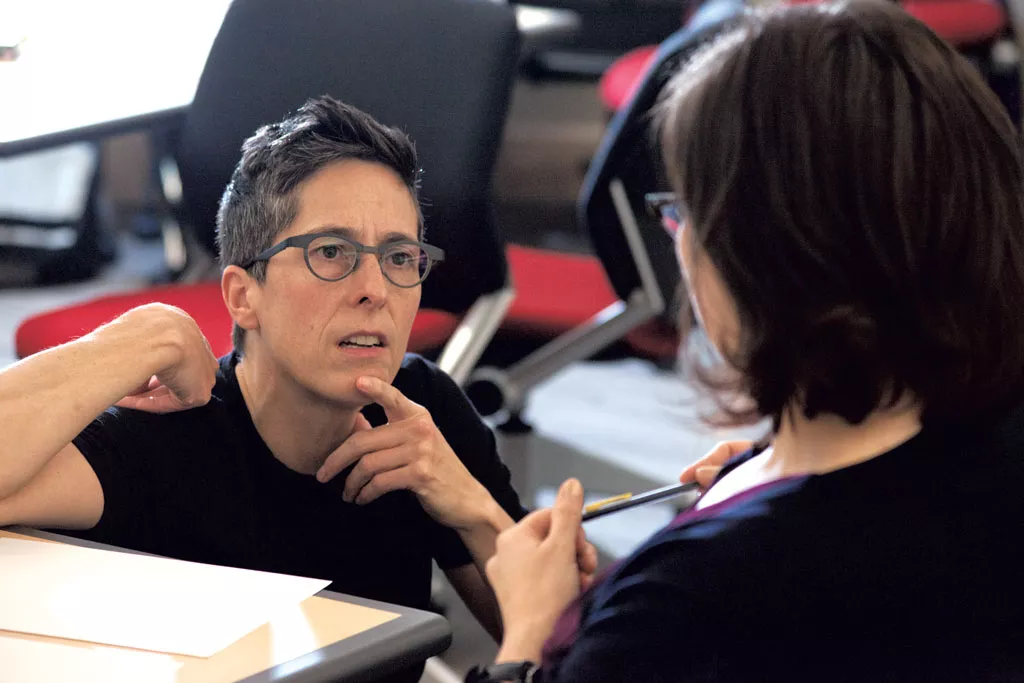 Comics are becoming a part of the narrative approach. The website Graphic Medicine, started by an English physician and comic artist, organizes the annual Comics & Medicine conference. The 2014 conference, titled "From Private Lives to Public Health" was held at Johns Hopkins University and featured Vermont's Center for Cartoon Studies cofounder James Sturm as a keynote speaker.
In 2009, Penn State's College of Medicine started offering a course in medical graphic novels called "Graphic Storytelling and Medical Narratives" to teach fourth-year med students how to tell their own stories through comics.
In the world of cartooning, there's even a word for comics that feature illness: pathographies.
Under Bechdel's supervision, doctors-to-be and their instructors began to sketch out stories on 12-panel sheets. There were crayons on each table, but they started in pencil.
"I have creative block," announced Leah Cipri, a second-year student from Essex Junction who had arrived late with a stethoscope around her neck.
Cipri explained that she'd been "running around like a chicken with its head cut off" for the last 48 hours and hadn't had time to think of her story. In addition to her classes, Cipri and her fellow second-year classmate, Matt Shear, who also attended the workshop, recently created a texting service with Outright Vermont that gives LGBTQ youth a platform to anonymously pose sexual-health-related questions. A recent one Cipri fielded: "How much does an abortion cost?"
Bechdel began to brainstorm. "Can you write a story about ... did you have breakfast this morning?"
"I ate empañadas at, like, one o'clock last night," Cipri offered.
"Well, that's a good story!" Bechdel said. Unconvinced, Cipri opted to draw about her afternoon shadowing a primary care doctor in Cambridge, Vt. Bechdel suggested drawing chickadees instead of people. Growing more excited, still kneeling at Cipri's side, she said, "I think you definitely need to draw birds. Your characters must be birds."
Bechdel continued to make her rounds. First-year med student Emily Ryan was drawing an upsetting incident in which she confronted a classmate after he made a joke about someone getting "raped" by an exam.
"This is the beauty of life. All the terrible things that happen to us make really good stories," Bechdel announced to the room. Fun Home described her strained childhood and her closeted father's suicide, which occurred shortly after she came out to her parents.
In Ryan's strip, one panel showed the classmate making the insensitive comment as they left the testing room. Subsequent panels showed Ryan's various organs throbbing in agitation. "We're studying the sympathetic nervous system," her seatmate explained.
"This is the most literal exploration of emotion I've ever seen in comics," Bechdel said. She suggested that Ryan add some words. "I think it would make these anatomical images more powerful."
The final panel showed Ryan and the offending classmate at the white-coat ceremony, held annually for first-year students. Trying to tease out the significance of this last scene, Bechdel asked, "Tell me what the white-coat ceremony is. What happens?" Her question sparked a philosophical debate about the point of the age-old medical tradition, informally referred to as "getting cloaked." Was it an elitist ritual meant to set doctors apart, or a ceremony designed to convey the seriousness of the role?
The cardinal mistakes of storytelling, Bechdel told her students, are over-explaining, telling things out of order and forgetting crucial details.
"This is a really essential cartooning lesson: Don't waste words explaining something that you can show, and don't bother showing something that you might be able to explain more simply with a few words."
Next to Ryan, Charlotte Hastings drew a woman wearing a shirt that read "I love women" being questioned about her love life by a clueless doctor: "Do you have a boyfriend?" the physician asks her.
Hurwitz used stick figures in his comic about a friend being diagnosed with stage IV bile duct cancer. His first response was to exhaustively research the disease, but "I realized all the information was actually making things worse." The final panel was succinct: a bench memorializing his late friend.
In an effort to distinguish his stick figure from the others, Bechdel suggested Hurwitz draw a beard on his character. Concluding that even facial hair was beyond his technical abilities, he opted to set himself apart by leaving his face blank while shading in the other characters' faces.
Sitting next to him was Laura Smith, who drove four and a half hours from where she works at Connecticut's Danbury Hospital, a partner institution with UVM's College of Medicine. Smith is a medical illustrator with bachelor's degrees in studio art and biology and a master's in biomedical communication. The field entails illustrating everything from textbooks to television shows to trials.
During Bechdel's workshop, she sketched a very realistic-looking cadaver. "There is a certain beauty in death ... A stillness. Relief," read the caption under the dead man. "Pain and suffering finally relinquish their stronghold."
With seven minutes left, Bechdel belatedly told the class that the next step was to "ink" their pencil drawings. Expressing skepticism about his tracing ability, Evan Eyler, an associate professor of psychiatry, told her, "There's a reason I'm not a surgeon."
The original print version of this article was headlined "Comic Relief: Cartooning Helps Future Docs Draw Diagnoses from Life"