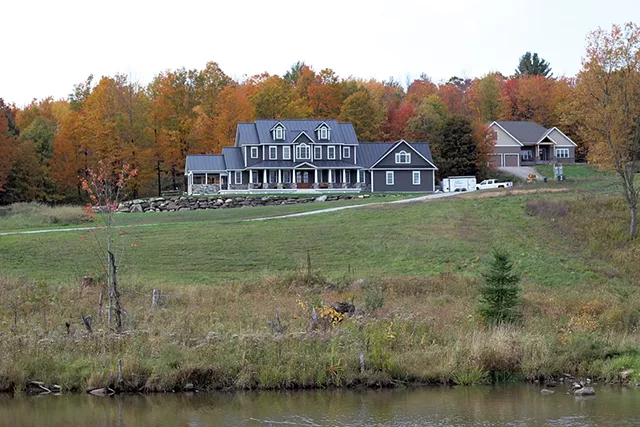 Paul Heintz
Corey Bertrand's property in Franklin
Corey Bertrand's home security camera caught an unexpected visitor poking around his Franklin property last November: Gov. Phil Scott.
Earlier that fall, the governor had learned that state regulators were planning to force Bertrand to remove the 4,800-square-foot house he'd built in a protected wetland. Scott had asked his staff to look into the situation, but when he found himself in the neighborhood, he figured he'd check it out himself.
"The governor said, 'I really need to see this. I need to see the so-called wetland. I need to see the house, because it's all sort of academic at this point,'" Scott chief of staff Jason Gibbs recalled. "He came back and said, 'It looks like it's in a pretty dry spot.'"
Bertrand, who wasn't expecting a gubernatorial visit, was impressed when he saw the security footage. "It's pretty cool that he took his time to come all the way up here to look around," the 39-year-old master electrician said.
But environmental advocates found it troubling. "I've never heard of a governor getting that involved," said former Agency of Natural Resources general counsel Jon Groveman.
Even more alarming, in Groveman's view, was what came next: As agency lawyers prepared to take Bertrand to court, Scott's office intervened and effectively froze the enforcement action. According to Gibbs, the governor hoped to persuade the legislature to create more flexibility in the state's environmental enforcement laws — and apply it retroactively to Bertrand's case.
"That definitely does not send the right signal," said Groveman, who now works for the Vermont Natural Resources Council, an environmental advocacy group. "These are bedrock laws. You build in wetlands at your own peril, and you live with the consequences."
According to agency documents obtained through a public records request, Bertrand's troubles began in December 2016, when a Department of Environmental Conservation enforcement officer visited his half-built home in an agricultural region of northern Vermont. The 57-acre property — a mix of hayfields, woodlands and wetlands on a hill overlooking the Lake Carmi valley — had been farmed for years before Bertrand acquired it earlier that year.
Though a previous owner had received permission from the state to subdivide the parcel and build a driveway across a small stream, that permit had long since expired — and, the DEC officer found, Bertrand had ignored its restrictions. According to internal memos, he had cleared, drained, dredged and filled more than an acre of wetland, causing sediment to flow into a tributary of Lake Carmi.
Furthermore, the officer found, Bertrand had violated a separate state wastewater permit by constructing the house 100 yards downhill of its approved site, right on the edge of a protected Class II wetland and well within a 50-foot buffer.
The records show that, up and down DEC's chain of command, officials believed that Bertrand should be held accountable.
"From the evidence, it is clear that the owner knew that this house was being constructed in a wetland," Watershed Management Division deputy director Mary Borg wrote in a February 2017 memo to Secretary of Natural Resources Julie Moore. "The Division supports taking an aggressive approach and [the Compliance and Enforcement Division] believes it is a strong case."
But Moore, a political appointee who reports directly to Scott, appeared to have reservations.
"Knowing that this action will likely rise quickly to the attention of the Governor, I would appreciate the opportunity for a short meeting to ask a few clarifying questions," she responded to Borg in an email. Moore asked her staff whether the house could stay put, but an agency lawyer advised that such an outcome "would be unprecedented and not recommended."
By the time the agency informed Bertrand in March 2017 that he might lose his home, it was mostly complete. He, his wife, Kelly, and their four children had been living in the four-bedroom house for a week. "It was a big joke," he said of the state's actions.
Paul Heintz
Corey Bertrand
Bertrand claimed he'd had no idea that he was building in a wetland, nor outside the permitted house site, blaming a miscommunication between a previous owner and the town. "I never knew, and the town office people never knew," he said.
Franklin Town Clerk Lisa Larivee declined to comment, saying only that Bertrand's dispute with the state is "not town business."
As enforcement officials considered their options, Bertrand set about contacting state legislators in the area and enlisted them to plead his case. Three of them — Rep. Brian Savage (R-Swanton), Rep. Steve Beyor (R-Highgate Springs) and then-senator Dustin Degree — reached out to agency officials and the governor's office on his behalf.
"It was certainly overreach by the state agencies, I feel," Savage said. "Corey did what he was supposed to do. He thought he was in compliance with the permits."
According to Gibbs, the governor learned about the matter not from legislators but from a weekly cabinet report Moore wrote in June 2017. Scott asked for more information and deputized two top staffers, Jaye Pershing Johnson and Brittney Wilson, to work with the agency to reach a resolution.
"They asked questions — frankly, many of the questions I asked," Moore said. "And they asked for time to consider it before we went forward."
The governor's office certainly took its time. In December 2017, not long after Scott dropped by the property unannounced, agency lawyers issued a draft administrative order calling for a $36,000 fine and removal of the house. But after a monthlong public comment period, the agency never filed a final order, so the case never moved forward.
"Ultimately, we had to hit the pause button," Gibbs said, explaining that the governor had been uncomfortable with the only two options legally available: to seek the house's removal or to drop the case altogether. While Scott agreed with enforcement officials that Bertrand had knowingly violated the law, he thought the legislature should come up with a third option during the 2019 session that would punish offenders without bankrupting them.
"Say what you will about Mr. Bertrand's intent, telling him to tear down his house is not an inconsequential decision," Gibbs said. "It would very likely ruin his life."
To a certain extent it already has, Bertrand said last week as he ambled around his backyard on a clear autumn day.
"Through all that stress, my wife ended up leaving me last November, and now I got this big house and four kids," he said. "I mean, I spent over $14,000 in engineering fees and lawyers' costs — and for nothing!"
A tall, broad-shouldered man with short graying hair and a close-cropped beard, Bertrand wore work pants, boots and a blue T-shirt featuring a yellow Bertrand Electric logo. He mentioned several times that if he lost his house, he would lose his business, and his three employees would lose their livelihoods. If the state forced the issue, he said, he would "just lock it up and move somewhere else," rather than pay hundreds of thousands of dollars to relocate the house.
"It's gonna bankrupt us," he said. "It's gonna make us homeless."
According to Bertrand, he had plowed his life savings into buying the $83,000 property and building the $575,000 home, which he financed with a $400,000 mortgage.
Though Bertrand claimed he had nothing left to pay a state fine, he continues to invest in the property. As he showed off a sweeping view of bright autumn foliage, a carpenter worked on a porch off the master bedroom. "If I'm gonna be paying 14 grand a year in taxes, I want to be done," he explained.
Bertrand pointed at a stretch of grass in his backyard that, before he'd filled it in, had been a hayfield. "Apparently, the wetland is supposed to be right here," he said. "Which, as you can see, is very, very dry." He added, "The old saying farmers use is, wetlands are lazy farmers who don't take care of their fields."
Bertrand isn't the only one who has questioned the value of the wetland. Moore described it as "marginal." But according to Rep. David Deen (D-Westminster), "There are no unimportant wetlands" in the Lake Carmi watershed, where farms and camps have contributed to alarming levels of phosphorous.
"Wetlands take out pollutants and nutrients and do all kinds of neat things," said Deen, the retiring chair of the House Committee on Fish, Wildlife and Water Resources.
Bertrand hasn't heard a word from the state in nearly a year, when settlement talks last broke down. He said he believes that Scott and Moore put a halt to the proceedings after dozens of community members and the trio of state legislators "raised a stink" about the situation. "It was, politically, making them look terrible," Bertrand opined.
Moore denied that she'd been pressured to overrule her enforcement officers, claiming that there had been "wide disagreement at almost every level within the agency" about what to do. The secretary conceded that the records obtained by Seven Days contradict that claim, but she insisted that her staff debated it at length in meetings.
As for whether Scott had overstepped his bounds? "He's the governor," Moore said. "It's his call."
Deb Markowitz, Moore's predecessor as secretary of natural resources, disagrees. "A governor does have the power to take a second look at a case," she said, "but it's bad practice for governors to dive into an agency's business and pick out a particular case.
"As soon as you respond to a complaint by interfering in the particular matter, then the word will get out that the way to avoid the environmental regulations is to go directly to the top," Markowitz continued. "And before you know it, you will be running ANR from the governor's office."
During Sal Spinosa's 14 years as director of ANR's enforcement division, he occasionally felt "the long reach" of the governor's office, he said. "But in each case, I had the pleasure of working with secretaries who realized the governor could not have an overt influence over enforcement," he added.
In one particularly notorious case, a Jericho man named Larry Westall built a house in a wetland considered important to migratory birds and muskrats, even after a permit application had been denied. He was eventually forced to remove the home. "That was enforcement working as intended," said Spinosa, who retired in 2009.
Spinosa said he was surprised to hear that Scott was handling the Bertrand case in such a different fashion.
"The governor getting involved in this, to me, is totally out of line," he said. "With each decision, you build a precedent, and this is a bad precedent."