Matthew Thorsen
Annie Starvish
Dr. Annie Starvish is a fraction of the size of her patient at the Berthiaume Farm in Salisbury, but she definitely has the upper hand on a recent Friday morning. That's because her charge — a 1500-pound dairy cow suffering from an unknown ailment — is in a metal headlock. Starvish pulls on a shoulder-length rubber glove and plunges her entire left arm into the animal's rectum. "I can feel the cervix but not beyond it," she reports, pushing up against the back of the animal for deeper penetration.
Starvish is trying to determine whether the animal is pregnant. The rectal palpation is the most reliable way to find out. Whether or not Starvish can confirm there's a fetus in this unhappy Holstein will chart the course of the animal's medical treatment. More to the point, it will decide whether she lives to give birth or dies of a displaced abomasum — a common gastric condition, usually caused by a change in eating patterns, that can be corrected with surgery.
"I don't know if you want to cut her or just beef her," Starvish says matter of factly, sharing her diagnosis with herd manager Pat Leduc.
With the cold calculation of a corporate banker, he responds, "If she's got a calf in her, go ahead."
Such decisions are made daily in the utilitarian world of commercial dairy farming. Here efficiency and economics override emotion. Animals that aren't producing milk — or new life — are expendable. Plenty of them get shipped off to a plant in Pennsylvania that turns bad bovine investments into burger.
Harder to find are medical professionals trained to care for these creatures. Large-animal vets are a dying breed, according to a recent New York Times article in which researchers claim, "If trends continue, there will not be enough veterinarians to care for the animals that end up on the country's dining tables."
Ditto the animals that supply the country's milk, butter and cheese. Nearly all the grads coming out of vet school these days are rejecting the difficult working conditions associated with large-animal care in favor of small-animal practice, which is more lucrative and comfortable.
"All across the country, agencies like ours are struggling to find associates," says Dr. Glen Cousineau of Cornwall's Valleywide Veterinary Services, a group practice serving dairy-rich Addison County. When one of the six vets retired last year, the partners circulated a help-wanted ad "worldwide." They heard nothing for three months until Starvish, in her last year of vet school, inquired about the job. Of 84 vets graduating from Cornell, she was one of two looking for a dairy-vet job. She worked on a 2000-head dairy farm while she was at Cornell, and spent a post-grad month treating sick cows in Georgia.
"It's only a rare bird like Annie that wants to do this," says Cousineau, also a Cornell grad, who was Valleywide's last new-grad hire 15 years ago. More remarkable still, Starvish, a New Hampshire native, is female and didn't grow up on a farm.
Matthew Thorsen
Annie Starvish
Why would a 27-year-old former ballet dancer who likes to shop and watch "Six Feet Under" choose a profession that puts her squarely between potentially dangerous animals and the collective gaze of some of the most traditional men on the planet? "I don't like toy-breed dogs," Starvish declares, as if a single soundbite could explain her unusual career choice.
More illuminating is her long-held practice of putting roadkill out of its misery. Confronted with an animal that has been struck by a car, Starvish typically either runs it over "like, two more times," or gives it a shot to euthanize it. She keeps a supply of "sodium pento barb" in the glove compartment of her truck. In blue coveralls and rubber boots, this practical practitioner and longtime vegetarian sees no contradiction between loving cows and finishing them off. She reasons, "When the animal has a job to do, and doesn't do it, she gets a new job — like beef."
Starvish's patient won't meet that particular fate today. The cow is indeed carrying a calf, so the $140 surgery is in order. The vet heads out to her truck, strawberry-blonde ponytail bouncing, and schleps in all the necessary operating equipment: portable razors, a bucket of water, soap, IV, sutures, local anesthesia, syringes, gauze. Planning ahead is a big part of the work. So is driving long distances — using a fleet of company trucks, the practitioners at Valleywide each rack up about 30,000 miles a year.
Starvish lays out her sterilized surgical instruments on top of a metal tool box while a farmhand hoses down manure in the nearby holding area. He's intrigued, especially when he realizes Starvish intends to operate with the animal standing up.
"Is this a new way to do a DA?" he asks of the displaced abomasum.
"No, it's just me," Starvish says patiently. Her male colleagues tend to do this procedure with the cow lying on its side.
The farmhand accepts her explanation, adding, "I'll feed 'em, I'll clean 'em, I'll give 'em bottles, but I won't do that." He turns away while Starvish preps a large area on the animal's right side, soaping, shaving and disinfecting it before administering three shots of lidocaine, a local anesthetic. "I use a lot," Starvish explains. "I really don't want the cow to feel anything."
The cow doesn't like the needles, though — Starvish dodges a few desperate sideways kicks. Minutes later, the skin twitches when she cuts into it with a scalpel, making an 8-inch vertical incision. Once she penetrates the thick, black hide, though, the animal seems to relax. Slicing through the muscle layers and peritoneum is a cinch. Then she opens the gash like a handbag and her left arm disappears again — this time, into the cow's gut. Blood drips down the animal's side while Starvish feels around for the stomach, which has "floated" into the wrong place. Every time the cow takes a breath, steam comes out the hole in her side.
"I'm trying to get oriented," Starvish says cheerfully, feeling for the pyloris that indicates the distal end of the stomach. She pulls a portion of it out, along with a chunk of the small intestine, just to make sure she's found the right spot. The goal is to secure the stomach to the inside of the peritoneum by suturing it in place. With a curved needle, she starts sewing, layer after layer, until she get to the skin. It takes a long time. When she's done, she sprays the wound with something that looks like silver spray paint — "to keep the flies off."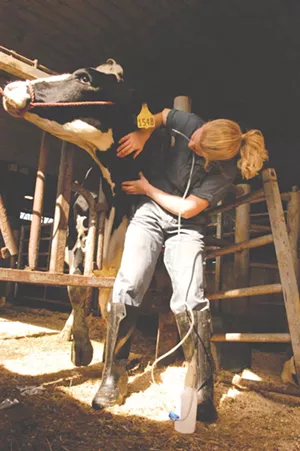 Matthew Thorsen
Annie Starvish
A number of heifers have congregated near the surgical stall. They're curious, and, between milkings, not exactly pressed for time. They stare with big eyes, but shy away when confronted. Starvish notes the sad irony of being a vet. "I've been — I don't want to say animal rights — but a huge animal lover and advocate. Now I guess it looks like I torture animals all day," she says with a sigh. "But the way I see it, I'm teaching people how to take care of their animals. I'm in it for the cows. I feel like I'm benefiting them by stepping up cow care, cow comfort, in the county."
You can easily miss the low-slung building occupied by Valleywide Veterinary on Route 30 in Cornwall. But livestock farmers throughout Addison County know exactly where it is. They stop in to buy pharmaceuticals or to drop off samples for testing — more and more farmers these days administer their own medications.
The best time to catch all six vets together is between eight and nine in the morning, when they come in to get their daily marching orders. An answering service collects messages throughout the night from clients who need a vet the following day. But one of the six is always on call to respond to emergencies, which tend to be complications during calving. Starvish's first-ever was a wee-hour C-section.
The docs come in through the basement, which houses the garage, lab and laundry facilities. The four working Friday appear to be as varied as the farmers they serve. Dr. Bob Taylor, who co-founded Valleywide in 1974, is the eldest cow doc. The sixty something vet mostly keeps to himself. In jeans and a baseball cap, Dr. Kent Anderson, 50, is the chattiest — and most "alternative" — of the bunch. Cousineau, who has a reputation for encyclopedic knowledge, is at the microscope, examining a fecal sample. He calls Starvish over to have a look at some lively lung worms.
All of the vets at Valleywide but Starvish are equal partners in the business. Their numbers guarantee them a certain amount of sanity. "When you're off, you're off," says Cousineau, who keeps sheep. Anderson raises replacement heifers. Taylor has beef cows. But their quality of life is predicated on full staffing and a good daytime dispatcher. Before Starvish was hired, at an annual salary of $45,000, her colleagues were working very long days. The number of farms in Addison County may be diminishing, Cousineau points out, but the total herd count is not.
Daily vet visits are divided up geographically, and all the docs except rookie Starvish have established relationships with certain farms. That means they usually do the farm's "herd checks," palpating heifers to see if they're pregnant or "still open." They're also available for consultation, health certificates, and meetings with bankers or feed-company nutritionists.
"But if they have a sick cow, any of us could show up," Starvish observes. After the surgery at Berthiaume's, for example, she tends to a cow previously treated by one of her colleagues. He glued a "block" to the bottom of the animal's ulcerated hoof to take the pressure off the wound. It's since come off, and "Mary Jane" has no interest in standing up. She's also managed to get her legs tangled up in the bars of her pen. It takes an electric prod — and two people assisting — to get the cow up into a position that lets Starvish affix a new block with "Bovi-Bond" glue.
The Valleywide vets have their specialties. Anderson works more with small family-owned dairies than the large milking operations that are replacing them. An Ohio State grad, he'll admit he's "partial to pasture" and nostalgic for the old days when everybody helped the visiting vet. Don't mention James Herriott or his bestselling rural vet books, though. "He made it sound a lot more glamorous than it is," says Anderson, who blames All Creatures Great and Small for the spike in vet-school applications when he was applying, in the '80s. "The reality is, you're out there in 20 below zero, you've got a cow with a prolapsed uterus that's frozen to the ground, and you're trying to shove it back in."
Despite his "old-fashioned" bias, Anderson readily admits that farm size is not a fair measure of a good dairy farm, or cow health. Bridport's 900-head Blue Spruce Dairy has an excellent reputation. And, he suggests, "There are some small farms where you wouldn't want to be a cow."
Most of the medical problems on Vermont dairy farms result from pushing the productivity envelope. Bred for maximum lactation, "their metabolisms are going crazy," Starvish says of the heifers. Those "efficiencies" are directly related to the economics of the industry. Anderson has strong feelings on the subject: "If you want good, cheap milk, you're voting with your dollars for farms to get bigger," he notes. "Farmers don't set their own prices. Meanwhile, vet prices go up. The cost of diesel is up. Relatively speaking, the price of milk hasn't changed in 50 years." He notes with sadness that Thomas Dairy in Rutland — one of the last truly local dairies in the region — is auctioning off its herd next week.
Organic milk production, too, is a complicated issue from a veterinary point of view. The product fetches a better price, in some cases $24 per hundredweight — compared with a base of $14.75 for non-organic. But Anderson questions health regulations that forbid the treatment of sore teats with bag balm — a petroleum product — or orally administering mineral oil. And in summer, there's no permissible, effective way to keep the flies off the animals.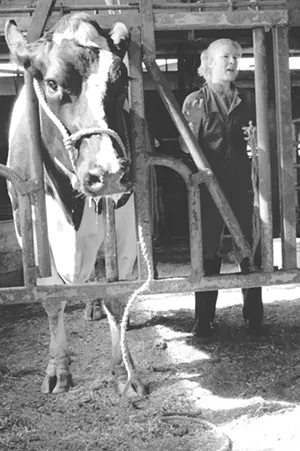 Matthew Thorsen
Annie Starvish
The next stop on Starvish's Friday schedule is an organic dairy farm in Florence. A Clif bar passes for lunch on the long drive south on Route 7. Nestled into an east-facing hillside, Morning Meadows Farm looks like an idyllic Old McDonald's. Free-range turkeys come out to meet the truck. Barn kittens cuddle up with the calves, all of which have names. Starvish is focused on three Ayrshires that will soon be auctioned off. She draws blood, checks tuberculosis tests, and affixes ear tags. Proprietor Ed Eugair stays right by her side.
In the course of her rounds — Starvish can handle about six stops a day — the young veterinarian encounters all kinds of farmers. "They're all introverts. They don't talk," she proclaims. But some are more enlightened than others. Thirtysomething Dutchman Gert Schut of Whiting is producing a drinkable yogurt to get more value from his herd. He's assisting Starvish, who is there to follow up on a toe amputation — "one of the most gruesome things that we do," she notes. Climbing all over the pen, she rigs a pulley so she can get a better look at the foot. Impressed by her display of nimbleness, Schut comments on Starvish's general competence: "She can certainly handle the job, from what we've seen so far."
Veterinary medicine is not exactly beginner-friendly; it's physically demanding and dangerous, and the equipment is different at every farm. Starvish notes, "It's easy to look dumb because you don't know how the pen works, or where the water is." She preempts the inevitable wisecracking with forthrightness. "I'm new. I'm slow," she tells anyone who will listen. "I'm not insulted at all if people think I need help."
Gender has not been an issue, she claims, although she concedes that finding a place to pee on the farm can be challenging. Starvish recently visited a farmer she later found out had said he would never let a woman vet on his farm.
"He was super-nice to me," she says.
"Being female is less of an issue than being new," Starvish asserts. Her colleagues, too, have been understanding. When she makes mistakes, "They're good about not making me feel like a big jerk."
If there is a lazy bone in Starvish's 145-pound body, it's not apparent on the job. She used to lift weights when she was in school. Now, she stays pumped wrestling cows. She runs occasionally on the weekends she's not on call, but sleep is her top priority. "Outside of work," she confesses, "I'll just lay on the couch, without moving." Two Sundays ago, at church, she fell asleep during the sermon.
Starvish came to Vermont because there weren't enough cows in New Hampshire. "This is as close to home as I can be and still work with just dairy cows," she observes. Now, after three months traveling the back roads of Addison County, she's decided to make a life here. She visits her family often, though, and regales them with vet stories. Her sister has dubbed her "Dr. Moo." Some family members are "grossed out," she says. Others can't get enough of the mastitis and mad cow testing. Or the details of a technique called "plank on the flank" used to straighten out a cow's twisted uterus. "You stick a board on her abdomen and someone stands on the board while you roll the cow," Starvish explains. "You are holding the uterus in place and moving the cow. I did one last weekend."
The Starvish family shouldn't have been surprised by Annie's choice of profession — although her livestock obsession started with sheep, not cows. She rented her first ewe in fourth grade, but eventually became shepherd to three sheep, one of which she showed in 4-H. Her parents took care of the flock while Starvish went off to Virginia Tech — she majored in animal science — and the year between college and vet school, when she worked at a small-animal practice. The sheep were still alive when she got into ultra-competitive Cornell, so they came along, boarding with one of her professors.
Aloe died first, Starvish recalls. Then the other two got really sick, and Starvish ended up euthanizing them herself. "It was nice," she says of their dual death. "They just laid down." She derived the same Kevorkian satisfaction recently by putting a disabled turkey out of its misery.
Starvish's evangelistic empathy doesn't extend to humans. She snorts at the mention of medical school, preferring the simplicity of animals — "Cows can't do anything to help themselves" — to people with their self-destructive behaviors. "Alcohol, obesity. Got a fat cow? Just cut back on her feed," she says, giving an example. "She doesn't know to be embarrassed when someone is digging around in her butt."
Starvish never liked the sedentary side of being a vet student. Not to mention the $100,000 in loans that financed the four-year program. But now she's definitely in her element. Even after a full day of farm visits, she seems genuinely psyched about the prospect of a Friday night "on call." The shift supplies plenty of after-hours drama: The first emergency is a sick calf that Starvish ends up euthanizing. The second is a difficult birth out in a field in the dark. Her 15-hour day ends at 11 p.m.
"You have to love it. If you don't, you're not going to last," Starvish says, already sounding like a seasoned cow doctor. "Putting that uterus back in at four in the morning. That was one time where I was, like, 'I do this because?' Then I was, like, 'Oh, yeah, it's really fun most of the time' . . . I lucked out with this practice. Your first job can be great or really horrible."