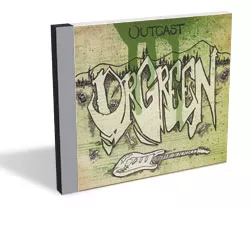 (Self-released, CD)
Remember rock? Not the hyper-hyphenated, overly sensitive, pseudo-artsy offshoots with schizophrenic names like indie-rock, jam-rock, pop-rock, funk-rock, post-rock, Fraggle-rock, etc. Rather, the kind of music you blare from the stereo of your Trans Am on the highway at 3 a.m. The kind of music that treats "feelings" like discarded beer cans. Music whose artistic significance is measured in sweat, blood and other bodily fluids. Balls-out, four-on-the-floor, gangly rockandfuckingroll. Remember that? The boys from local Rock — capital "R" — outfit Dr. Green do. And with their latest record, Outcast, they offer a needed reminder of just how potent raw rock can be.
The album opens on the title track. A lean guitar riff introduces the tune, tearing through a few progressions before the entire band enters, following suit with punk-ish urgency. Bassist and vocalist Dave DeCristo's clean baritone cuts through the miasma with steely reserve. The singer's voice is set somewhat back in the mix, his calculated cool juxtaposed with the band's fiery intensity.
"Down On Society" is next and downshifts to sludgy blues-rock. While it's more informed by classic hard rock than is the preceding cut, it's a fitting complement and showcases the band's versatility. So does the following track, a gritty, garage-blues scorcher called "Steppin' Stone."
"Down On 82nd" switches gears again, featuring a far more melodic lead. DeCristo opens up vocally and is more expressive than on previous cuts. Guitarist Derek Siegler adds some nice textures on backing vocal harmonies as the tune cruises along with driving, late-night swagger.
On "I Believe," DeCristo indulges his inner Eddie Vedder, coming perilously close to aping the Pearl Jam front man's signature croon. Dr. Green clearly have an affinity for 1990s-era alt-rock and grunge. This is the most overt nod, at times recalling the more aggressive moments from Pearl Jam's Vitalogy.
"Devil Don't Ride" continues the grunge assault with grimy guitars blazing; a killer half-time breakdown is followed by a searing solo from Siegler.
Outcast closes on "You Think Your Alright." Dr. Green deploy four different drummers on various tracks throughout the record, including Jason Corbiere, Chris Myers and Corey Wilhelm. Here, DeCristo showcases his percussion chops, further highlighting his versatility. He also plays keys, and engineered and produced the album with Siegler.
Dr. Green aren't exactly a throwback. But their brand of efficient, no-frills rock harks back to simpler eras of rock music, refreshingly trading more on intensity and raw emotion than on haughty artistic concepts.
Catch Dr. Green at Radio Bean this Saturday, April 16, with Torpedo Rodeo.