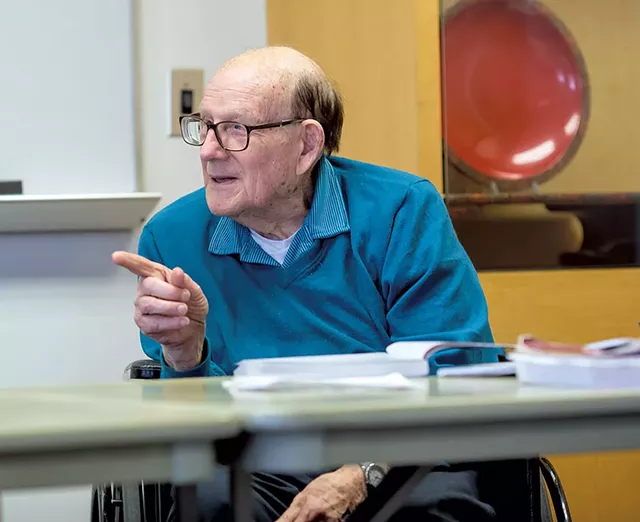 Jesse schloff
Bill Doyle
At the end of the first day of class in the fall of 2011, Bill Doyle asked his Johnson State College political science students if one of them could give him a ride home to Montpelier.
No one immediately answered, recalled Dylan Giambatista, who was in Doyle's class. So even though Giambatista lived in Essex and the capital city was well out of his way, he volunteered.
When they got to Montpelier, Doyle invited his new student to dinner at Sarducci's Restaurant and Bar. There, the protégé watched as the longtime professor and Republican state senator for Washington County did his thing.
"Everyone stopped by to say hi to Sen. Doyle," Giambatista said.
The next week, Giambatista offered to give Doyle a ride, and he continued to chauffeur his professor throughout the semester. The history of Vermont politics he learned on those 35-minute trips from Johnson to Montpelier trumped any lesson he could get in class.
"We almost hit a bear once," Giambatista said.
Another night, Giambatista, a punk-rock guitarist, and the eightysomething senator stopped at a Morristown bar to hear music.
Five years later, Giambatista, now 30, is about to be sworn in to his own seat in the state House just as the 90-year-old professor ends his 48-year Senate career. Doyle lost his bid for a 25th term by 191 votes in November. Late last month, he withdrew his request for a recount.
Slowed by age and restricted to a wheelchair, Doyle didn't campaign as vigorously as usual this year, said his friend Mike Doyle, a fellow unsuccessful Republican Senate candidate who is no relation.
"People who talked to me believed it was time for him to retire," Mike Doyle said. "Still, I would not have predicted a loss."
It is, without a doubt, the end of an era. But Bill Doyle takes solace in watching former students such as Giambatista take over.
As Doyle leaves office, six of his disciples are taking seats in the House and Senate next year. From him, they all learned to love Vermont politics and that they could, should and even must play a part.
Joining Giambatista as new members in the House next year are three other Democrats: Matt Hill, a 2013 Johnson graduate from Wolcott; his district-mate, Dan Noyes, a 1998 Johnson grad; and David Yacovone, a former legislator and state official from Morristown, who earned a degree in political science from Johnson in 1976.
In the Senate, veteran lawmakers Rich Westman (R-Lamoille) and Anthony Pollina (P/D-Washington) also took tutelage from Doyle decades ago.
A Johnson State professor since 1958, Doyle estimated that 30 to 40 of his former students have gone on to serve in the legislature over the years, though he couldn't identify all of them. Former lawmakers Don Collins of Swanton and Susan Sweetser of Essex were Doyle's students. So was Democratic Party activist Ryan Emerson. Many more went on to serve on local boards and run community organizations, Doyle said.
Those who've studied under the master say Doyle isn't the strictest of teachers. Students correct each other's quizzes. In class, he passes over without rebuke those who aren't ready to discuss a current event.
But Doyle infects his students with a Vermont political fever that won't go away. He does it, they said, by making politics accessible. He invites governors, U.S. senators, state legislators and agency heads to speak to his students. Very few decline.
When students falter in prodding the guests with questions, Doyle politely steps in to steer the conversation.
Doyle also insists that his students get involved in a local campaign or political organization. He hounds Vermont political colleagues to give his charges internships. Those internships often turn into jobs and even careers.
"The reason he has activated so many people is, he tells them they can and will do it," Giambatista said. "He told me I would be a congressman someday."
Yacovone recalled that Doyle commented on one of his papers, "Someday you'll be a great legislator."
Years later, when Yacovone and Westman were invited to speak to one of Doyle's classes, "He told Westman and me we were his best students ever," Yacovone said. "Well, he might have actually said 'two of my best.'"
Westman, who won election to the House months after graduating from Johnson in 1982, said Doyle not only introduced students to elected leaders but made sure they learned what it takes to get elected.
This year, Doyle connected Westman with a student, Andrew Charlestream, who worked on Westman's Senate reelection campaign. Westman's young campaign aide watched the candidate go door-to-door, saw how well he knew his constituents and learned what it takes to raise money.
By the time Doyle's former students run for office themselves, they know what campaigning looks and feels like, Westman said. Noting how Giambatista, Hill and Noyes succeeded on their first try, he said, "Every one of those connections they made, there was a piece of Bill Doyle there."
Pollina, a 64-year-old state senator who has served alongside Doyle for the last six years in the Statehouse, was a young hippie from New Jersey when he enrolled in Doyle's class at Johnson in the mid-1970s. Dispatched to find an internship, Pollina landed one at Vermont Public Interest Research Group.
Pollina went on to run VPIRG. He also ran for Congress, governor and lieutenant governor, losing campaigns through which he helped establish the Vermont Progressive Party. Now Pollina is an elder statesman with a seat in the Senate.
Like other Doyle disciples, Pollina points to the people Doyle paraded through his classroom as the secret ingredient to luring youngsters into politics. He remembers meeting Sen. Patrick Leahy (D-Vt.); Republican Jim Jeffords, who was then a congressman; and Bernie Sanders, a perennial leftie candidate who had yet to win an election.
"There was a lot of direct contact," Pollina said.
Westman remembers traveling to Connecticut with Doyle's class and meeting Ella T. Grasso, a Democrat and that state's first female governor.
None of Doyle's lessons was partisan, Pollina said, echoing statements from others. Doyle didn't challenge his students' political leanings.
"I was kind of politically left," Pollina said, understating the fact. "I don't think I was necessarily aware what political party he was in."
In the Senate, too, Doyle was rarely partisan, focusing his time on the nuts and bolts of election and education policies. He is best known for his annual Town Meeting Day poll, an unscientific but popular reading of the Vermont electorate's pulse. Doyle said he plans to keep that poll going.
Partly because of the poll, Doyle was a Vermont political legend by the time Giambatista took his class. "I went to Johnson State to study with Bill Doyle," said Giambatista, who transferred to Johnson as a tattooed 25-year-old high school dropout, after trying community college, working at a pizza parlor and playing in the rock band Rough Francis.
In Doyle's class, he met former governor Jim Douglas and then-state auditor Tom Salmon. "You're sitting face-to-face with a former governor, and you realize they're human just the same as you," Giambatista said. "There was this sense that public service meant something."
Doyle helped Giambatista land an internship with the Vermont State Employees' Association. That led him to a campaign gig with T.J. Donovan, when the Chittenden County state's attorney made his unsuccessful Democratic primary bid for attorney general in 2012.
Giambatista later joined Beth Pearce's successful Democratic campaign for state treasurer. After graduation, Pearce hired him in the treasurer's office. Giambatista, who became a suit-jacketed Statehouse regular, went on to serve as chief of staff for House Speaker Shap Smith (D-Morristown) before stepping down this year to run for his own House seat.
He recalled watching election-night results come in, surprised and euphoric at his own victory. Then he learned Doyle had lost. Though Giambatista is a Democrat and Doyle a Republican, he was disappointed to learn they wouldn't serve together.
But Giambatista will find plenty of Doyle connections at the Statehouse, and they span the generations.
Yacovone thinks he took Doyle's class as soon as he got to Johnson. "I fell in love with it," he said, and he went on to a career in social services that led to the top job at the state Department for Children and Families. He served four years in the House in the mid-1990s.
Now retired, Yacovone is returning to Montpelier in January for his second stint as a legislator.
Hill, just elected to the House from Wolcott at age 32, was a less-than-motivated student trying college for the second time when he wound up in Doyle's class in 2009.
He earned extra credit helping Doyle keep up on legislative issues and, doing so, came to love the Statehouse. His mentor hounded Labor Commissioner Annie Noonan to give Hill an internship. "He said, 'You know, this guy Matt is in my class, and he's really good,'" Hill recalled.
The internship evolved into a job as Noonan's principal assistant. Hill was soon following legislation for the Labor Department. This year, Hill left that job to run for the House.
Noyes, 49, also won a House seat in the same district this year. It took the Wolcott resident 13 years to finish the Johnson degree he started in 1985, but Doyle's political lessons spoke to him.
Noyes makes a living as director of a Central Vermont Council on Aging program but also served on his town's planning commission. When two incumbent House members opted not to seek reelection this year, he jumped at the chance to run.
Last week, Doyle invited Noyes and Hill, as newly elected state representatives, to address his Thursday morning class.
"It's kind of neat — kind of like going full circle," Noyes said.
"Doyle was very excited that we won, even though he had his unfortunate election," Hill said.
Doyle refuses to be maudlin about the election results that ended his Senate career, noting that he will be back in the Statehouse in January — as a professor. He plans to show another class of students the chamber where he served, introduce them to the players and lure another generation into Vermont politics.