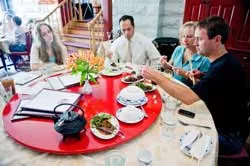 Andy Duback
A Single Pebble
For years, selecting from trays of hot or cold dim sum was a Sunday tradition at Five Spice Café. Remember the house-smoked fish and the mock duck? Since the restaurant's fiery demise, other eateries have tried to fill its niche: The now-defunct Tantra had a small dim sum menu, and Zen Gardens on Shelburne Road dishes up a selection of dumplings and buns that aficionados hail as ultra authentic.
Now Burlington's most popular Chinese resto has entered the fray. Last Sunday, A Single Pebble began offering weekly dim sum lunches. According to co-owner Chiuho "Christina" Duval, the reason for the addition is both fiscal and personal. "It's a business decision, frankly, for more revenue at this time," she says, adding that she's a "big fan" of dim sum herself.
Duval divides the offerings — which will be presented on bamboo trays — into three categories: traditional dishes such as radish cakes and shrimp shu mai; creative twists on the classics; and bite-sized portions of mock eel, dry-fried green beans and other selections from the regular menu. Folks with food restrictions, take note: Duval says it's tougher to accommodate allergies and dietary limitations during dim sum service, since so many of the 20 to 25 items served are prepared in advance.
On the first Sunday with the new offerings, "We were totally booked up," Duval attests. "Things went really smoothly." This weekend the resto should have 12 more outdoor seats available beneath a Chinese-style awning currently under construction. Duval, who plans to add flower boxes and lanterns once the structure is complete, calls the enhanced seating area a "personal fantasy. It blocks dust and noise and makes the restaurant a unique place to hang out."
Will ASP follow in Zen Gardens' footsteps and offer dim sum items such as chicken feet and beef tripe? Not as a rule, Duval says. "I personally like it, but I don't think the majority of the population here would like it. Maybe once in a while I'll do that."