Luke Awtry
Duncan Persons' apartment at 194 St. Paul Street in Burlington
It may not be evident to the public that the occupants of 194 St. Paul Street in Burlington are Champlain College students. After all, passersby can't witness the occasional slime-making contests in the common areas. From outside, the six-story building primarily presents a handsome contemporary design with large windows and brick-and-metal siding. At night, a programmable linear LED system on the exterior accentuates different parts of the building with light — sometimes colored, sometimes not.
The interior boasts urban-loft décor: exposed metal beams, natural wood and sleek furnishings in charcoal and cherry. Murals made from black-and-white historical photos of Burlington cover the walls, and a glass case displays artifacts unearthed during construction: dusty medicine bottles, a skinny old baseball bat. Wood from trees that were felled for the project has become a lobby bench, and wooden pallets from the construction were made into a wall accent.
The building in no way resembles the tatty off-campus student apartments scattered around the Queen City. The mix of textures, the rich sense of history and the modern design elements add up to a space that would appeal to empty nesters ditching the 'burbs for downtown.
But the kids are in this crib. Since the Champlain building — named for its address — opened last August, it's been at nearly 100 percent occupancy, with about 315 students living in studios or one-, two-, three- or four-bedroom apartments. Monthly rent ranges from $990 to $1,382 per student.
"It's the best way to wrap my Champlain College experience in a bow," said senior Duncan Persons, a 21-year-old communications major from Queensbury, N.Y.
He lives in a three-bedroom corner apartment whose living room windows offer views of Lake Champlain and the downtown skyline. Bedroom and living room furnishings were provided, along with sparkling kitchen appliances and a roomy bathroom with no hint of mold or flaking plaster. For Persons, the accommodations held far more appeal than the unfurnished off-campus apartments he and his friends had considered. "We saw it and wanted to snag it," he said.
Luke Awtry
Historical black-and-white photos from Burlington were enlarged to mural-size proportions.
Resident staff and student community advisers help maintain order and organize occasional group activities — such as those sanctioned slime-making events. Does the building feel like a dorm? "No," Persons deadpanned. "In a good way."
On a recent tour, Persons showed Nest his living room, strung with small, sparkly blue lights. He can see them like a welcoming beacon when he's downtown at night. The walls were decorated with a modernist Sean Scully print, an Ariana Grande poster, a Champlain College pennant and an Irish flag — a souvenir of his semester in Dublin. A Razor scooter leaned against the wall, awaiting the clear sidewalks of spring.
No bottles of Gordon's or Finlandia appeared on the granite countertops of the open kitchen. Alcohol is not allowed in the building, even for legal-age tenants — one of the rules that make 194 St. Paul a sort of hybrid of dorm and grown-up apartment.
The prohibition is OK by Persons; now that he's 21, he can walk to downtown bars for a beer or cocktail. And he likes that his building is not Party Central. "Students don't really have an excuse to be loud and noisy and running drunk down the hall," he said.
Rent includes utilities, which means tenants don't have to deal with setting up accounts and haggling over each roommate's share. Persons was happy to put that off. As he explained, "I have the rest of my life to live in an apartment."
The building has no dining hall, so Persons paid for a Champlain meal plan that allows him to eat on campus a couple of times per week. The rest of the time he cooks up sesame chicken or corn chowder, or pops over to nearby Kerry's Kwik Stop for snacks. He takes the bus or walks to local grocery stores for other provisions.
Luke Awtry
At night, faÇade lighting accentuates architectural details on the building
His building is getting dining options of its own, though; after some vacant months, all four of the commercial spaces on 194 St. Paul's first floor should be full by summer. The existing Perky Planet Coffee sells java and employs adults with disabilities; the newly opened Juice Amour offers organic fruit and veggie juices, tacos, and gluten-free soups. Coming soon are the deli-style Café St. Paul and the Asian-inspired Magic Chopsticks.
The college welcomed the commercial ventures as a way to appeal to students as well as residents and employees, said Sandy Yusen, the director of communications and external relations for Champlain.
Persons has no car, but his childhood bicycle, which he rode to his internship at WCAX-TV last semester, is stored in one of the building's two bike rooms. And that parking garage under the building? Students are not allowed to park there, and most of the 67 spots are reserved as paid public parking. That was part of a deal the city made with Champlain when the college sought approval to build on the site; the project took over a former city parking lot on Browns Court as well as the old Eagles Club, which was torn down.
A shuttle service transports the residents of 194 St. Paul to the core of Champlain's Hill Section campus every 10 minutes. Otherwise, going to class would mean a 10-minute trudge up steep Maple Street.
Given that the $36 million Champlain building incorporates all kinds of green, energy-conserving features, it seems fair to ask: Isn't the shuttle a not-so-green form of coddling? Aren't college students supposed to walk everywhere?
Times — and opinions about what constitutes a reasonable walk — appear to have changed. Persons said the shuttle is a good amenity and popular with students. So popular, in fact, that neighbors have complained about clusters of students converging on private lawns, and even someone's porch, while waiting for the bus. The school has put up signs designed to herd waiting students onto the public sidewalk or into the building's lobby.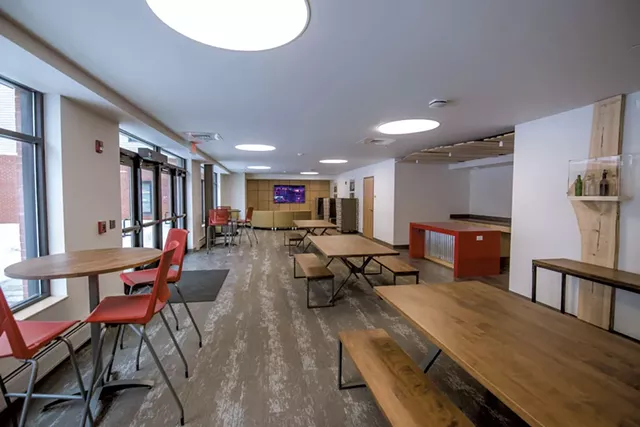 Luke Awtry
A common space overlooking a courtyard
Meantime, the stretch of St. Paul Street directly in front of the building continues to be blocked by a marathon street redesign. The city's plan to bury power lines, improve sidewalks and line the street with trees has hit numerous delays, including the discovery of old gas tanks under the asphalt. The work is now expected to be completed later this year.
About 75 percent of Champlain students live in campus housing, including numerous historic mansions that have been carefully renovated into dorms. Before the construction of 194 St. Paul, the college accommodated the spillover by providing shuttle service for several hundred of its students to live at the privately owned, apartment-style Spinner Place in Winooski. That service ended last year when Champlain prepared to open its own version of apartment living in downtown Burlington.
This school year, Champlain, which has about 2,200 full-time undergraduates, did not hit recruiting goals for new first-year students, Yusen acknowledged. The numbers "were a little bit lower" than in years past, but Yusen said she's confident the school will have no problem filling 194 St. Paul in the coming academic year and beyond.
The building's units are reserved for juniors, seniors and the occasional sophomore; many are already booked, and even students at the University of Vermont have tried to lease them, Yusen said. Unfortunately for the latter, the building is open to Champlain students only.
Persons will miss the views and his living room when he graduates and moves out in May. "I think of it as my sanctuary," he said.