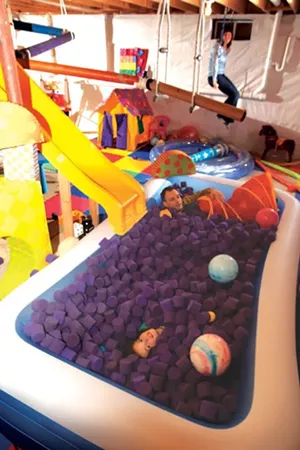 Back in 2009, Jamie Polli moved into a South Burlington condo with a barren basement. He wondered how he might create a unique play space for his daughter Celia — then 4 years old — to help ease the challenge of his recent separation from the girl's mom. "I wanted it to be really super fun," he recalls.
His solution? A magical, kid-size basement wonderland. Polli built a wooden tunnel suspended from the ceiling and installed a yellow slide that ends in an inflatable pool full of cylindrical, purple-foam "squishies." A winding "ball labyrinth" shoots colorful plastic balls across the room, and kids can spin a "Wheel of Fortune"-like Cookie Wheel left over from Polli's day job as the marketing director of the University Mall.
The space is continually evolving as Celia gets older and her play style changes. "The other day we were down here doing homework in the tunnel," Polli says with a grin.