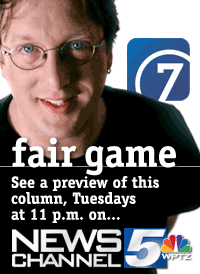 Gov. Jim Douglas and former Gov. Howard Dean are now both major figures in the national health-care-reform debate — but the two couldn't be further apart when it comes to prescribing a remedy.
Dean's approach is outlined in his new book — Howard Dean's Prescription for Real Healthcare Reform. A former practicing physician and presidential candidate, and chairman of the Democratic National Committee, Dean believes Congress should adopt a so-called "public option" that allows people to choose a federally run health- insurance plan.
He believes anyone under the age of 65 should be eligible for Medicare. He and other public-option advocates argue that private insurance companies waste more money on bureaucracy than the government does.
Republicans — and some Democrats — fear this would be the first step toward a single-payer system that would threaten existing insurance jobs.
"We're not trying to put private insurers out of business, but we should let people have the choice between a public plan and private plans, and the private plans will have to compete," Dean told "Fair Game" in an interview. "Politicians should not stand in the way."
Dean says Republicans would rather do nothing and alleges they are more interested in playing politics than in reforming health care.
During the Clinton administration, Congressional Republicans joined with the nation's health-insurance companies to kill a plan to make public-health-care options available throughout the U.S. Dean says the GOP is using the same playbook to try to kill Pres. Barack Obama's effort.
"I don't think that's going to work," said Dean. "People are scared of losing health care because they're losing their jobs, or they've already lost it because they've been laid off."
Failing to revamp health care now will put the country at a continued disadvantage because health care costs are cutting into business profits — forcing them to drop coverage or lay off workers, Dean noted.
When he chaired the National Governors Association 14 years ago, the expansion of children's health care was his prime initiative.
On Monday, Gov. Douglas, a Republican, announced that health care reform would be his main initiative during his yearlong tenure as NGA chair.
Calling from the NGA meeting in Biloxi, Miss., Douglas told reporters that his initiative will be twofold: highlighting state-based reform efforts that contain costs and improve quality of care; and helping states implement federal reforms in the event Congress enacts legislation. He's dubbing it "Rx for Health Reform: Affordable, Accountable, Accessible."
Something has to be done, Gov. Douglas noted. "We spend twice per capita [than] any industrialized nation, and we don't have any better outcomes."
How does he propose we fix it? Become just like those other industrialized nations and create a public insurance plan? Uh, no.
"I like the idea of choices," said Douglas, "but I don't think the federal government needs to be the insurer."
Spoken like a true Republican.
Controlling costs through early, preventative care and fostering competition in the insurance market will lower the price of insurance, Douglas contended.
In Vermont, the guv noted, legislative and regulatory hurdles enacted in the 1990s drove most insurance companies out of state. That drove up the cost of insurance plans.
Dean said that's not exactly how things happened.
The private insurers who left Vermont did so after the state put in place laws designed to force insurance companies to cover everyone, regardless of their health.
"We had companies that only insured healthy people and were literally dropping people's coverage when they got sick," said Dean. "That's wrong."
I don't know about you, but I'd pay a "premium" to see the two guvs debate this issue.
At the Bedside — While Douglas and Dean try to affect health care reform from outside the Beltway, two of Vermont's Washington, D.C., reps are deeply immersed in shaping the bill as it moves through Congress.
Democrat Rep. Peter Welch sits on the powerful House Energy and Commerce Committee. There he's been in a position to shepherd three of his initiatives into the broader health-care-reform measure. The committee is working late this week marking up the bill, and Welch hopes to add a few more amendments before they're done.
To date, Welch has introduced measures to improve quality by rewarding health care providers for patient outcomes, not just paying them more money for treating more people. He's also responsible for an initiative to foster early identification and treatment of chronic illnesses.
Independent Sen. Bernie Sanders sits on the Health, Education, Labor and Pensions Committee — the group taking up healthcare reform in the Senate.
One of Sanders' chief provisions would quadruple the funding for federal health care clinics in the U.S. — something he's been working on for years. These clinics provide primary medical and dental care in underserved areas and treat patients regardless of their ability to pay.
"That is a huge step forward, and will improve the lives of many in this country who cannot otherwise afford or get access to a primary-care doctor," said Sanders.
Although he's a single-payer proponent and describes the Senate bill as "flawed," Sanders said he will support the legislation.
"Doing nothing is not an option," he said.
Try and tell that to the GOP.
Dollar Dynamos — As expected, two Democratic gubernatorial wannabes posted some impressive early fundraising numbers last Wednesday.
I analyzed them at length on the Seven Days staff blog, Blurt, but here's my quick takeaway.
First, the raw numbers: Secretary of State Deb Markowitz raked in nearly $200,000 from more than 1000 people. Chittenden Sen. Doug Racine raised a little more than $100,000 from 517 people. State Sen. Susan Bartlett (D-Lamoille) has not yet raised a dime for her gubernatorial bid. Incumbent Gov. Douglas raised $91,000. That's only $5000 less than he reported during the same period in 2007.
Some observers seem to be brushing off Markowitz's good fortune as a fluke, or say it's too early to determine if the cash is an indication of strength. You don't raise that much money from that many people by just calling friends and family.
The strong campaign-cash filing shows that Vermont Democrats who opened up their wallets for Barack Obama are willing to do the same for gubernatorial candidates. This marks a turnaround from the 2008 election cycle, when Democrats took forever to produce a candidate. By the time they did, former House Speaker Gaye Symington was unable to get enough donors to back her campaign.
That lack of enthusiasm for Symington, and previous gubernatorial Dems, has been key to Douglas' winning strategy.
But some Democrat business people who normally back Douglas now appear to be jumping ship. Mary Alice McKenzie, of McKenzie of Vermont fame, is backing Racine, as is Ed Colodny, the former airline exec and interim leader at both Fletcher Allen Health Care and the University of Vermont. Both gave to Douglas in 2008.
Still, Douglas is a formidable politician who can raise plenty of money when he wants to. And one should never underestimate the ability of Vermont Democrats to snatch defeat from the jaws of victory.
Take Out the Trash — Last week's campaign-finance report contained more than a few oddities. One, on the Douglas side, was a total of $8000 in donations from entities owned by a New Jersey trash company.
Douglas received $2000 apiece from the "Moretown Landfill" and the "Burlington Transfer Station." Ditto two transfer stations in Massachusetts — one in Oxford, the other in South Hadley. All four operations are owned and operated by Interstate Waste Services out of Ramsey, N.J.
Why they gave so generously — all on January 9 — remains a mystery. Unless it has something to do with the company's plans to expand the Moretown landfill, pending special environmental permits it needs to do so.
Calls to the company's HQ were not returned as of press time.
Hey, if giving money to the guv works for Entergy, maybe it'll work for a trash hauler, too?
Working Overtime — You have to hand it to the Douglas team: They work hard for their governor — and candidate. Sometimes both.
According to campaign-finance filings, Douglas reimbursed two people for campaign work: Dave Coriell and Dennise Casey.
Both Coriell and Casey work for Douglas as state employees — Casey holds the dual roles of deputy chief of staff and spokeswoman, while Coriell is a "special assistant" who works out of the governor's office but is technically paid with transportation dollars. Casey was reimbursed more than $3700 through July 15 for campaign work, while Coriell was reimbursed just $164.
As readers may recall from last year, "Fair Game" caught Casey blurring the lines between her campaign and official state duties: She used her state badge to access the guv's office after hours, at a time when she was on leave from state employ to manage Douglas' reelection campaign. She eventually turned in her badge.
Hey, we all make mistakes. Once.
Media Notes — Good News Edition — Last week, we reported that the Burlington Free Press laid off 10 people as part of their parent company's nationwide purge of nearly 1400 employees.
The job cuts and unpaid furloughs appear to be righting the media giant's listing ship. Gannett Co. Inc. posted a second-quarter profit of $70 million.
The cost cuts helped boost GCI's stock prices and earn the company a bullish ranking from the popular CNBC host Jim Cramer of "Mad Money."
Another Vermont newspaper received some good news last week. The Valley Reporter in Waitsfield won four awards from the National Newspaper Association — the only paper in Vermont to win.
The paper took second place in three categories: section design, photography and editorial writing. It got third place for cartooning. Congrats!
Finally, a couple of former journalists have come out on top at the state's Agency of Natural Resources. Sabina Haskell, former editor at the Brattleboro Reformer and Rutland Herald, was promoted from ANR spokeswoman to deputy secretary. Justin Johnson, a former ANR communications director before becoming deputy commissioner of the Department of Environmental Conservation, was promoted to DEC commish.
Maybe there is life after journalism?
Outraged Yet? — A great time was had by all on Sunday night at the special screening of Outrage at Merrill's Roxy in Burlington. The documentary examines the roles of closeted gay politicians and key political operatives who vote, or work, against equal rights for gays and lesbians — and relevant legislation, such as funding AIDS research.
Along with Amber LeMay of the League of Drag Queen Voters, I facilitated a post-film discussion about media complicity, and what would happen in Vermont if such a politician was discovered. Trust me, the topic came up during last session's same-sex-marriage debate. Had some Vermont lawmakers not voted in favor of the legislation, there was talk of "outing" them for their hypocrisy.
Nationally, several such pols have distinguished themselves in this realm, including former Idaho GOP Sen. Larry Craig. Also "outed" in the film were U.S. Rep. David Dreier (R-CA), former U.S. Reps. Jim McCrery (R-LA) and Ed Schrock (R-VA), and Republican Gov. Charlie Crist of Florida, to name a few.
Michael Rogers, the journalist and blogger who outed Craig as well as Schrock, told "Fair Game" he's only interested in exposing hypocrites — not just anyone who is in the closet.
"I want to be clear: Technically what I do is not an 'outing,'" said Rogers. "An outing to me is the indiscriminate disclosure of someone's sexual orientation without reason. What I do is reporting, not outing."
Good point. Check Blurt/a> this week for a full write-up of my enlightening chat with Rogers about the role of new media in today's journalism.
Before you read it, though, go see Outrage. It's playing at 6:30 p.m. nightly through next Thursday.
RECENT BLURT POSTS BY SHAY TOTTEN
"Gubernatorial Campaign Money Report Redux," July 17
"Parsing the Purses," July 16
*** *** ***
Got a news tip? Email Shay at shay@sevendaysvt.com
Click here to follow Shay on Twitter.