James Buck
Doughnuts at Kru Coffee
January is typically diet month. Among the tangle of New Year's resolutions that follow a season known for overindulgence are countless vows to eat better.
The media feed the frenzy with articles on "clean eating" and the latest magic-bullet diets promising "no more belly fat" and other unreasonable goals.
Cut all sugar! Cut all carbs! Eat like a caveman!
While we at Seven Days agree that almost everyone should eat more vegetables and fewer processed foods, we (and most nutrition professionals) don't believe that deprivation is the path to sustainable dietary change.
To wit: Many newly hatched diets are history by the time February rolls around.
To buck the tide, we're launching our 2021 food coverage with a celebration of high-quality, locally made doughnuts from three businesses that opened in Vermont over the past 12 months. While decidedly not health food, when eaten occasionally, doughnuts satisfy your sweet tooth and leave room for lots of kale.
In January, others may diet; we doughnut.
— M.P.
Getting Hangry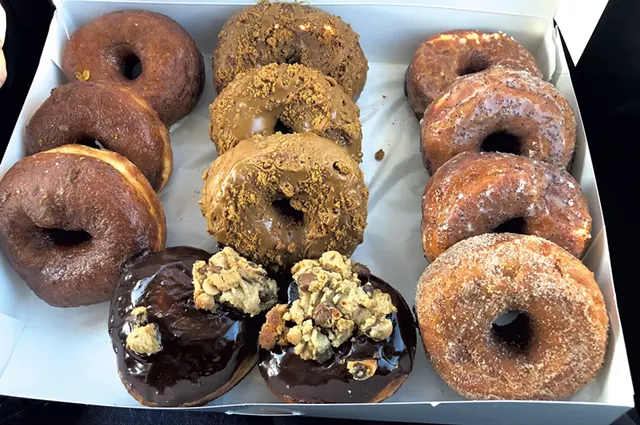 Courtesy Of Hangry The Donut Bar
A dozen doughnuts from Hangry the Donut Bar
Erica and Edmond McClain have figured out the best possible use of the St. Albans Park and Ride: doughnut drop-off. That's where I met Ed on a recent Tuesday afternoon to receive a dozen assorted doughnuts — lemon poppy, chocolate peanut butter, orange whiskey and cookie butter.
The McClains launched St. Albans-based Hangry the Donut Bar in March 2020, and their doughnuts have been selling out at pop-ups and drop-offs ever since.
The business is a natural fit for the couple, if an unexpected one. "We do everything based on food," Erica, 27, said. They love to travel, planning whole trips around eating destinations. Visiting a former coworker in New York City in January 2020, Erica made one of those stops at a West Village shop called the Doughnut Project.
"I had a doughnut there, and it changed my life," she said.
Ed, 32, had quit his job to attend welding school, and Erica was hoping to supplement the income from her full-time job at the St. Albans Office of the Defender General. After that transformational experience in New York, she immediately started experimenting. Though she loves to bake, she'd never made a doughnut before. "So many failed attempts," she said. "But, through the grace of God, I came up with this recipe, and I was like, 'Honey, this is actually good!'"
Courtesy Of Hangry The Donut Bar
Left: Erica and Edmond McClain with George Angov and Edmond McClain Jr.
The McClains moved to Vermont from Florida six years ago. From his youth in the South, Ed has fond memories of seeing the neon "hot doughnuts" sign lit up at Krispy Kreme. "We want to be like Krispy Kreme, but we want it to not be so bad for you," he said. "Even though it's rich, it's got good stuff in it."
That "good stuff' includes local eggs and flour from Nitty Gritty Grain. Hangry's creative flavors change frequently; some are nods to nostalgia, such as frosted animal cracker and Oreo cookie; others are inspired by the couple's travels and Florida roots. Passion fruit, Ed's favorite, returns to the menu this week.
The couple makes all of their brioche-style doughnuts together in their home kitchen. "It's Hangry's kitchen now," Erica said, laughing. "We only go in there to do doughnut stuff; that's how much it's taken over our lives."
Hangry currently sells about 20 dozen doughnuts a week directly to customers, taking orders online for Tuesday-through-Saturday pickup at the Park and Ride. The minimum order is a dozen, but the McClains plan to offer smaller quantities on Saturdays. They supply doughnuts to Catalyst Coffee Bar in St. Albans every Friday and are expanding to other wholesale accounts. This summer, they hope to find a commercial kitchen space and operate a food truck.
The McClains try to hand off the doughnuts while they're hot, but in case yours aren't, they offer a hot tip: Pop the doughnut in the microwave for 15 seconds to return it to just-out-of-the-fryer condition. That is, if any doughnuts make it beyond the Park and Ride.
— J.B.
Cruising at Kru
Kru Coffee, 2 Church St., Burlington, $1.99-$3 apiece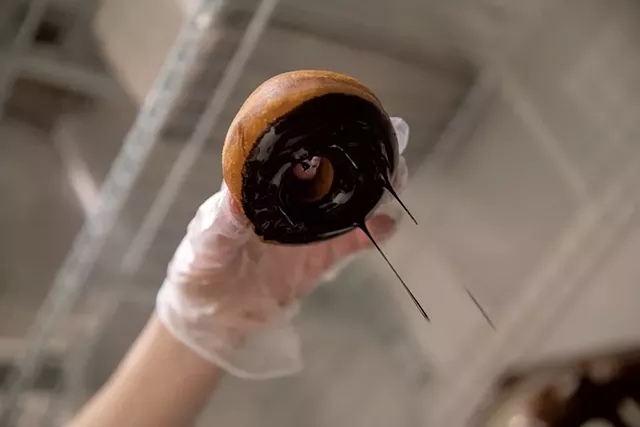 James Buck
Leslie Stewart making doughnuts at Kru Coffee
About six months before Ryan Miller and his relatives opened Kru Coffee at the top of Church Street in Burlington, he embarked on a doughnut mission.
Miller, 40, is based in Saratoga Springs, N.Y., site of the original Kru Coffee. After he and his co-owners decided to open a Burlington branch, Miller took trips to New York City to taste-test doughnuts. He traveled to Las Vegas to learn from experts at a baking conference.
He worked on the doughnuts, practicing his craft, at a café he owns (and is now selling) in Glens Falls, N.Y. Developing his recipe, Miller considered texture, aftertaste (there should be none), dough temperature, and the optimal amount of rise and oil absorption.
"It's an art in baking," Miller said.
Kru opened in Burlington in February 2020, and doughnuts debuted there last summer, when a kitchen-building project was complete. The Kru crew offers them Friday through Sunday at the coffee shop, which is open daily for takeout.
The doughnuts are made by Leslie Stewart, 28, a trumpet player who grew up in Colchester and studied music education before deciding she'd rather bake than teach music in schools. She's baked in commercial kitchens in Wisconsin and at Great Harvest Bread in Burlington.
"I just grew up baking and cooking with my parents," Stewart said. "I think doughnuts were about the only thing we didn't make when I was a kid."
She worked with Miller a few times to learn his doughnut recipe and technique.
"It's pretty straightforward," Stewart said. "You have to know how a yeasted dough behaves. It's a great, versatile kind of dough. You get a lot out of using the same dough."
She typically makes a few varieties each doughnut day: a warm sugar version that's light and lovely, plus specials such as chocolate caramel, strawberry crème and blueberry lavender. The dough is vegan; the creams and glazes contain dairy.
Working in the food business is "scary" these days, Stewart said. Her concerns range from health risks — especially for her coworkers who are face-to-face with customers — to worries about the possibility of a mandated shutdown.
But she's grateful to have a job doing what she loves, and she appreciates the community support.
"I can't believe how well we do," Stewart said. "People really love Kru. The coffees are fantastic."
She paused and added with a laugh: "And the doughnuts are OK, too.
"Sharing food with people feels like a really special thing — right now, especially."
— S.P.
The Sweet Life
Local Donut, Woodbury, $2.50-$5 apiece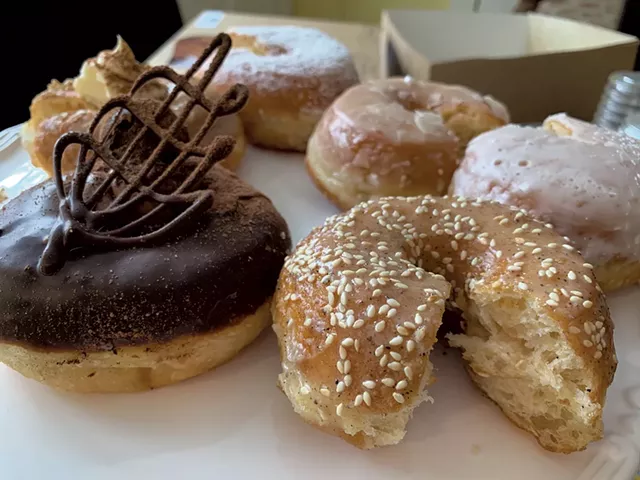 Melissa Pasanen
Chocolate mocha truffle (left), honey cardamom (right) and others from Local Donut
Nate Doyon and Nina Livellara started their first date four years ago at the downtown City Market, Onion River Co-op cheese counter. A mutual friend set them up thinking they had a lot in common.
Livellara, 39, grew up on a Danby homestead, has worked for restaurants and wine sellers, and holds a master's in culinary arts from Slow Food's University of Gastronomic Sciences in Italy.
Doyon, 34, was raised in Orleans, waking each morning to the Ethan Allen furniture mill whistle. He graduated from New England Culinary Institute's pastry program and spent a decade baking at Trapp Family Lodge before moving to Stowe Mountain Resort.
As Livellara recalled, "We just knew it was meant to be."
Not so obvious was a future in which the couple would start 2021 juggling the full-time care of two children and Local Donut, their youngest "offspring."
The pair married in 2017 and soon welcomed their daughters, now 3 and 20 months. They bought a house in Woodbury, and Doyon stepped off the corporate pastry track to spend more time with his family.
Heading into 2020, Doyon was working as a barista at Carrier Roasting in Northfield and getting steady gigs as a recipe development consultant. The couple also supplied Carrier with pastries, including doughnuts.
Then, in March, COVID-19 put Doyon out of work. "We said, 'What the heck are we going to do?'" Livellara recalled.
Devoted Carrier customers had an idea.
Courtesy Of Local Donut
Nate Doyon and Nina Livellara of Local Donut
"We started hearing, 'Can you deliver a dozen doughnuts to our house? We're in a funk and can't go anywhere,'" Livellara said. "People are craving the comfort and the nostalgia of a doughnut."
Local Donut's freshly fried, yeast-raised doughnuts reflect Doyon's own nostalgic memories of the ones made by his Gram and aunts.
But the cloudlike puffs of dough, anointed with from-scratch fruit preserves, lemon curd or chocolate ganache, also testify to his professional expertise.
Each batch starts with a piece of mother dough plus yeast, to which the couple adds mostly local ingredients: eggs from Black Dirt Farm in Stannard, milk from Rogers Farmstead in Berlin or Sweet Rowen Farmstead in East Albany, and flour milled by Elmore Mountain Bread from grain grown by NEK Grains in Waterford.
Local sourcing "is the root of what Local Donut is," Livellara said.
While Local Donut offers classics, such as maple-glazed and raspberry jam-filled doughnuts, it ascends to another level with flavors such as Lemon Beauty, oozing rich, velvety curd; and honey-cardamom, speckled with nutty sesame seeds.
For chocolate lovers, the chocolate mocha truffle doughnut, gilded with ganache, frosting, a full-size truffle and a sculptural chocolate swirl, will ring all the bells.
"I know it's a doughnut, but I want it to be memorable," Doyon said.
Over the past year, Local Donut has grown to produce and deliver up to 1,000 doughnuts weekly out of a newly built bakery addition. The couple still does some home delivery but mostly sells through about a dozen farmstands, small stores and coffee shops, from South Royalton to Middlesex to Hardwick.
The hours are long, but "this is our dream," Livellara said. Her husband affirmed: "It's not a job to me. My work is what I love to do."
— M.P