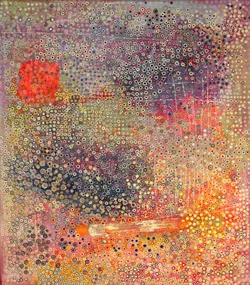 EXHIBIT: "Shifting Frequencies: Recent Work," oil and acrylic paintings by Giovanna Cecchetti. West Branch Gallery & Sculpture Park, Stowe. Through April 28.
ARTWORK:"April Rain" by Giovanna Cecchetti
Giovanna Cecchetti's new exhibit, "Shifting Frequencies: Recent Work," at Stowe's West Branch Gallery offers a unique brand of nonobjective abstraction. It comes to Vermont all the way from the former silk-manufacturing center of America: Paterson, New Jersey. Cecchetti's work does not involve textiles, but her paintings almost seem to conjure the ghosts of silk-weavers past as she delicately interlaces exquisite lines and decorative circles on supremely well-worked surfaces.
Cecchetti relies on tiny, precisely repeated circles, dashes and dots, yet her mark making is amazingly fresh. Her statement explains: "Each mark becomes a recorded moment and the layering of these marks breaks the plane, creating spatial illusion that serves to mutually organize and confuse time."
These are paintings to linger over. A series of untitled vertical diptychs, measuring 28 by 52 inches, arises from dusky-valued backgrounds; black-and-white lines shoot over the topmost planes of the canvasses like frost on subzero windowpanes. Sandwiched between the background and surface layers are Cecchetti's trademark constellations of dots, these surrounded by tiny circles in a broad range of hues. By literally sanding down intervening paint applications, she varies the intensity of her circles and dots, adding depth to the atmospheric compositions and creating the spatial illusions she refers to in her artist's statement.
Cecchetti is a pure formalist as well as an impressive technician. She practices a modified version of Hans Hoffman's "push-pull theory" by exchanging density for mass. At the same time, she maintains Hoffman's approach to layering color - albeit on a microscopic scale within larger abstract fields.
As she implies with the title of her "Guided by Runes" series, Cecchetti seems to be engaged in an ongoing quest to decipher the aesthetic lexicon of her signature rhythms and riffs. "Guided by Runes 2" is a 53-by-63-inch codex of dots and layers of connecting lines. The lines are of uniform weight and as thin as cat scratches but vary in intensity; they seem to alternate between sinking into the paper and lying on top of it.
The mixed-media pieces were created on Arches paper and include passages of drawing with ink and pastel. Such graphic elements introduce variations on the mark making; they also loosely reference the nature of writing as a visual medium, and of visual art as a form of concrete communication. Working with white on white, Cecchetti has maintained the light value of the paper.
One of the smallest pieces in the show is the 18-by-16-inch oil on linen "April Rain." The largest is a 43-foot-long acrylic scroll on canvas at the show's entrance. "The Large Scroll" appears on a black wall in a darkened anteroom, leading visitors into the gallery with exquisite color fields of green, red and cobalt blue.
That ethereal opening image resonates even in the smallest piece. "April Rain" is almost like a detail of the warmest areas of "The Large Scroll." Cecchetti's seamless transition from monumental to intimate scale further demonstrates a mature commitment to discovered form.
West Branch owners Tari Swenson and Chris Curtis discovered Cecchetti's work during a visit to the Vermont Studio Center. By choosing to exhibit her work, they confirm that the gallery has become Vermont's premier venue for innovative abstraction - a niche left open by the demise of Burlington's Doll-Anstadt Gallery early last year. And by continuing to look beyond Vermont for its programming, West Branch is developing a strong regional reputation.
As the birthplace of Allen Ginsberg and home of William Carlos Williams, Paterson is known for poetry as well as silk. Cecchetti draws from those dual roots in creating her silky and poetic abstractions.