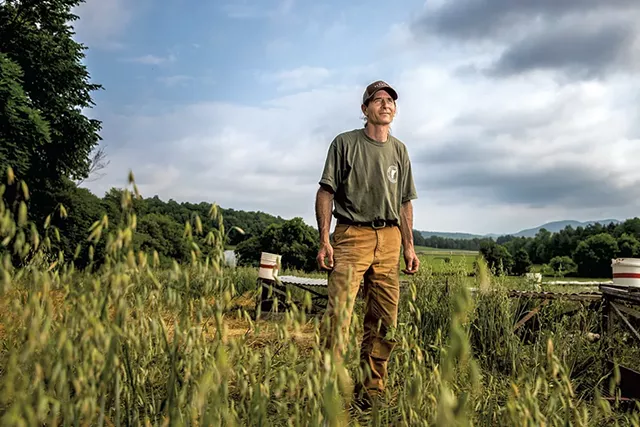 File: James Buck
Lt. Gov. David Zuckerman
During a debate last month with his rivals for the Republican gubernatorial nomination, Gov. Phil Scott did something a little unusual. Given the chance to pose a question to any one of his primary election opponents, he instead chose to highlight the record of a potential general election foe.
"We're in the middle of a pandemic," Scott said, addressing a fellow Republican candidate. "One of the front-runners on the Democratic side has questioned the science of vaccines. Do you accept, like I do, that vaccines are essential to public health and getting us out of this economic crisis that we're in?"
The question was a shot across the bow at Lt. Gov. David Zuckerman, a Progressive/Democrat who has endured withering criticism of his record on vaccine mandates from his chief rival for the Democratic gubernatorial nomination, former education secretary Rebecca Holcombe. Scott was making clear that, even if Zuckerman survived Holcombe's vaccine attacks during the primary, they would keep coming in the general election campaign.
For months, Holcombe has highlighted Zuckerman's past support for a philosophical exemption to the state's vaccine mandate when he was serving in the Vermont Senate, calling the lieutenant governor an "anti-vaxxer" and accusing him of disbelieving science. She has said his history on the issue is particularly concerning given that he's seeking to govern a state beset by a public health crisis.
Zuckerman, meanwhile, has argued that his opponent has deliberately misconstrued his record in a cynical attempt to win votes. He maintains that there is no daylight between their positions and that he would seek to distribute a COVID-19 vaccine to all Vermonters for free as soon as one is available.
"She has chosen to make wide, sweeping statements that are patently false," he said in a 45-minute interview explaining his position. "Vermont does deserve better. It deserves candidates who are willing to focus on the issues and not focus on smearing each other."
The debate over Zuckerman's views on vaccines has been clouded by an incomplete historical record. At issue is the Senate's decision in April 2015 to make it more difficult for parents to enroll their children in public schools without certain immunizations. But because no roll-call votes were taken, it is impossible to verify precisely how Zuckerman voted on the matter.
On the campaign trail this year, Zuckerman has repeatedly asserted that after voting to keep the philosophical exemption, he voted to repeal it later the same day. But an examination of the available evidence — including audio recordings of the Senate debate, interviews with Zuckerman's then-colleagues and his own comments after the fact — found little support for the latter claim.
Rather, those on either side of the argument said it was clear at the time that Zuckerman strongly opposed strengthening the state's vaccination requirements.
"David Zuckerman was one of only a few Vermont senators to stand up in support of parents when certain lobbyists, medical center CEOs and lawmakers were trying to make all vaccines mandatory for all children in 2015," said Jennifer Stella, codirector of Health Choice Vermont, which opposes vaccine mandates. She said she stood by her 2016 assertion that Zuckerman "was regarded by many as a hero," a quotation Holcombe has used against him.
Sen. Dick Sears (D-Bennington), a cosponsor of the 2015 amendment bolstering the vaccine mandate, agreed that there was no question where his former colleague stood. "He definitely opposed the removal of the philosophical exemption," said Sears, who is neutral in the gubernatorial race. "That's why the anti-vaccination people were very supportive of him."
John Campbell, who was president pro tempore of the Senate at the time and another cosponsor of the amendment, had the same recollection. "There was nothing that I can recall of him supporting or being in support of removing the philosophical exemption," said Campbell, now executive director of the Department of State's Attorneys and Sheriffs.
Zuckerman himself characterizes his actions completely differently.
"I voted for the bill that repealed [the philosophical exemption], and I supported that effort," he said in the interview. "I even offered an amendment to remove it, as well, as you know, with some conditions."
File: Paul Heintz ©️ Seven Days
Then-senator David Zuckerman argues against eliminating the philosophical exemption to Vermont's vaccine mandate during an April 2015 Senate debate.
The lieutenant governor now recalls his initial opposition to the effort as brief and motivated largely by procedural concerns — and he says his position on the merits of the legislation hasn't evolved since. "My views haven't really needed to change," he said.
At the time of the vote, vaccine campaigners had spent years seeking to close loopholes making it relatively easy for parents opposed to vaccinations to enroll their children in public schools without being immunized against polio, whooping cough, measles, mumps and other diseases. Every state in the country had a medical exemption to the mandate, allowing those with documented reasons to avoid vaccines to do so, and 48 states had a religious exemption. Vermont was one of about two dozen states that also allowed parents to opt out for unstated philosophical reasons.
In the 2011-12 school year, according to data from the state Department of Health, the parents of 5.2 percent of Vermont's kindergartners had availed themselves of the philosophical exemption. Only 87 percent of kindergartners were up to date on all required vaccines — among the lowest rates in the country — and in some schools and communities the rate was far lower.
During the 2012 legislative session, while Zuckerman was taking a two-year break from the legislature, the Senate voted overwhelmingly to scratch the philosophical exemption — but, facing pressure from anti-vaccination activists, the House balked. In a compromise, the legislature ultimately moved to collect more data on immunization rates and to require parents seeking the religious and philosophical exemptions to sign a statement saying they understood the risks to their children and others.
Three years later, a multistate measles outbreak originating at California's Disneyland prompted Vermont lawmakers to revisit the issue. "We were one plane ride away from measles hitting Vermont," then-senator Kevin Mullin said during an April 2015 debate.
When an otherwise uncontroversial bill updating the state's disease registry rules came to the Senate floor that month, Mullin, Sears and Campbell introduced a last-minute amendment to the bill that would do away with the philosophical exemption. As Seven Days reported at the time, Zuckerman questioned the science of vaccinations during a floor debate and said that the pharmaceutical industry was pushing vaccinations only to make money. He accused the Centers for Disease Control and Prevention of having conflicts of interest, suggested that vaccine researchers keep their data hidden and argued that those who are better educated are more likely to avoid vaccines because they understand "potential concerns."
"For me, as long as there's the extreme financial conflicts of interest out there that are driving much of this debate and discussion, I have to maintain the individual right for someone to do their own research, as well, and make that decision," Zuckerman said at the time.
"He was opposed to the amendment," Mullin, now chair of the Green Mountain Care Board, recalled last week. "I think he may have said something silly about there might be discrepancies in the science related to it."
Though a majority of senators appeared to support the amendment, several objected to voting on it without first taking testimony, so the Health & Welfare Committee agreed to hold a brief hearing. A week later the amendment reemerged, and Zuckerman again spoke out against it.
Noting the emotional nature of the debate, he said, "I think it's important that we all recognize those passions, those convictions and the fact that there is disputed evidence with respect to some of the discussion we've been having."
Zuckerman moved to further amend the bill to remove the philosophical exemption only after the CDC had signed off on "a reliable DNA swab test to check for the genetic predisposition to an allergic reaction to various immunization ingredients."
"Science, as we all know, is evolving at an extraordinarily rapid pace, particularly genetic science," he told his colleagues, asking "why we can't wait" for such a test before removing the exemption.
Zuckerman now claims his amendment would not have stood in the way of stronger vaccine mandates. "The amendment that I offered was to say I have no problem — in fact, I support removing the philosophical exemption — if we give people the tool to be able to test if they are predisposed genetically to an extreme reaction," he said in the recent interview.
But according to Dr. Tim Lahey, an expert on infectious diseases who spent a decade researching vaccines, Zuckerman's amendment "wasn't something that the science supports." Had it passed, he said, Vermont's philosophical exemption might still be in place, because the test Zuckerman imagined still does not— and may never — exist. "I want legislation based on the current science, not a guess about what the future will show," said Lahey, a physician at the University of Vermont Medical Center and professor at UVM's Larner College of Medicine.
Zuckerman has a different view. "If that amendment passed, there would have been the medical and pharmaceutical company interest to develop that test," he theorized.
Former senator Claire Ayer, a retired nurse who chaired the Health & Welfare Committee at the time, now calls Zuckerman's amendment "nutty" and sees it as evidence that he "disregards science."
"It was clear that he did not want to do without the philosophical exemption," she said, adding that the issue had prompted her to endorse Holcombe.
Zuckerman's amendment ultimately failed on a voice vote. Even then, he continued to argue that repealing the exemption would drive up property tax rates because it would drive students out of public schools, and he insisted that vaccination rates were high enough to avoid a public health risk. "So I urge that we defeat this amendment," he said, referring to the one offered by Mullin, Sears and Campbell.
Instead, it passed on a vote of 18 to 11. Though no roll call was recorded, Zuckerman says he was among the 11 who opposed it. The Senate then passed by voice vote the underlying disease registry bill with the philosophical exemption repeal tacked on to it. According to Zuckerman, he voted for that — and that is the vote he has highlighted in recent months to claim he backed the repeal.
"I think sometimes you vote for an amendment to make a statement, but the bill as a whole was a good one, so you vote for the bill," explained Sen. Ann Cummings (D-Washington), who has endorsed Holcombe but who defends Zuckerman's position. "This is the art of the possible here." Like Zuckerman, Cummings says she opposed repealing the philosophical exemption — though her views have since changed — and supported the underlying bill.
Even at the time, Zuckerman's remarks on the Senate floor drew scorn from some quarters, including the liberal political blogger — and future Seven Days columnist — John Walters, who referred to him, Cummings and others who spoke out against the Mullin/Sears/Campbell amendment as "desperate, evasive [and] rhetorically bankrupt."
Defending himself in the comments section of Walters' blog the day after the vote, Zuckerman did not claim, as he does today, that he had ultimately supported repealing the philosophical exemption. Rather, he doubled down on his arguments casting doubt on the safety of vaccines. Linking to a now inaccessible Facebook post, he wrote that it made clear "that the vaccination world is not as cut and dry as some would make it seem."
"The concern by some of the 'anti-vaccine' crowd is that there are people for whom some ingredients in the vaccines can cause allergic reactions. In some cases severe ones," Zuckerman continued. "It is this cohort of the 'anti-vaccine' crowd that [I] find compelling. Am I a staunch anti-vaccine person? Not at all."
The blowback to his vote was so severe that, two days after it took place, Zuckerman delivered a tearful speech on the Senate floor explaining his position. Once again, he made no mention of having ultimately supported the repeal.
"The past 48 hours have been some of the most difficult of my serving in political life," he said, according to prepared remarks he emailed Seven Days later that day. "I have been attacked as being anti-science, not caring for those who are less able to protect themselves, and mocked for my profession as being unqualified to make informed comments or decisions."
Zuckerman attributed his support for the philosophical exemption to the death of his father, Boston-area thoracic surgeon Walter Zuckerman, when the future senator was just 13 years old. He told his colleagues that his father had died of cancer after using an experimental procedure involving radioactive barium.
"Why do I tell you this? Because science is good, but it is not perfect. Such imperfection can cause harm. Absolutism can cause harm," he said on the Senate floor. "I understand that vaccines are tremendously good and have protected billions around the world. I also understand that vaccines have caused others, due to their unique genetics, very unfortunate allergic reactions that have changed their lives forever. There are still risks."
In the years since the state repealed the philosophical exemption, the vaccination rate among kindergartners in Vermont has increased to 92.2 percent, according to the Department of Health, and the rate for all K-12 students has reached 95.1 percent — the highest since the state began keeping track.
Zuckerman now characterizes himself as a supporter of that change. When pressed on why he opposed the amendment that made it happen, he cites the last-minute nature in which it came to the floor. "If it were to happen today and went through the committee process and they heard from everybody and took all the appropriate information in and brought it to the floor, I would've voted for it," he said.
As for the possibility that Scott follows Holcombe's lead in the general election and attacks his position on vaccines, Zuckerman says bring it on — citing the governor's initial reluctance to mandate masks to combat the coronavirus and his inaction on climate change. "We will have plenty of robust opportunities to discuss science," Zuckerman said. "And I'm more than willing to have a debate strictly on science, if he wants to do so."
Getting Religion
Lt. Gov. David Zuckerman is not the only candidate for higher office this year who voted against repealing the philosophical exemption to Vermont's vaccine mandate.
Senate President Pro Tempore Tim Ashe (D/P-Chittenden), who is seeking the Democratic nomination for lieutenant governor, has done so multiple times — though, he says, for very different reasons than Zuckerman.
"My position has been consistent from the day I walked in the Senate, which is: I strongly believe in vaccines for kids who attend our public schools," Ashe said in an interview. "My own preference has always been that we have no exemptions except the medical exemption."
In Ashe's view, the state should have repealed both the philosophical and the religious exemptions to the mandate. Doing the former but not the latter raised civil liberties concerns, he said, and "was not a constitutionally appropriate change because it gave those who practice a particular religion different access to public services than those who do not practice religion."
The issue briefly featured in a Vermont Public Radio/Vermont PBS debate last month when Democratic opponent Molly Gray described his voting record on vaccines and asked whether his position had changed. He dismissed her question, saying, "I'm sure that the consultants who encouraged you to [ask it] didn't quite do their homework."
In 2012, Ashe was one of just four senators who voted against removing the philosophical exemption. In an interview at the time with Seven Days, he raised practical concerns about doing so while retaining the religious exemption. "They don't check the weekly attendance rolls at the church," he said. "I would like to see people get kids immunized, but if we're going to have any exemptions at all, we should not force people into white lies."
Ashe said he can't recall how he voted when the issue reemerged in 2015, but he assumes he was among the 11 who opposed the repeal of the philosophical exemption. Audio from the debate features Ashe probing "the nuanced difference between religious beliefs and philosophical convictions" and questioning the fairness of protecting one but not the other.
If Ashe felt so strongly that the religious exemption should go, too, why didn't he introduce an amendment to repeal it? "It would have been pointless because it was obvious there was virtually no interest in touching the religious exemption," he said.
Ashe declined to comment on Zuckerman's history on the issue, but he drew an implicit contrast. "I'm not trying to have it all ways," he said. "There's a reason I was never accused of being an anti-vaxxer, because my position was well-articulated in public at the time."
Disclosure: Tim Ashe is the domestic partner of Seven Days publisher and coeditor Paula Routly. Find our conflict-of-interest policy at sevendaysvt.com/disclosure.
Correction, August 4, 2020: An earlier version of this story erroneously stated that the Vermont Senate does not audiotape its floor proceedings. The story has been updated with more material gleaned from tape of the two April 2015 debates.