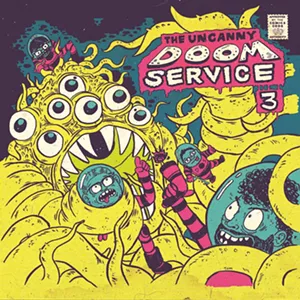 Doom Service, The Uncanny Doom Service
(Self-released, CD, digital download)
Though its heyday ended in the late 2000s, pop punk hasn't left pop culture. In August 2016, while the "Dammit" hit makers were touring a new record, the New Yorker published a piece called "Reviving the Pop-Punk Innocence of Blink-182." Just a few months ago, in the fall of 2017, Rolling Stone compiled a list of the 50 greatest pop-punk albums. The genre that the magazine described as "punk's most lovable, lovelorn offshoot" still holds a special place in the hearts of many, Burlington band Doom Service included.
The cover of Doom Service's first full-length LP, The Uncanny Doom Service, gives listeners a glimpse of what the guys are all about. Illustrated by Tom Lowell, the comic-book-style cover features a seven-eyed monster ready to devour band members Jeff Foran, Matt Cassani, Tyler Daniel Bean and Benjamin Cobane. This image combined with the band's interests listed on Facebook — "Sci-fi, cartoons, comic books, and pen and paper games" — reveal the musicians' nerdtastic leanings.
When it comes to the album's 10 songs, produced by the band and Joe Cross, Doom Service get down to business with the genre's signature fast tempos, distorted guitars and catchy melodies.
The most earworm-y song of the bunch may be "Monsters Are Due on Maple Street," with its infectious, brain-invading chorus. "Ectocooler" goes full steam ahead with lines such as "Forging forward, never looking back / Train's going forward / Never going to stop!" The fervent backing vocals are bound to have fans yelling along at shows.
"Collider" and "Nothing Important" are full-on rockers propelled by Cobane's powerhouse drumming. There's not a weepy ballad to be found on this album, recorded last year at Flea Garden Audio in Plattsburgh, N.Y., the Office Collective in South Burlington and HMS in Seattle, Wash.
While these are all original songs — including lyrics by former member Roy Larsen on two tracks — pop-punk pundits may hear shades of genre compatriots. On "The Other Iron Sheik," Foran's vocals veer into nasally Davey Havok territory. The lyrics in "Miner Forty-Niner," which opens with an audio clip from "Scooby-Doo," allude to dark, anxiety-inducing forces à la Say Anything's Max Bemis.
Perhaps it's true that, as Amanda Petrusich put it in that New Yorker article, pop punk has "invaded young hearts and minds as an artifact" from a time that doesn't "seem marred by a vast pessimism." Or maybe bands like Doom Service reveal a simpler truth about pop punk: It's just plain fun.
The Uncanny Doom Service is available at doomservice.bandcamp.com. Catch Doom Service with Mr. Doubtfire and Why Nona on Sunday, April 15, at SideBar in Burlington.