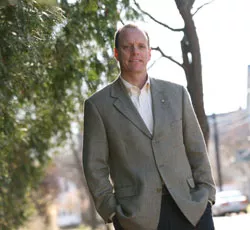 Jordan Silverman
John Abry
The offices of Re/Max North Professionals in Colchester are bright, spacious and modern. Visitors are greeted in the reception area with a warm, glowing fireplace, a trickling copper fountain, and sketches of Christo and Jeanne-Claude's "Wrapped Reichstag."
Venture further, into the second-floor warren of cubicles, coffee stations and glass-enclosed conference rooms, and you may notice a windowless nook labeled "Quiet Room." It's a dimly lit sanctuary, furnished with a comfy couch and a full-body massaging recliner, where staff and clients can go to decompress from the outside world. As John Abry, a realtor who's been with Re/Max for four years, puts it, "I visit this room often."
Not surprising, given the real estate market. These days, many homeowners are feeling tied up in knots because they've fallen behind on their mortgage payments. But part of Abry's job is to help clients untangle those financial woes. Abry, 48, is a "certified distressed property expert," or CDPE, one of only 10 real estate agents in Vermont specifically trained to help homeowners avoid foreclosure.
Born in Virginia, Abry grew up in southern Vermont and has lived in Colchester for 20 years. Tall and thin, with short-cropped hair, he dresses conservatively and exudes a calm friendliness that helps put people at ease. It's a useful trait, considering that an estimated 2000 Vermonters will lose their homes this year, up from 1750 in 2008.
That doesn't have to happen. Abry points out that nearly three in four home-owners who go into foreclosure never seek any assistance or intervention. They simply fall behind on their payments, lose the house and end up saddled with bad credit scores. Sometimes they even get hit with deficiency judgments, meaning they still owe the bank money.
One alternative, Abry explains, is a "short sale," whereby a homeowner can unload the house for less than the amount remaining on the mortgage and walk away, owing the bank nothing. Why do banks prefer short sales to foreclosures? Simple, Abry explains: "A bank has no interest in being in the real estate business."
SEVEN DAYS: How is Vermont's real estate market looking lately?
JOHN ABRY: Vermont has always tended to buck the trend, meaning that we're not seeing the major catastrophes we've seen nationwide. The media likes to focus on the worst places, like Florida and California and Nevada. We're far from that. The real estate market here is doing quite well. It's certainly not what we saw in the prior seven years, but it's not tanking like it is in other markets.
SD: Why is that?
JA: Two things: Vermonters' frugality and the conservative lending practices of our local banks have kept Vermonters out of the speculation and unethical mortgages that have plagued many of the metropolitan areas across the country … Generally, that's the way it's always been: hardworking, frugal people who don't jump at all the crazy loan stuff that was going on out there. To top it off, the local banks didn't participate in it, either, at least to the high level that was done in other places, [where] you could literally get a loan by just signing your name.
SD: What are the main reasons Vermonters foreclose on their homes?
JA: Unfortunately, there's not a lot of statistics on that … Because Vermont is so small, no one has any interest in following those statistics … But in my opinion, there are two things: It's loss of jobs or something to do with an adjustable-rate mortgage.
SD: Can any homeowner facing foreclosure qualify for a short sale?
JA: There's a process you have to go through, but the bottom line is, you have to prove hardship. And there's a whole host of reasons. It's amazing how easily somebody can qualify, especially in this economy: They have a medical issue. One month they're fine, but the next month, where are their priorities? Eventually, it takes away from the mortgage payment, and they can never get caught up.
SD: What's the biggest challenge to short sales?
JA: The biggest thing is time, no matter who you deal with. You'd better expect to spend three to six months or more. The advantage with going with a certified distressed property expert [is], we've got a process in place to make it go smoother. Because, if you've got somebody who doesn't know what they're doing, and they miss one or two pieces of paper, they've lost two or three weeks … you want to know that going in.
SD: Is there a downside to a short sale?
JA: Versus a foreclosure? No. Short sale is always your better option, because you're going to come out better than you would otherwise.
SD: How do you, as a realtor, make money on the process?
JA: Not everyone ends up in a short sale. There are several other options, but it depends on how the folks qualify. A lot of times, by the point of foreclosure, it's too late to pursue those other options, so I don't always get paid. But if the house does sell, I get paid pretty much the same way I always do, as a percentage of the sale price.
SD: What is the ideal point at which someone should come to you?
JA: If they had any inkling of worry — they've lost a job, they've got huge medical bills — something that makes them think they're going to start missing payments. Because, once you miss that first payment, the bank has the right to put you under foreclosure. Not that they will, especially now. A lot of banks have filed foreclosure but haven't pursued it because they don't want that house. They've got so many other things to worry about right now. So the best point is before you've missed any payments and had a filing against you, so you can prevent that process from even starting.
SD: Why did you go through this training, especially if foreclosures aren't a huge problem in Vermont?
JA: I took this course because I avoided this work for years because of the horror stories you hear about trying to close a short sale. It's just not worth most people's time … I just figured it's a segment of the market that I couldn't ignore anymore. I've always considered myself a consultant more than a salesperson. I like to help people. I figure that if I can help somebody out of a situation like that, whether or not I make a sale, I'm probably going to gain a customer and friend for life.
SD: What have you learned from this process?
JA: Not to be judgmental. A lot of people look at somebody who's going through a foreclosure, and they think, Deadbeat! Can't make the payments. That's not the case. It's your neighbor; it's your teacher. People go through hardships; especially in this economy.