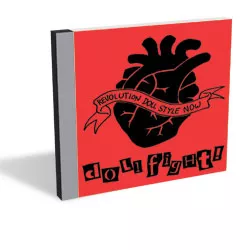 (Self-released, digital download)
On their 2011 debut, Morning Again, local riot-grrrl trio Doll Fight! laid down the gauntlet. That ragged, raucous little EP served notice that local girls can rawk as hard and fiercely as any of their male counterparts. It was an intriguing first attempt that masked occasionally sloppy — if appropriately punky — performances with aggressive energy and uniquely off-beat attitude. Later that same year, the band released a follow-up EP, Revolution Doll Style Now. The band's deliciously lo-fi sophomore release picks up where their debut left off. And it finds the band evolving into a legitimately cohesive punk-rock juggernaut, featuring notably improved musicality without sacrificing any of the snarling charm that defined their first record.
Drummer Jane Boxall is the band's backbone. A classically trained marimba player, she's the most musically polished of the trio. Her ferocious attacks set the tone for the entire band, creating a foundation on which tracks like the churlish opener "Plastic Revolution" are built. Kelly Riel's spastic bass line rumbles in sinister fashion before butting headlong against Christine Mathias' bruising guitar crunch. Mathias takes the lead on this anthemic cut, her clean, pleading vocals countered by growling backing work from Riel.
"Jealousy" takes a darker turn, and is a departure from the uptempo fare preceding it. Mathias' vocal performance is brooding and uncertain, which is especially appropriate given the subject matter.
"Eris Is Anarchy" is emblematic of the band's renewed focus on instrumental proficiency. Mathias' lead guitar line slithers around Riel's subtle bass line and smart kit work from Boxall. The entire arrangement, which culminates in a truly menacing bridge, is commendably ambitious and reflects a musical curiosity relatively uncommon to the genre.
On "Adrenochrome" the band employs Boxall's marimba talents. The juxtaposition of the band's generally sneering punk bombast and elegant, rounded marimba tones is interesting, if initially distracting. Ultimately, it lends the tune a sort of manic, funhouse quality that highlights the band's singular attitude.
Riel takes the lead on the politically charged closing track, "While Egypt Was Burning." Riel has a more traditionally punk delivery than Mathias, but her forceful, bratty sneer provides a nice contrast to Mathias' thinner and slightly more girlish approach. It's a bracing end to another rousing effort from Burlington's favorite riot grrrls.
Doll Fight! play the Hub in Bristol this Friday, February 17. Revolution Doll Style Now is available at dollfight.bandcamp.com.