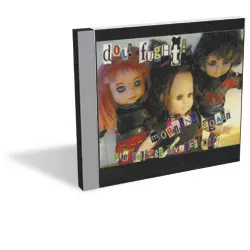 (Self-released, CD)
On a strictly local level, punk rock has traditionally been a male-dominated pursuit. But the new all-girl Doll Fight! aim to alter that landscape with their riot-grrrl-inspired debut, Morning Again. In the span of a scant nine tracks and 18 minutes, the trio serves up enough punk fury to rival just about any boy group in recent memory.
An intro track sets the album's strange thematic tone. Over a kooky jumble of assorted noises seemingly lifted out of an old Saturday-morning kids variety show, a thin, juvenile female voice — presumably that of one of the band's namesake dolls — ruminates on the queer conundrum of being a narcoleptic doctor and missing phone calls from dying patients. "My beeper beep-beeps when someone needs me quick / I always have to hurry cuz they might be sick / I want to help the people who go beep, beep, beep / But sometimes they call me when I'm sound asleep," she sings with creepy innocence. Imagine Chucky the doll's less murderous female cousin and you're on the right track.
The album begins in earnest with the title cut. Vocalist and guitarist Christine Mathias gets her Donita Sparks on early, spitting rapid-fire venom that would do the L7 front woman proud. Behind Mathias, Kelly Riel unfurls a nimble, rolling bass line, as Jane Boxall nips at her heels with snarling drums.
Trading distortion for jangle, "Trash" is a leaner, more melodically adventurous cut. Mathias is delightfully unhinged as she ponders the peculiar narcissism and vulnerability involved in songwriting. Her delivery is less aggressive here and she occasionally wavers in pitch as a result. That's certainly not a deal breaker in punk. And, if anything, her hesitant delivery illustrates the insecurities implied in her musings.
Doll Fight! come out swinging on "TV & You & Me," which bristles with slobbering punk rage. These are no dainty ladies, a fact driven home by the song's vicious call-and-response chorus.
The disc's closing track, "Insomnia," is something of a centerpiece as well as the song that inspired the entire suite of material. As they do on most cuts here, Doll Fight! deliver a surprisingly complex arrangement — at least for the genre. But they do so with enough haphazard zeal to avoid neutering the song's ragged intensity. It's a fine balance to strike, and one the band mostly manages from start to finish. Morning Again is a roundly impressive, if all too brief, debut.
Doll Fight! play the Hub teen center in Bristol this Saturday, April 16.