Daria Bishop
Molly Stevens dishing out a vegetable-and-lentil soup
During a recent cooking session arranged to highlight her brand-new cookbook, Molly Stevens did not cook from the book.
Instead, she walked into Louissa Rozendaal's small Burlington apartment kitchen and headed for the fridge.
"My favorite kind of cooking is just opening up the fridge and seeing what we have," Stevens said. "I love repurposing leftovers, too. But you can't really write a cookbook based on either of those."
Stevens, 59, a longtime Williston resident, is a cooking instructor, food writer and cookbook author. Earlier in her career, she worked at the famed École de Cuisine La Varenne in Paris, at the French Culinary Institute in New York City (now the International Culinary Center) and at the New England Culinary Institute in Montpelier. Bon Appétit and the International Association of Culinary Professionals have both named her cooking teacher of the year.
Each of Stevens' previous cookbooks, All About Braising: The Art of Uncomplicated Cooking (2004) and All About Roasting: A New Approach to a Classic Art (2011), won prestigious James Beard Foundation and International Association of Culinary Professionals awards. Her latest, All About Dinner: Simple Meals, Expert Advice, hit bookstores on November 5.
Rozendaal, the daughter of a good friend of the author's, had offered up her kitchen and fridge for a demonstration of Stevens' approach to cooking and teaching. The 22-year-old Starksboro native recently graduated from college in Colorado and works for a Burlington after-school program.
These days, Stevens teaches mostly one-off classes while traveling the country to promote her cookbooks, such as recent events at Stonewall Kitchen Cooking School in York, Maine, and Milk Street Cooking School in Boston. Unfortunately for Vermonters, she does little teaching in her state of residence.
The next best thing to taking a class with Stevens is to pore over one of her books, which offer impeccably written and thoroughly tested recipes along with sensible tips and bigger-picture cooking advice, all delivered in her signature warm and humble tone.
On a recent Monday afternoon, Rozendaal got the best of both worlds. Stevens brought her a copy of All About Dinner and provided an impromptu hands-on cooking lesson that touched on key points from her new cookbook, even as that book remained unopened on the counter.
The new book has a more general purview than Stevens' two previous All About cookbooks, which the author considers both a strength and a bit of a marketing challenge. The single-technique volumes had clear hooks; this one, in the broader "meal" category, competes with a plethora of books, magazines and online resources to which people turn to meet their daily cooking needs. "I couldn't have sold this book if it was my first," Stevens conceded.
Despite an abundance of free online recipes, cookbook sales remain strong, she added. "If you know what you want to make, like onion soup, you google," Stevens said, "but if you're looking for real inspiration, for something besides what you're making for dinner that night, you'll flip through a cookbook."
All About Dinner is not a five-ingredients-or-fewer, get-dinner-on-the-table-in-30-minutes kind of cookbook; it is more like a several-months-long cooking course in book form. This book will not only help you make dinner, it will make you a better cook.
On top of a wide range of recipes, including variations and templates that empower cooks to use on-hand ingredients, Stevens shares foundational techniques and concepts, such as how salt and acid can bring a dish to its full potential.
Even the humblest of staples merit her close attention. While cooking through the book, this reporter acceded to Stevens' urging to cook "a good pot of beans" from scratch: I set two pots simmering simultaneously. I ate a small bowl of each type warm from the stove, liberally drizzled with good olive oil, and felt nourished to my core. Over the next week or so, I used the beans in Stevens' satisfyingly simple crusty-topped bean, tomato and sausage gratin and in her grain bowl recipe. I also deployed them in fresh hummus and tossed some with pasta.
"My editor wanted to cut the beans, but I pushed back," Stevens admitted. "This book is not about fireworks. It's not about high-wire-act cooking. I wanted to write a book that represents the way I cook, the way I eat."
After the fridge investigation in Rozendaal's kitchen revealed a variety of fresh vegetables, Stevens asked her, "What do you like to cook?" This is the starting point highlighted in her book's introductory list of "15 Habits of Highly Effective Cooks." Habit No. 1: "Cook what you love to eat."
Rozendaal really likes vegetables, she said, and added, "I have red lentils, and I'd love to do something with them. I don't really know how to cook them."
With those two building blocks, Stevens suggested a vegetable-and-lentil soup. "Oh, that's good," Rozendaal said. "I never make soup. I like to make a couple big meals for the week so I can have leftovers."
No stock was on hand. But, as Stevens notes in her book, while stock adds a savoriness, water allows good flavors to shine more brightly. "With vegetables this fresh, water will be fine," Stevens assured her student. "We'll add that Parmesan rind from the fridge and a couple of the anchovies I brought to give it some umami, that savory edge."
All About Dinner's "Scratch Basics" chapter includes a recipe for Parmesan broth, which makes great use of rinds. The anchovies, Stevens explained, would melt into the soup and bring flavor without fishiness. "You won't even taste it," she promised.
The cooking lesson continued with some basic knife skills as the pair worked together to get carrots, onions and garlic into the soup pot with a generous glug of extra-virgin olive oil and a good sprinkle of coarse salt.
"I always add a little bit of salt at the start," Stevens said. "It's like inviting the kind of person to a party who gets everyone talking. The salt draws out the moisture so flavors can start to mingle." (Habit No. 7: "Salt early and salt often.") "We're not only cooking the vegetables but infusing the olive oil with all that flavor," she added. (Habit No. 8: "Take advantage of fat's ability to carry flavor.")
The anchovies and a couple sprigs of fresh rosemary and thyme from Rozendaal's herb garden went in next, along with some smoked paprika that Stevens had brought fresh from the store. (Habit No. 10: "Make sure your spices are fresh.") The warm smokiness "is almost like fake meat flavor," Stevens said. "It also gives it a nice color."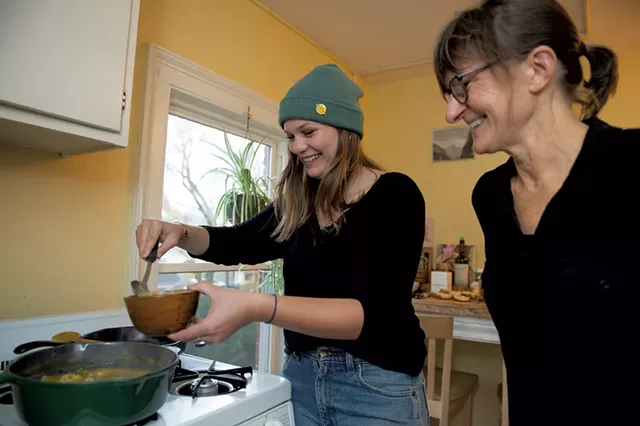 Daria Bishop
Louissa Rozendaal (left) and Molly Stevens
Breaking up cauliflower florets, she continued, "We'll use the leaves and stems, too. Just wash them well and chop them like you would kale stems. I hate to waste anything. If I can use it, I use it." As she writes in the book: "You paid for the entire head, why not make the most of it?"
"Oh, I've never done that," Rozendaal said with appreciation, pausing to breathe in the aromas filling her tiny kitchen. "This smells so good!"
Cauliflower, stems and all, headed into the pot along with a cup of rinsed red lentils and several cups of water, plus the Parmesan rind. Stevens gave it all a stir and adjusted the heat to simmer.
"I think we'll make a little toast to serve with it and maybe a relish with olives, scallions and preserved lemon?" she suggested, pulling out a couple items she had brought. Preserved lemons, Stevens detailed, are just whole lemons cured with salt. "You can easily make your own; they just take a few weeks," she said, cutting a morsel for Rozendaal to try. (Habit No. 5: "Taste, and keep tasting.")
In a small bowl, Stevens stirred together minced scallions, preserved lemon, chopped green olives, olive oil, a little salt and freshly squeezed lemon juice. "Lemon juice or vinegar are both good ways to pop up flavor at the end," she said. (Habit No. 9: "Don't overlook acid.")
The two cooks hovered over the pot, tasting. "It's pretty good," Stevens said, sounding a little surprised. "I'm always surprised," she conceded with a chuckle. "We'll let it sit for a few minutes so the flavors meld while we make the toasts. I like to let everything sit for a bit before serving." (Habit No. 13: "Don't rush hot food to the table.")
"I don't have a toaster," Rozendaal said ruefully. Stevens proposed using the oven, though it took longer than expected to get the broiler element hot enough. (Habit No. 11: "Get to know your stovetop and oven.")
Eventually, however, the toasts, drizzled with olive oil and rubbed with a garlic clove, perched on bowls of soup crowned with the olive and lemon relish, to which Stevens had added a pinch of Korean chile pepper flakes.
"Mmmmm," Rozendaal enthused through a mouthful. "That is amazing. I didn't know you could make a soup with just water, and I really liked those simple tricks like the garlic toast and the relish that take a meal up [to] the next level." One of her biggest takeaways, the young woman added, "is that you don't always need to go to the store. You can cook just using what you have. I'm so inspired."
"Write that down," Stevens joked to this reporter. "That's my favorite thing: inspiring people to cook. I know cooking can be a chore, but it can be so fun and relaxing. If there's any way I can make it less stressful, that makes me happy."
(Habit No. 15: "Relax. It's just dinner.")
Roasted Chicken with Butternut Squash and Kale
Daria Bishop
Vegetable-and-lentil soup alongside Molly Stevens' cookbook All About Dinner
Recipe from All About Dinner: Simple Meals, Expert Advice by Molly Stevens. Copyright © 2019 by Molly Stevens. Reprinted with permission of W.W. Norton & Company, Inc. All rights reserved.
Serves four
Roasted bone-in chicken thighs (and drumsticks, if you like) make a reliably delicious weeknight dinner, and even more so when combined with squash, shallots, and kale as in this version of a sheetpan supper. Cooking everything together on one baking sheet is not just a matter of efficiency, it's also a great way to build flavor. The chicken gets a quick marinade of olive oil, lemon juice, rosemary, garlic, and ginger before being nestled into a bed of squash chunks and shallot wedges. After roasting, the vegetables, with all the pan drippings, are tossed into a bowl of shredded and seasoned kale to become a sort of warm savory salad that makes an absolutely gorgeous meal, loaded with winning tastes and textures (and only one pan to scrub). But if you prefer your kale cooked down a bit more, you can add the kale to the vegetables at the end of roasting and let it heat until wilted. Equally good, and still only one pan.
Generally I find one chicken thigh per person is enough — especially with all those meaty roasted vegetables alongside — but if you are cooking for larger appetites (or if the thighs are puny), then count on more — maybe one thigh and one drumstick each. I don't recommend chicken breasts, however, as they'll dry out before the vegetables are caramelized and tender. If you plan to double the recipe, use two baking sheets to avoid overcrowding. You can shave another step off this already streamlined dinner by buying precut squash, and a Microplane-style grater makes quick work of grating both the ginger and the garlic.
Get ahead: If you can season the chicken in advance (up to 24 hours), the flavor will be improved, but it's also perfectly fine to season just before roasting.
Ingredients
The chicken
4 to 6 bone-in, skin-on chicken thighs (2 to 2½ pounds), or a mix of thighs and drumsticks
1 tablespoon extra-virgin olive oil
1 tablespoon fresh lemon juice
1 tablespoon minced fresh rosemary or 1 teaspoon dried
2 teaspoons finely grated peeled ginger, from a 1-inch piece
2 garlic cloves, minced or finely grated
Salt and freshly ground black pepper
The vegetables
1 small bunch kale (about 10 ounces), lacinato or curly, stems removed
Salt
2 tablespoons plus 2 teaspoons extra-virgin olive oil, divided
1 butternut squash (about 2 1/2 pounds) or 2 pounds precut chunks
2 large shallots (6 ounces), cut into ½-inch-wide wedges
1½ teaspoons minced fresh rosemary or ½ teaspoon dried
Freshly ground black pepper
Squeeze of fresh lemon juice for serving
Directions
Trim any excess flaps of skin from the chicken (or leave in place if you're a skin fanatic). Pat dry. Combine the olive oil, lemon juice, rosemary, ginger, and garlic in a medium bowl or large zip-top bag. Season with salt (I use 1 teaspoon kosher) and several grinds of pepper. Put the chicken in the bowl or bag and rub the mixture all over it. Cover or seal the bag and leave at room temperature while the oven heats, or up to one hour, or refrigerate for up to 24 hours. (The longer marinade time equals more flavorful chicken.)
Heat the oven to 400°F convection (425°F non-convection) with a rack near the middle.
Slice the kale leaves crosswise into thin strips (¼ to ⅓ inch) and pile into a large bowl. Season with salt and 2 teaspoons of the olive oil. Toss vigorously to coat. (I like to use my hands to make sure the salt and oil coats all the leaves, because this helps soften the leaves so they don't taste "raw" when you add the roasted squash.) Set aside.
If you bought a whole butternut squash, trim, peel, halve lengthwise, and scoop out the seeds. Chop into ¾- to 1-inch chunks (you should have a loose 6 cups). Combine the squash chunks and shallot wedges on a large heavy rimmed baking sheet. Add the remaining 2 tablespoons olive oil and the rosemary, season with salt and pepper, and toss to coat. Spread the vegetables out into an even layer.
Nestle the seasoned chicken thighs (and drumsticks, if using) into the squash and shallots and drizzle any extra marinade over the top. It's fine if some vegetables are under the chicken. Roast, stirring the vegetables about halfway through (doing your best to work around the chicken), until the skin is browned, crisp, and cooked through, 45 to 55 minutes: The tip of a knife should slide easily into the meat. (A meat thermometer should read 180° to 190°F; this is a higher temperature than for whole chicken or breast meat because dark meat tastes best when cooked until falling off the bone.) Transfer the chicken to plates or a platter.
With a metal spatula, scrape the roasted squash, shallots (the shallots will be reduced almost to caramelized wisps), and pan drippings into the bowl of kale. Toss to combine. Squeeze over a few drops of lemon juice. (Alternatively, if you prefer kale cooked down some, pile it onto the roasted vegetables and return the pan to the oven until it is heated through and beginning to wilt, about five minutes. Toss to combine and season with the lemon juice.)
Serve the vegetables alongside the chicken.