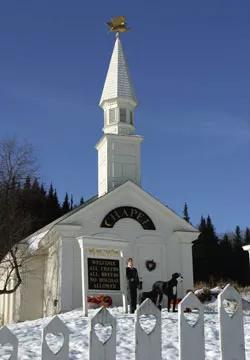 The chapel at Dog Mountain
Earlier this year, still reeling from the suicide of her husband, folk artist Stephen Huneck, Gwen Huneck faced what seemed like another certain tragedy: With more than $50,000 in unpaid back taxes to the town of St. Johnsbury, Huneck feared Dog Mountain — her husband's legacy and her home — was headed for the auction block.
The couple's financial problems began during the depths of the recession in 2009. Despite drastically reduced art sales, the Hunecks couldn't bear to lay off their 12 full-time employees. So they didn't pay their property taxes. "We tried to sustain it as long as we could," says Huneck. But eventually, they were forced to let all their employees go. Two days later, Stephen shot himself.
When Gwen Huneck learned that their property, including the 150-acre Dog Mountain, Healing House, a retreat for dogs and their owners, and her own home would be added to the town's tax-sale list, Huneck sent out an appeal in her weekly newsletter. "I was very frank," she says. "People obviously knew Stephen had committed suicide, largely based on financial problems we were having."
When Seven Days reported the story in August, she had agreed to pay the town of St. Johnsbury $7600 each month for the next three months.
Orders poured in right away. Huneck says the response came as a surprise. "I thought I was going to be a homeless person, to tell you the truth," she says. People responded with an "overwhelming, touchingly amazing amount of support." And in the end, she was able to pay off all her back taxes, plus this past year's taxes.
"It's still a difficult time for me emotionally," says Huneck. The tremendous support, including countless stories shared with her about the profound influence of Stephen, his artwork and Dog Mountain, made a "huge difference," she says.
It has taken time, Huneck adds, but she has begun to look at her husband's suicide through a different light.
"I actually think he kind of understood what was going to happen," she says. "In this case, it wasn't that he was trying to run away; he was trying to love me and provide for me the only way he could think of doing."
"Consequently," says Huneck, "I am 100 percent determined to keep Dog Mountain open forever." To that end, she has begun an application to establish a Dog Mountain foundation.
"Stephen's death made me think about my own mortality," she adds. "I've got to have something set up to keep Dog Mountain going even after I'm gone."