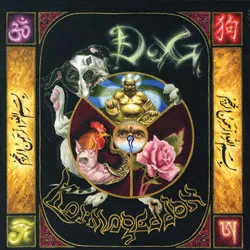 (Self-released, CD)
Karmageddon? Really? After much fussing and wrangling with the nearly impenetrable shrink-wrap guarding Dog's debut disc — seriously, folks, a little goes a long way when it comes to cellophane — I was pretty sure I was in for yet another rambling, incoherent musical stroke session from the next in a long line of Burlington-based Phish wannabes. What's the old adage again? Don't judge a book by its cover? Even a heady one with a pit bull gnawing on a collage of religious and cultural symbols?
To toss Karmageddon aside as merely a jammy fusion of rock, blues and weird noises would be a grave mistake. It's an easy enough one to make, though; Dog is the brainchild of David Hyman, best known as the bassist for local Grateful Dead tribute act Blues For Breakfast. From start to finish, Hyman proves more than capable of stepping out from under the shadow of The Dead. Or at least the tribute to the shadow.
In the disc's press release, Dog is praised as "The Beatles meets The Grateful Dead and T-Rex with a little Radiohead and Flaming Lips thrown in." You know what? I'll buy it. While there are certainly moments of Dead-inspired noodlery and bouncy pseudo-blues truckin', more often than not, Hyman favors ethereal Southern rock, tinged with McCartney/Lennon-ish harmony and a quirky pop sensibility.
Along those lines, Hyman's voice and delivery is not unlike that of rock godfather Neil Young — though the comparisons to Flaming Lips' front man Wayne Coyne aren't far off the mark, either.
Some moments work better than others. Album opener "The Ocean" is a surreal slice of psychedelia and is pleasantly jarring on first listen. But the following track, "Caroline," fails to meet the previous tune's intensity. The third cut, "Second Chance," is a laid-back number showcasing Hyman's best lyricism and some great backing vocals behind a melody eerily reminiscent of The Kinks' classic "Lola."
The following track, "Tremulon," is, um . . . well, let's say this: The vocal hook is "E-I-E-I-O." Are you pickin' up what I'm puttin' down? Old MacDonald may have had a farm, but he's got no business in rock 'n' roll. I don't make the rules, folks. I just enforce 'em. Fortunately, Hyman and Co. fall back in line with "The Dark End," evoking Alex Chilton's early work with Big Star. It's my favorite track on the disc, by a long shot.
Overall, Karmageddon — really? — is a solid, if moderately flawed, effort from a talented and well-schooled songwriter. Relying more on innate abilities and less on forced freakiness could serve Dog well in the future. But for now, David Hyman casts a wide musical net and mostly hauls in a fine catch.