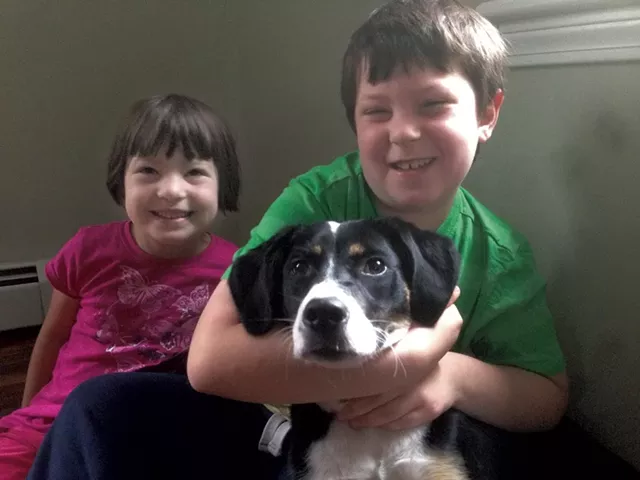 Ivy and Graham with pup Ginger
Last year at this time, my family of four was grieving. Our beloved 13-year-old dog, Nader, got so sick last May that she could barely breathe. We had no choice but to put her to sleep.
After that heartbreak, we weren't sure we wanted another dog. But by Christmastime, my partner, Ann-Elise, and I, and our kids, Graham and Ivy, agreed that we wanted to adopt a puppy.
On New Year's Day, some family friends showed us a cellphone video of a litter of adorable black and brown pups. Born on Thanksgiving Day, they belonged to Father Lazarus, the head of a Greek Orthodox monastery in Richford. Mom was a pitbull, dad was a mix of Bernese mountain dog and black and tan coonhound. We drove two hours to see them and came home with a new puppy. Ivy named her Ginger, after the gingerbread houses that proliferate around the holidays.
Ginger got off to a rocky start. Two weeks after we brought her home, she ate rotting compost and had a few seizures, necessitating a trip to the emergency vet. A couple weeks after that, her jaw swelled up — spider bite? — so we took her in again.
When I finally brought her to the vet for shots, the vet tech showed me Ginger's fat folder full of paperwork. "I've never seen a 12-week-old puppy with a file this thick before," she marveled.
But Ginger is as cute and sweet as we'd hoped. She greets strangers by flopping at their feet and rolling over, begging for a tummy rub.
I brought her along when I walked Graham and Ivy to school this past spring. Ginger's effect on the kids was fascinating to see. Some of them rushed to pet her; others, especially many of the New American students, were shy or even afraid at first. Most warmed up to her over time.
One morning as Ginger and I were walking home, a tall teenage boy approached us, backpack on, earbuds in, obviously running late. As we were about to pass each other, he stopped and his surly expression melted into a smile. He asked to pet Ginger, then bent down and rubbed her head.
"How old?" he asked.
We talked for a minute, and then he got up. "Thanks for letting me pet your dog," he said politely as he trotted off to class. That encounter made my day.
It also illustrates the transformative power of animals. This Pet Issue of Kids VT explores our relationships with them. Dr. Lewis First enumerates the health effects of having a pet. Horseback riding enthusiasts explain the physical and psychological benefits of riding. And Tricia Kennedy shares her struggle to love her family's slobbery Saint Bernard.
We hope you enjoy these stories as you're lounging in your backyard — or around the campfire — this summer. Drop us a line and tell us about your pet projects, or say hi when you see us at the dog park. We love hearing from you.