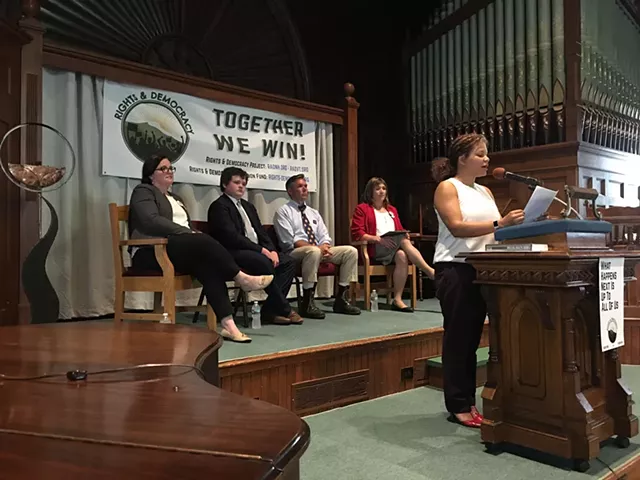 John Walters
(Left to right): Gubernatorial candidates Brenda Siegel, Ethan Sonneborn, James Ehlers, and Chrstine Hallquist behind Tabitha Pohl-Moore of the Rutland Area NAACP.
The governor of Vermont is the most powerful person in state government. But to become governor, candidates must suffer their share of indignity. Their days are not their own. They travel all over the state, attending just about any event that will have them. They get a lot of invitations that they don't dare turn down.
Take, for example, a gubernatorial forum held last Friday afternoon in Rutland by Rights & Democracy, a progressive advocacy group. In a mid-August primary likely to draw more flies than voters, the backing of R&D can make a big difference. So all four of the Democratic hopefuls dutifully gathered at Rutland's noble old Unitarian Universalist Church, with its granite exterior, dark wood interior and unspecifically religious stained-glass windows.
And its baking, penetrating heat.
The four Dems — James Ehlers, Brenda Siegel, Ethan Sonneborn and Christine Hallquist — spent most of their time as a backdrop. As other people talked, the candidates sat behind the pulpit, trying desperately not to appear uncomfortable.
You can't blame R&D for the weather. But otherwise, it seemed as if organizers had designed the event to fail.
The group arranged for former Ohio state senator Nina Turner — now head of Our Revolution, the political group that emerged from Sen. Bernie Sanders' (I-Vt.) presidential campaign — to take a two-day swing through Vermont and New Hampshire. R&D wanted to take full advantage of her presence, so the group booked multiple appearances on both days. And it piggybacked gubernatorial forums onto her Friday stops in Rutland and Bennington.
The Rutland event was to run from 5:30 to 7 p.m. The Bennington festivities were to begin at 7:15 p.m.
Perhaps you see the problem: Rutland to Bennington is an hour's drive at best.
In reality, the Rutland event started around 5:40 and ended less than an hour later. The "forum" consisted of two questions, and the candidates were hustled out at 6:30 for the run to Bennington.
The festivities began with Tabitha Pohl-Moore, president of the Rutland-area branch of the NAACP, who gave some remarks and introduced the guest speaker.
Turner was allotted 15 minutes, and she used them all for a barn burner of a stump speech. "All that we love is on the line," she told an audience of about 40, as they fanned themselves with whatever was handy. Turner said Medicaid for all "is a moral imperative" and called for Sanders to run for president again in 2020, which drew a loud cheer.
And then, with the clock ticking past 6 p.m., the gubernatorial forum began. Curiously, given the lack of available time, organizers gave candidates three minutes to answer each question.
Two questions, three minutes apiece: Each candidate got a total of six minutes to make their case. The questions —about which of R&D's priorities is most important and about promoting diversity in Vermont — were designed to solicit suitably progressive answers. And the candidates came through.
Ehlers spotlighted his role as a founding director of R&D, and in response to the second question, he offered: "To people of color, I want to apologize for the role our race has played" in creating an unequal society. Hallquist and Siegel used personal stories to tie themselves to progressive ideals. Fourteen-year-old Sonneborn was equally deferential and slightly stiffer in the spotlight. (Kid has a heck of a Twitter feed, though.) All four called for greater diversity as a social and economic good.
They were there for a simple reason: to curry favor with R&D. (Incumbent Phil Scott and his Republican primary opponent, Keith Stern, don't need or expect anything from the group, so, despite being invited, they didn't show up.)
The candidates suffered the indignity of playing bit parts, did their best to suck up to the audience on hand and risked dehydration. It's all part of the game when you're running for office.
An Orphaned Failure
Here's something I bet you didn't know: In Vermont, anyone can ask for, and receive, an official copy of anyone's birth or death certificate.
As you might imagine, this is a bit of a security issue.
"The FBI showed us a number of cases where false IDs were started with Vermont birth certificates," said Sen. Jeanette White (D-Windham), chair of the Senate Government Operations Committee. "Also, some places wouldn't accept Vermont documents because they were unreliable."
In May 2017, lawmakers enacted a reform of the system, taking the responsibility for issuing documents away from municipal clerks and creating a secure digital system within the Vermont Department of Health. The bill gave the department until July 1, 2018, to get the system up and running. After that, only the health department would have legal authority to issue vital records.
Plenty of time, right?
As the first half of 2018 rolled by, the clerks were getting worried. "We tried a number of times to contact the health department," said Donna Kinville, city clerk for South Burlington and president of the Vermont Municipal Clerks' and Treasurers' Association. "Would we get training on the new system? What about paperwork? They kept saying they'd get back in touch."
On May 24, the department notified the clerks of an "adjusted timeline," with few details. On June 7, department officials informed Sen. White and House Government Operations Committee chair Maida Townsend (D-South Burlington) that the project was seriously behind schedule. Four days later, the department told the clerks that implementation would be delayed until October due to "a series of unforeseen personnel, contractual and technical issues."
Fair enough. Public-sector IT projects are prone to delays and cost overruns. But why in the world did state officials wait so long before telling anyone?
"Members of my committee were quite perturbed — angry, actually — to be hearing about this so late," said Townsend. "Nobody said boo to us. We thought it was on target."
Usually, lawmakers would have been long gone by June. But thanks to the weeks-long budget impasse, they were in special session. White and Townsend pushed through a simple bill extending the deadline a year.
The project is the health department's, but state Agency of Digital Services staff are doing the work. ADS Secretary John Quinn said his agency knew "from the very beginning" that the project "was a very heavy lift and we wouldn't be able to implement it on time."
Well, if that's true, why did ADS wait almost a full year to let anyone know? Or why didn't the agency communicate concerns during the 2017 session before the bill was signed into law by Quinn's boss, the governor?
David Englander, senior policy and legal adviser to the health department, tells a story that differs from Quinn's. "We believed the project would be relatively straightforward," he explained. "It was a bigger job than anybody anticipated. The IT folks came to us late because they remained hopeful they could get it done."
Mr. Quinn, may I introduce you to Mr. Englander?
White and Townsend plan to hold hearings next January on the apparent cock-up. "I want some explanation," said White. "A big project like this should have been tracked closely."
We trust that the boffins' self-assurance will be validated this time. Meanwhile, Vermont will enjoy another year under the old system and its wide-open back door to identity theft.
Climate Action?
About a year ago, the governor took a step to prove his concern about the environment. He created the Climate Action Commission, a 21-member panel tasked with issuing recommendations on how the state could reduce its contribution to climate change. You could tell it wasn't just another influence-free study group because, well, it had "Action" right there in its name.
The panel included administration officials, members of the business and nonprofit communities, and a grand total of one full-time environmental advocate.
So, one year later, has there been any action?
Not much.
The commission has had a checkered life. Last fall, it held a series of public hearings; many of the commenters called for a carbon tax. Scott has consistently opposed such a move and dismissed the response as the product of an organized effort.
In December, the commission issued five recommendations for immediate action. Four of them were unquantifiably vague: "support advanced wood heat," "increase pace of weatherization," "foster the climate economy" and "electrify the transportation system." The fifth called for studying "regulatory and market decarbonization mechanisms" such as carbon pricing. The report had little to no perceptible effect on administration policy.
The commission's final report is due at the end of this month; panel chair Peter Walke, deputy secretary of the Agency of Natural Resources, says a draft version is to be released on Thursday.
Will Scott's aversion to new taxes and new costs have any influence on the panel's report? "We've had no directive from the state," Walke said, "but there's a realization of the situation."
The panel's environmental advocate, Johanna Miller of the Vermont Natural Resources Council, doesn't sound optimistic. "My hope is that we put forward a menu of good ideas," she said. "I also hope the governor takes them seriously."
So far, Scott's commitment has been largely rhetorical. In fact, over the past year, he has taken steps that reflect a curious attitude toward climate "action." He proposed a cut in funding for Efficiency Vermont, the state's energy efficiency nonprofit; his budget would have effectively killed the Clean Energy Development Fund, which fosters renewable power; his Public Utility Commission enacted a cut in the home net metering benefit for residential renewables; and, as mentioned above, he has continued to reject carbon pricing — or even a study of the idea. In terms of renewable policy, the administration's pride and joy is a paltry $200,000 investment in high-efficiency wood heat.
A recent report from the Energy Action Network, a broad-based nonprofit that seeks ways to reach Vermont's renewable energy goals, underlines the difficulty of the task ahead. The report includes a daunting graph showing that we're roughly on track to meet our goal of 90 percent renewable energy by the year 2050. But the pace of required action is about to quicken substantially.
"Our progress to date hasn't been easy, but relative to what's left, it's easier," said Jared Duval, the group's executive director. So far, he said, most of Vermont's progress has been on renewable electricity. It'll be much harder to wean our transportation and heating systems off fossil fuel. In large part that's because electric power is state-regulated; transportation and heating are not, so progress depends on many people, institutions and businesses making the right choices — and the state aggressively providing encouragement and incentives.
Will our cost-averse governor be up to the challenge?
"The track record so far has been disappointing," Miller said, "but he's got to step up, lead and act. We'll see if he's willing to do so."