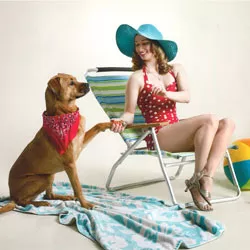 Regular readers of Seven Days have likely noticed that the cover of our pullout classifieds section frequently features a winsome cat or dog. The animals are up for adoption at the Humane Society of Chittenden County, and we're happy to say they usually find homes. Given the creature compassion in our office, "Pin-ups, Pups & Pussycats" caught our eye. And not just because of the slightly suggestive name.
"Pin-ups" is a new calendar — yes, folks, for 2013 — from the HSCC, and it's a clever one. Many such fundraising cals illustrate the months with photographs of potential pets whose guilt-inducing eyes plead "Take me home." This one features people (most of them HSCC staffers) and their animal friends in a variety of outfits and staged situations. But don't think Vargas Girls in lingerie. Only Amanda Blubaugh (HSCC office manager) comes close to cheesecake in a fetching red and white polka-dot bathing suit. She's ostensibly applying red nail polish to an accommodating boxer mix named Gil.
These pics — professionally shot on a white stage by Mountain Dog Photography of Monkton — are wholesome and good-natured, as befits the image of animal rescuers. Think woman in 1950s poodle skirt, guys and gals in evening garb, dude in cop outfit.
Oh, wait, he is a cop: Corporal Wade Labrecque of the Burlington Police Department is pictured with his K9 colleague, Andre, a German shepherd that, incidentally, has been Narcotic Detection Canine of the Year three times! Also in this photo is Cara Weymouth, HSCC's small-animal coordinator, in a gam-revealing leather skirt.
October's photo, titled "No Strings Attached," features animal care and adoptions gal Susie DiDonato and local musician Justin Levinson with the latter's Chihuahua, Gigi. The image was recently accepted into an international competition and will be on display this winter at a photography conference in Atlanta.
Credit for concept and direction of the calendar — the first in HSCC's 111-year history — belongs to Megan Stearns, director of development and outreach. The graphic designer was Suzanne Fay of Burlington studio oh!suzannah. Photographer Kelly Schulze (Miss November, with dog Molly) coaxed spirited poses from all of her human subjects. And the dogs, cats and Leo the bunny? Natural hams.
"Pin-ups, Pups & Pussycats": The calendar is available at businesses around Chittenden County, as well as at HSCC, 142 Kindness Court in South Burlington, or at its online store. $25. Some of Kelly Schulze's photos will be on display during the South End Art Hop, September 7 and 8, at Play Dog Play. chittendenhumane.org; mountaindogphotography.net