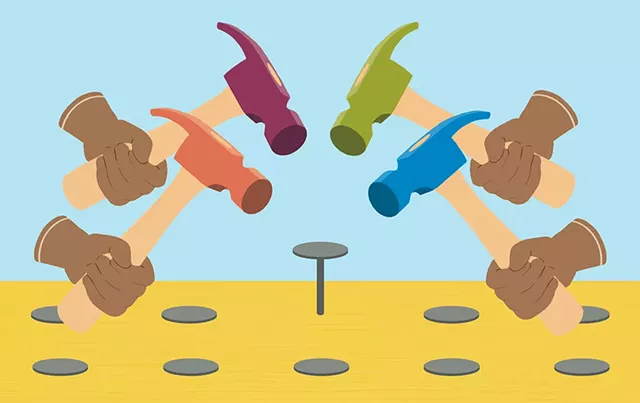 Cable television companies fund three Burlington-based nonprofits dedicated to providing public access on the airwaves. All three stations broadcast meetings, host shows and provide equipment so residents can create their own content.
"We're essentially in the same business," said Lauren-Glenn Davitian, who in 1984 started the first of the three stations, Chittenden Community Television, which later spawned Channel 17.
The advocacy of her nonprofit pioneered the way for similar channels around the state, including the other two in Burlington: Vermont Community Access Media and the Regional Education Television Network.
Now, as Davitian prepares to retire, she asks whether Burlington needs three separate cable access nonprofits, each with its own governing board, well-paid executive director and budget topping $750,000.
Her answer is no: The time has come for three to become one. But despite five years of discussion and an agreement to share some technical functions, the three organizations have been unable to agree on a full alliance.
Public access television isn't the only arena in which Vermont has multiple nonprofits with overlapping missions, redundant administrative costs and intense competition for a limited pool of money. Nor is Davitian the only observer wondering whether Vermont has too many charitable organizations and, if so, whether they should combine forces more often.
While some mergers have taken place — successfully — in recent years, donors and nonprofit experts say that even when an amalgam looks logical, obstacles crop up.
Sometimes leaders don't want to share control or risk giving up salaries that can be in the six figures. Just as often, boards may see the organization's origin and mission as so distinctive it would feel like a betrayal to be absorbed into another entity. Disagreements over property, cash and bylaws can also trip up potential mergers.
Burlington philanthropist Bobby Miller does not mince words. "They are their own little fiefdoms, and no one wants to give that up," he said, speaking of nonprofits generally. "Everyone wants to be the director."
In the past four decades, Miller and his wife, Holly, have given $40 million to Vermont nonprofits. For at least 25 years, he said, he's believed "there are too many of them, and there's too much overlap."
In the case of public access television, according to Davitian, there are good reasons to consider merging, beyond the overlapping missions. As more cable viewers cut the cord and turn to streaming services, the projected decline in cable TV revenue could jeopardize future funding of all three entities.
"The question is not 'How do we perpetuate CCTV as a charitable organization?''' Davitian said of Channel 17. It's "How do we get the work done?"
Together, the three organizations had revenue of $2.6 million in 2016. The three leaders earned a total of $209,488 that year. Overall compensation was $57,734 for Davitian, $75,255 for RETN's Jess Wilson and $76,499 for VCAM's Seth Mobley, according to Internal Revenue Service Form 990s.
While the three organizations have similar missions, there are differences. Channel 17 videotapes and broadcasts municipal meetings. RETN focuses on education, broadcasting school board meetings and high school graduations. VCAM concentrates on cultural events, from the STRUT Fashion Show to the Burlington Discover Jazz Festival.
Last year, RETN and VCAM together launched WBTV-LP, a low-frequency radio station at 99.3 FM.
One of Mobley's worries is that it could be more difficult to agree on entrepreneurial ventures such as the radio station if the three groups merge. Combining forces "isn't out of the question," he said, "down the road."
Wilson concedes that there is some financial pressure to consider an alliance, but she isn't sure "a full merger" is the answer.
Davitian's read on the situation: "People hold on to territory, and people don't always see things the same way," she said. "I think it's the human factor that is the main issue in the organizational development question."
Merging Missions
There's no way to measure whether Vermont's nonprofit sector is operating at maximum efficiency. But simply counting and categorizing groups reveal some very active service sectors. Of the state's more than 6,000 tax-exempt organizations, at least 85 address issues of housing and shelter, 63 deliver mental health services, and 220 are related to conservation and the environment. More than 500 focus on the arts, culture and humanities.
Vermont's geography — and strong local communities — account for some of that duplication. But Miller wonders aloud why more organizations don't merge, as Davitian is proposing. He said he's nudged the leaders of Burlington's childcare nonprofits to join forces, to no avail.
More dramatically, Miller said he's considered withholding financial support — going on strike — to encourage entities to think about working together. "At one time I was thinking, OK, I'm not going to give any money until you guys settle in and at least look at one another," he said.
Miller had nothing to do with the biggest merger of affordable housing nonprofits in Burlington history. The Burlington Community Land Trust, which Brenda Torpy cofounded in 1984, sometimes partnered with the similarly focused Lake Champlain Housing Development on building projects. But it wasn't all collaboration. The two nonprofits also regularly competed for money. And that was a problem. As Torpy explains: "There's only so many resources.''
The board president of Lake Champlain Housing reached out to Torpy to ask if she wanted to talk about a merger. She said yes. After months of meetings, the two organizations merged in 2006, and Torpy took the helm of a new nonprofit called the Champlain Housing Trust. In the first year, roughly 15 percent of the staff left, including the former executive director of Lake Champlain Housing.
Torpy is convinced the consolidation resulted in a much stronger entity. "We changed everything," she said. "My mission with this merger was: We're not going to just cobble together different things; this is the opportunity to remake this organization."
In the 12 years since, the nonprofit on Burlington's King Street has dramatically expanded its portfolio of affordable housing. When they merged, the two nonprofits had combined assets of $37.7 million that included 1,584 apartment units and 380 shared-equity homes. Now the trust's assets total $107.6 million, with 2,250 units and 601 shared-equity homes.
With more muscle, the organization has also been able to partner on some financially risky ventures in response to community need. It joined the University of Vermont Medical Center in converting Burlington's Bel-Aire Motel into transitional housing for mentally ill patients who get stuck at the hospital when they have nowhere to go. The trust also purchased the former St. Joseph School in Burlington's Old North End when it went up for sale so it could continue to be used as community space for the neighborhood.
The trust's larger size allows it to "really smooth out'' more costly ventures with more profitable ones and creates a stronger organization, said Michael Monte, chief financial and operations officer. He was on the Lake Champlain Housing board when it merged with the Community Land Trust.
But, Monte cautioned, not every nonprofit needs to go that route. One of the driving questions should be: "Will this improve people's lives in any way? It may be that it is really smart for a nonprofit to be small. To be nimble."
Good Timing
The Vermont Forum on Sprawl started as a two-person operation in 1997, the same year Walmart opened in Williston's Taft Corners after a bitter legal battle. Development pressures were so intense in Chittenden County that banker John Ewing and land-use planner Beth Humstone teamed up to advocate for compact development around cities and village centers. The nonprofit later change its name to Smart Growth Vermont.
In 2005, Ewing and Humstone hired Noelle MacKay to lead the organization. Five years later, after both founders had stepped back, MacKay got a job offer in the administration of then-governor Peter Shumlin. The subsequent leadership vacuum motivated the organization to merge with the Montpelier-based Vermont Natural Resources Council.
With support from major donors and a small grant program designed to encourage nonprofit mergers, Smart Growth transferred its remaining cash assets and some of its intellectual property, including how-to kits to establish smart community zoning. VNRC also agreed to continue giving an annual Smart Growth award in honor of the late Art Gibb, an Addison County legislator who pushed for Vermont's state development review law and its law banning billboards.
Smart Growth negotiated to get two of its board members on VNRC's board. All of these steps helped make it clear that VNRC was incorporating the other organization in a meaningful way, said VNRC executive director Brian Shupe. "It wasn't just us absorbing them."
The merger allowed VNRC to harness more funding and keep fighting for clean water and land conservation and against sprawl — and it has won some major victories to prove it has taken up the Smart Growth mission in earnest. Last year, VNRC helped save 149 acres at Interstate 89's Exit 4 in Randolph from a massive proposed commercial and retail development of more than 1 million square feet, which would have been bigger than the big-box retail center in Taft Corners. Working with two other organizations, the Conservation Law Foundation and the Preservation Trust of Vermont, VNRC was able to broker a conservation deal to keep most of the land agricultural.
"I'm pretty proud of our role on that,'' said Shupe, who earned $91,580 in total compensation in 2016 to run VNRC, which had revenues of $1.4 million and 13 employees that year.
The organization has joined forces with other nonprofits, as well, including the Association of Vermont Conservation Commissions. "They lost a lot of their funding and were volunteer-driven, and they were kind of running out of steam," Shupe recalled. "They came to us and said, 'We want to go away. We want to dissolve.'"
VNRC instead suggested a partnership that helped prop up and stabilize the association, which helps local conservation outfits preserve land or manage town forest and other property. The organization is still its own separate 501c3 nonprofit, but some VNRC staffers serve on its board, and others help run the organization.
The motivation? Said Shupe: "We decided we didn't really want to preside over their death."
Natural Death?
Vermont nonprofit fatalities do occur, though. The Vermont Secretary of State's Office reports that 78 tax-exempt organizations dissolved in 2017, and 75 went out in 2016.
When First Night Burlington announced in April that it was shutting down after 35 years, many Vermonters were shocked.
There were plenty of reasons for its demise — bad weather, dwindling ticket sales and the loss of a major underwriter — but for former Flynn Center for the Performing Arts executive director John Killacky, the main cause was simple.
First Night had "run its course," he suggested — it died a natural death.
The same thing happened, with less mourning, when the nonprofit Rutland Area Farm and Food Link dissolved earlier this year, according to its cofounder and former board president Greg Cox. A Rutland County farmer for 45 years, he's been involved in various nonprofits to promote local, sustainable agriculture.
RAFFL, founded in 2004, ran five programs designed to support local farms and connect consumers to their food. Cox became increasingly convinced that providing a physical space to sell food year-round was important, while other board members thought it was too risky financially to take on a building.
That disagreement is part of the reason Cox left RAFFL about eight years ago to start another nonprofit, the Vermont Farmers Market Education Center, which serves as home for Rutland's winter farmers market and offers a licensed kitchen for canning and other food entrepreneurism.
After Cox's departure, RAFFL plugged along for several years but ultimately struggled to attract donations.
"There was confusion as to our identity, and there was competition among these different organizations going after the same funding sources," said Larry Courcelle, RAFFL's board president when members voted to dissolve. "I kept saying, 'You have to look at the numbers.'"
In his new role, Cox reached out informally to RAFFL board members last year to see if they were interested in merging with his organization, which is located in a restored foundry in Rutland.
The merger idea never got beyond very preliminary chats.
Letting the organization go was emotional, Courcelle explained, but knowing that other nonprofits could take over RAFFL's programs, and even hire some of its seven mostly part-time employees, made it easier.
Sometimes, as Vermont nonprofits age, they lose passion for the mission that inspired their creation and become overly concerned about preserving jobs and the scale of their own organization, Cox said.
"Even though they are still good people wanting to do good things in a good way, they tend to become more conservative and less dynamic," he said.
Some nonprofits could merge in Vermont, he said, and they could also be more frugal with salaries. His organization employs a coordinator, and the rest are volunteers. Cox said the board put in a grant for an executive director position but was turned down, partly because the salary they suggested for the position was deemed too low to attract a qualified person. "I said, 'You've got to be kidding!'" Cox recalled. "It just makes me crazy."
"Maybe we need a board of boards where people can evaluate and come up with a strategy on our overlapping missions," he suggested.
More likely, funders large and small will continue to determine how many nonprofits exist in Vermont.
High Meadows Fund, a 501c3 that promotes a healthy natural environment in Vermont, has given away $11 million since 2004, but its president, Gaye Symington, noted "there is a lot more demand for philanthropic resources than there are resources to provide them."
In Burlington, philanthropist Miller has made the case that several youth-focused Burlington nonprofits — King Street Center, Sara Holbrook Community Center, the Boys & Girls Club of Burlington and the Greater Burlington YMCA — should combine forces.
But each organization's mission is slightly different — and their leaders passionately defend those distinctions.
Similarly, Committee on Temporary Shelter and Spectrum Youth & Family Services offer shelter and services for the homeless. Would they be more efficient and productive as one organization, especially in the wake of recent United Way of Northwest Vermont funding cuts that hit both organizations? Total compensation for COTS executive director Rita Markley was $123,764 in 2015. At Spectrum, executive director Mark Redmond earned $141,219.
Markley explained that while Spectrum focuses on teens and young adults, her organization reaches out to adults and adults with children.
If there were a merger, she hypothesized, some donors "might fall away" because they would be less attached to a new organization. "Often, what calls and resonates to people are the discrete missions that are the reasons nonprofits are formed," she said.
Redmond joked that he and Markley would have "an arm-wrestling match" over who got the top job. "We love each other, but we're two very forceful personalities," Redmond said.
Despite his threats to withhold support, Miller hasn't — yet. "We haven't denied any of them over the years because we think they should consolidate with a different organization," he said. The Millers gave about $3 million last year to Vermont charities. "It's tough when you're giving," he said. "It's still about the kids."