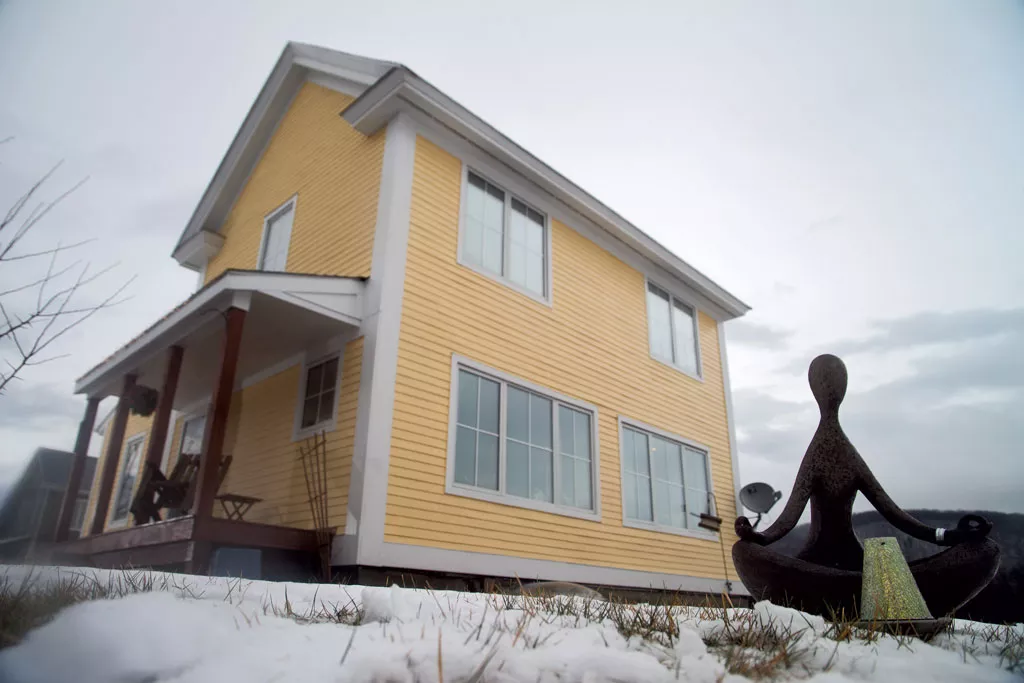 Matthew Thorsen
Passive house in Charlotte
Cuddles the cockatiel and Stripe the parakeet sit cozily in their cages on the bedroom windowsills of 12-year-old Charlie Paul, oblivious to the frigid December air on the other side of the glass. Charlie's second-floor bedroom is in the southeast corner of this Charlotte home, and, like every other room in the house, it maintains a near-constant 70 degrees year round.
At first glance, the 1,200-square-foot, split-level house looks comfortable but unremarkable. Then you notice what's missing: radiators, baseboard heaters, air conditioners and forced-air vents. All the appliances, including the stove and hot water tank, run on solar or electricty from the grid — no fossil fuels on the premises. No thermostat clicks on or furnace fires up, even on the coldest winter nights. There are no cold, drafty spots, even in the unfinished basement. In fact, the air always feels fresh and comfortable, neither too humid nor too dry, regardless of the weather or season.
Those aren't just the observations of Charlie; his 17-year-old brother, Dylan; or their mother, Katie Palmer, the house's inhabitants since May 2011. Their home, which was built by Green Mountain Habitat for Humanity, is the first-ever certified passive house in Vermont. As such, it's outfitted with an array of sensors that constantly monitor its indoor air quality and energy consumption. And the data they capture should be of interest to anyone in Vermont who designs and builds houses, owns a home or pays a utility bill.
Passive houses — not to be confused with passive solar systems — are built to the most rigorous design standards in the world to maximize energy efficiency, indoor air quality, physical comfort and durability. They're oriented to minimize solar gain in the summer and maximize it in the winter. They're so tightly insulated that they retain the heat generated by refrigerators, lights, stoves and the residents themselves. Accordingly, these houses can be heated and cooled through the ventilation system, requiring far less energy than conventional homes — about 90 percent less, in most cases.
When it comes to greenhouse gases, no sector has a greater impact on global warming than the built environment. According to 2010 data from the U.S. Energy Information Administration, buildings account for 47 percent of all carbon dioxide emissions, more than transportation (34 percent) or industry (19 percent).
In December 2011, Gov. Peter Shumlin laid out a comprehensive energy plan aimed at making all new residential and commercial construction in Vermont "net zero" by 2030. That means the total energy required to maintain a building cannot exceed what it generates through renewable sources or saves through efficiency. And, as efficiency experts often point out, the cheapest energy of all is that which is never used. If Vermont intends to get serious about meeting Shumlin's net-zero goal in 15 years, advocates say that passive-house design must be part of the equation.
Chief among those advocates is Peter Schneider, a senior consultant with the Vermont Energy Investment Corporation/Efficiency Vermont. He worked on the Charlotte house in 2010 and agreed, with the owner's permission, to show it to a reporter.
At the house, Schneider pulls out his iPhone, which features a dashboard app that can check all the home's sensors remotely — 3,600 data points per hour. From it, Schneider can monitor the electricity usage of every appliance and wall outlet, the temperature of all the rooms and their indoor air quality, including levels of relative humidity, carbon dioxide and volatile organic compounds.
Schneider, who could talk about all this for hours, calls the Charlotte house "the most influential home in Vermont." Since it was built, he's given countless presentations, slide shows and tours to architects, engineers and builders who've studied the data, scrutinized the design and downloaded the blueprints.
For Schneider, this house, the first of 20 passive houses that have since been completed in Vermont, represents "a totally different way of thinking" about energy-efficient construction in cold-weather climates.
"Passive House seems ahead of its time," he says of the movement. "But really, when you get there, this is the right time to be building houses this way. It's a true 100-year home."
Indeed, spend any time with local advocates — the Passive House Alliance of Vermont now has more than 70 members — and you're bound to hear someone cheerfully admit to having "drunk the Kool-Aid."
Those enthusiasts include Jeff Wager, a Burlington filmmaker whom Schneider invited to produce a short video about the Charlotte house shortly after it was built. Wager was so impressed by the concept that he spent the next five years producing a feature-length documentary about it and other passive homes. SUPERHouse! is now in international distribution.
Energy Usage Comparison:
"Fifty percent of all the primary energy we generate as a nation goes into heating or cooling buildings, which are unoccupied much of the time," Wager notes.
Currently, a passive house in Vermont costs 5 to 10 percent more to build than a conventional home. But because its utility costs are so low, homeowners begin saving money from day one, and can recoup the added expense within 10 to 15 years. Furthermore, given that passive-house owners are less vulnerable to seasonal fluctuations in their utility bills caused by severe weather and fuel-price spikes, some lenders, including the VSECU credit union, will approve higher monthly mortgage payments for passive houses than for conventional homes.
Says David Mullin, executive director of Green Mountain Habitat for Humanity, "It makes a world of difference for low-income families to have energy bills that don't eat them alive."
Although the idea of super-insulating homes to save energy and money emerged in the United States in the 1970s, the so-called Passivhaus movement began in Darmstadt, Germany, in the late 1980s. There, Swedish scientist Bo Adamson and German physicist Wolfgang Feist built the world's first passive house; Feist later founded the Passivhaus Institute in the same city.
German-born architect Katrin Klingenberg, who built her own passive-house residence in Urbana, Ill., reintroduced the concept to the United States in 2002. She later cofounded the Passive House Institute U.S. PHIUS is now the standard bearer and certifying organization for all passive-house construction in the U.S.
Although the design concept has been slow to catch on in this country compared with Europe, its ability to excite designers, builders, architects and conservationists was evident on an evening in late September in Burlington's South End. There, about 80 people gathered in the offices of the energy consulting firm Better to hear a presentation by Austrian Günter Lang, a consultant and champion for the international passive-house movement.
Annual Heating Cost Comparison:
The event was sponsored by Better, Burlington's Community and Economic Development Office, Burlington Electric Department, and New Moran. Tad Cooke, who's working to redevelop the former coal-fired plant on Burlington's waterfront, said he and his partners are considering adopting the passive-house standard for the new Moran Plant space.
For more than an hour, Lang showed slides, photos and graphs of award-winning passive-house buildings — not just single-family homes but high-rise apartments, college dorms, commercial offices, courthouses, health care facilities, even prisons. These structures are transforming Europe's energy landscape and saving their owners tens of thousands of dollars.
One such building, a 354-apartment complex in Innsbruck, Austria, requires fewer wood pellets to heat than six single-family conventional homes. Another, a 444-unit apartment complex in Innsbruck that was part of the Olympic Village for the 2012 Winter Games, takes 90 to 95 percent less energy to heat than a conventionally designed structure. Today, the city of Innsbruck won't allow any new construction that doesn't meet passive-house standards.
The Austrian city isn't alone in this pursuit. According to Lang, more than 60,000 passive-house buildings, totaling more than 350 million square feet of interior space, are now scattered throughout Europe.* Five years ago, in a measure sparked by the Kyoto Protocol, the European Union agreed to adopt the passive-house standard for all new construction by 2020, if nations hadn't done so already.
At the end of his sometimes-technical presentation, Lang got down on one knee and implored his Burlington audience to spread the word, saying, "We can do this." When he was done, the crowd gave him a standing ovation.
Lang's plea to his American counterparts is understandable, given the slow pace of passive-house construction in this country. Currently, less than 0.1 percent of all new construction in the U.S. meets passive-house standards.
One notable exception is Hickory Hall, a 40,000-square-foot dormitory at Emory & Henry College in Emory, Va., which was completed in December 2012. Like its sister dorm, Elm Hall, Hickory Hall contains 61 units with 117 beds. But, unlike the conventionally built Elm, Hickory is a passive-house structure, one of the largest in North America. Thanks to its tight building envelope and high-efficiency ventilation system, it uses 74 percent less energy than a conventionally built dorm, and 60 percent less than the moderately efficient Elm. As for its construction cost, the school reports that Hickory Hall was less expensive to build than Elm Hall — $118.75 per square foot compared with $125 per square foot.
If this technology can reap savings in both energy and construction costs, why is it taking so long for American builders to awaken to it?
"Why are 30 percent of Americans overweight and dangerously so? Why does gasoline cost half here what it costs in Europe?" asks Chris West, former president and current secretary of the Passive House Alliance of Vermont. "It's an American myopia. We don't want to see what's happening in front of our faces unless it hits our pocketbooks, our freedoms or our safety."
Among those who came to hear Lang's talk were Barb and Greg Whitchurch of Middlesex. In November 2012, Greg's parents, both in their nineties, faced the prospect of moving out of their home in Akron, Ohio, and into an assisted-living facility. But after looking at one, they were, in Greg's words, "totally freaked out" by all the restrictions, including the costs, which totaled more than $3,000 per month.
"So I said to them, 'For that kind of money, we can build you a place in Vermont,'" recalls Greg, a computer engineer who lives on 17 acres. For $225, Greg purchased a computer program called the Passive House Planning Package, which provides detailed building instructions.
Working with PHIUS-certified builder Chris Miksic and PHIUS-certified consultant Indigo Ruth-Davis of Montpelier Construction, the Whitchurches erected a modest, two-story home that's wheelchair accessible, ultra-efficient and, Greg emphasizes, extremely comfortable inside.* The house was oriented to face south, with large windows that capture the sun's heat in winter but not in summer. The roof and walls are nearly two feet thick, with extra-thick insulation below the foundation. Says Barb, "You end up with a house where you can sit with your back right against the window and you're not cold in the dead of winter."
"Ours is small, but [a passive house] can look like anything you want it to. It can be any size," adds Greg, who recently learned that the house won Efficiency Vermont's Best of the Best Award in the Innovation category. "It's just doing what we already do, just much better than people ever thought was possible," he says.
One local expert who hasn't drunk the passive-house Kool-Aid is Martin Holladay, senior editor at Green Building Advisor and Fine Homebuilding magazine. Holladay, who reports on energy-efficient construction and lives off the grid in Wheelock, has been a longtime skeptic of passive-house construction because, he contends, the structures are not as cost-effective as their proponents claim.
According to Holladay, PHIUS recently made a "180-degree turn" on its standards and released brand-new draft ones that will completely redefine the passive house in North America. The old standards, he says, required insulation so thick that "You would have to go 200 to 300 years before you would ever pay back either the carbon footprint or the cost of all that insulation."
Meanwhile, he adds, in more temperate climates, builders can reach the passive-house standard so easily that, arguably, they should be required to add more insulation than PHIUS requires.
"The passive-house standard does result in wonderful houses," Holladay concedes. "They're comfortable, their energy bills are low and there's nothing wrong with how they perform."
Still, he contends that the PHIUS standard of evaluating a home's efficiency based on its airtightness and energy budget is "rigid and illogical," as it doesn't allow designers to consider other factors that affect energy usage.
"Cost-effectiveness," Holladay concludes, "is not part of the passive-house criteria."
VEIC's Schneider is familiar with Holladay's criticisms, and, in many respects, he agrees. Passive house isn't a "cost-optimized" energy standard, he readily admits, noting that Vermont can build net-zero and zero-carbon homes without adopting everything in the PHIUS standard.
One distinct advantage of passive houses, he says, is that they're relatively simple and labor-free for their owners. That's a marked change from some other high-efficiency houses that have been built in Vermont in recent years — notably, the 5,000-square-foot home that Dotty Kyle and Eric Brattstrom built in Warren. That house, as the New York Times described in a profile last month, is environmentally sustainable but proved too technical and labor-intensive for the couple, who are both 78 and retired.
Ultimately, Schneider suggests that passive houses can raise the bar for all builders, so that, one day, homebuyers may look as closely at a home's energy profile as they do now at its school district and property taxes.
For his part, West, a passive-house consultant who lived in the Netherlands for 10 years and is currently building four new passive houses in Vermont, says there's no reason for Vermont to build any other way.
"We no longer think it's going to work," he says. "We know it works."
Contact: ken@sevendaysvt.com
INFO
Correction 1/9/15: An earlier version of this story imprecisely identified the titles of two Montpelier Construction members involved in passive house construction.
Correction 2/25/15: An earlier version of this story incorrectly identified the total number of interior square feet in Europe's passive houses. It is more than 350 million.
The original print version of this article was headlined "Passive House: Does the ultra-efficient home point the way to carbon neutrality in Vermont?"