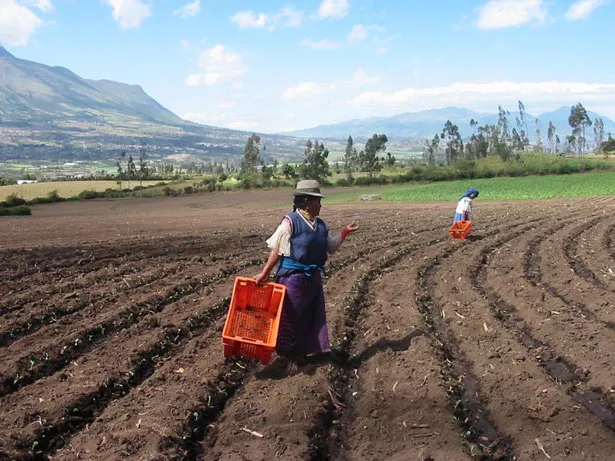 ARD's "Ecuador Pro Norte" project increases income and employment for small- and medium-scale farmers
BURLINGTON - When Burlington-based ARD, Inc. announced October 2 that it had been sold to Tetra Tech, Inc. of Pasadena, California, the news barely caused a ripple in the Vermont press. That seemed unusual, considering that ARD, a for-profit international development firm with annual revenues exceeding $100 million, has been headquartered in Burlington since 1977. The company employs more than 600 people worldwide, including about 110 in Burlington alone. Former Mayor Peter Clavelle joined ARD after his 2004 unsuccessful bid for governor.
But new ARD President Jan Auman says he isn't surprised the recent sale didn't grab local headlines. He called ARD "a quiet pillar of the community" whose international development work often goes unnoticed in Vermont. For the most part, the company's projects have reflected the deeply held values of the Green Mountain State, where ARD was born; namely, a strong commitment to sustainable agriculture, local self-governance and environmental conservation.
"It's truly a success story what George built here," says Auman, referring to George Burrill, who founded Associates in Rural Development 30 years ago and who retired recently after selling the company for an undisclosed sum. "I think the work that we do here is really meaningful."
Apparently, something else about ARD's sale escaped the media's attention: the nature of Tetra Tech itself. Privately, some current and former employees express concern that ARD's mission could change now that it's owned by a larger, publicly traded firm with close ties to the military-industrial complex. They point to some of Tetra Tech's recent clients - including the U.S. Navy, Air Force and Missile Defense Agency, as well as uranium mining companies and coal-fired power plants - as projects that don't seem compatible with ARD's Vermont-inspired persona.
None of those past or current employees are willing to speak on the record, expressing fears about compromising current or future employment. But for his part, Auman says such concerns are totally unwarranted. He describes Tetra Tech as a "scientific firm" whose projects focus on sound environmental stewardship and peaceful, humanitarian goals, whether they're in watershed management, climate change or resource conservation. The business models and underlying values guiding both ARD and Tetra Tech, he says, "complement each other very well."
Indeed, Tetra Tech's website portrays a global firm that bears little or no resemblance to a traditional, Halliburton-like defense contractor. Domestically, for example, Tetra Tech has been involved in pollution reduction in Lake Tahoe, the design of Leadership in Energy and Environmental Design-certified "green" buildings in New York City, and wildlife habitat recovery in Arizona.
Overseas, Tetra Tech has worked on projects to restore fisheries and coral reefs in the Philippines, to dispose of unexploded ordnance in Iraq, and to create tsunami early-warning systems in the Indian Ocean.
But Tetra Tech also has its hands in the nuclear industry, helping mining companies secure environmental permits to open, or re-open, uranium mines in the United States and abroad. "The uranium industry is experiencing what is being termed a 'nuclear renaissance,'" its website reads. "Increasing awareness of global warming effects, rising energy demand, and desire to reduce dependence on foreign oil have created an unprecedented worldwide demand for nuclear energy, which in turn is driving uranium prices to the highest they have ever been in history."
Likewise, Tetra Tech was picked by Sierra Pacific Resources to help it get a permit to build a $3.7 billion coal-fired power plant in Ely, Nevada. The 750-megawatt plant will eventually be the largest power-generation facility in Nevada.
Auman wouldn't directly address questions about Tetra Tech's involvement in the coal and nuclear industries. Instead, he focused on Tetra Tech's "cutting-edge" projects with carbon sequestration, wind generation and geothermal energy.
When asked about Tetra Tech's military contracts, Auman points out that they typically involve environmental remediation or energy efficiency. For example, Tetra Tech will help U.S. Navy and Marine Corps bases in the southwestern United States run on nearly 100 percent renewable energy. Another contract, awarded several weeks ago, involves environmental cleanups at shuttered military bases.
But it's also worth noting that, unlike ARD, Tetra Tech historically has close ties to the Bush administration. Tetra Tech's current director and chairman, Albert E. Smith, was nominated by President Bush in May 2001 to be undersecretary of the Air Force. Smith, who began his professional career at the CIA in 1972, is a former executive vice president of Lockheed Martin, the world's largest defense contractor. From 2002 to 2005, he served as a civilian advisor to then-Secretary of Defense Donald Rumsfeld.
Even the "old" ARD, which often worked in conflict zones, got much of its funding from the U.S. Agency for International Development, a branch of the State Department. Such contracts tend to reflect the values, and agendas, of the administration in power.
One former ARD employee who did speak on the record is Lucy Gluck. A former Peace Corps volunteer who now works at the Vermont Energy Investment Corporation, Gluck left ARD because she didn't feel comfortable in the for-profit development world. As she puts it, "I felt if I had stayed long term, I would have had to compromise some of my really strong feelings about U.S. involvement around the world."