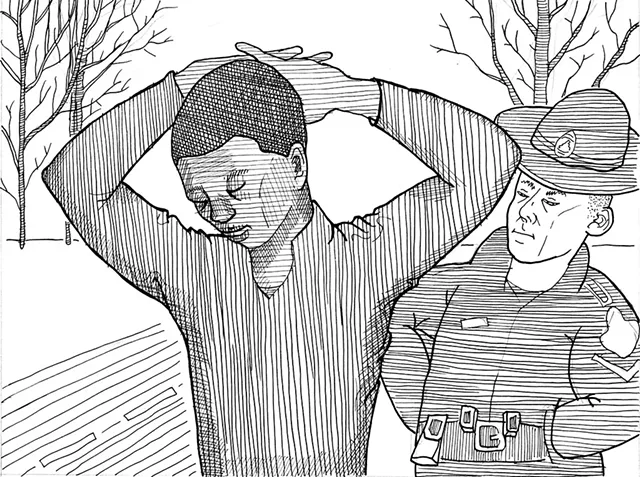 Vermont state police don't often get fired — and when it happens, no one puts out a press release; in fact, the Vermont Department of Public Safety rarely acknowledges it. But after former state trooper Lewis Hatch was sacked in January, he appealed the decision to the Vermont Labor Relations Board. That made his personnel file part of the public record, providing a glimpse into how Vermont law enforcement polices its own.
The documents allege that Hatch had a history of conducting drug searches with no legal justification. Often, his targets were black men.
"You have again placed your personal pursuit of drug detection above all else, including your duty to follow orders and your duty to properly and thoroughly document objective legal justification for your actions," Public Safety Commissioner Keith Flynn wrote in a letter to Hatch chronicling his abuses five months before the trooper was fired.
Hatch's superiors were so concerned about his pattern of behavior that they eventually required him to call a supervisor, describe the situation he was in and obtain permission in advance of any search. But Hatch refused to follow those protocols on at least two occasions, according to the documents, and referred to it as a "fucking monkey game."
Two recent analyses, one in Burlington and one capturing data statewide, have suggested that policing in Vermont is marked by racial bias. Lawmakers are trying to improve on a law they enacted two years ago that mandates roadside-stop data collection; lax reporting and technological problems have thwarted efforts to get a clearer picture of whom the cops pull over — and why.
State police are still dealing with the fallout from one of Hatch's searches. In September 2014, the Vermont chapter of the American Civil Liberties Union sued the state on behalf of Greg Zullo, a 21-year-old African American whom Hatch stopped in Wallingford in March 2014. The case is still pending.
Hatch pulled Zullo over because snow partially obstructed his license plate. After he approached the car, Hatch later claimed, he smelled marijuana — and asked to search the vehicle. When Zullo refused, Hatch had the car towed, and Zullo walked eight miles home. A pipe and grinder were found inside the car. Zullo was not ticketed for any offense.
"This information seems consistent with what we've heard about Officer Hatch," said ACLU executive director Allen Gilbert when informed by Seven Days of Flynn's memo. "We pursued this action on Greg Zullo's behalf because of the appearance of racial profiling, the question of whether the stop itself was legal."
Hatch, an Irasburg resident, graduated in 2009 from Columbia-Greene Community College in Hudson, N.Y., where he studied criminal justice. He worked as a cop in Greenport, N.Y., for three years before the Vermont State Police hired him in 2011. He's married to Orleans County State's Attorney Jennifer Barrett, who won election in 2014.
"In terms of the Labor Relations Board case, the public is only hearing one side of the story," Barrett said. "I work in a system where we rely on the process to achieve justice, and I'm confident that, through the board, there will be a fair and just outcome in this case."
Representing the former cop, the Vermont Troopers Association is asking the Vermont Labor Relations Board to restore his job, award back pay and remove records of any alleged wrongdoing from his personnel file. In his April appeal, Hatch argued that several of his immediate supervisors did not object to his actions and had declined to discipline him. He also said that Flynn's findings — detailed in the commissioner's memo — were flawed.
"The state improperly bypassed progressive discipline and inappropriately stacked misconduct upon misconduct in order to justify termination," Hatch's attorney, Patrick Bryant, wrote to the Labor Relations Board. No hearing on Hatch's appeal has been scheduled.
Bryant, Hatch and Flynn all declined to comment for this story.
Hatch began getting into trouble about two years after starting work as a Vermont trooper, patrolling Rutland and Bennington counties. Flynn's letter recounts a series of incidents of alleged misconduct.
On July 24, 2013, Hatch pulled over a Kia on Route 7 in Rutland. The driver was a white woman named Kayla Woodard.
Laws forbid police officers from expanding a traffic stop into a drug investigation — interrogating suspects and asking to perform searches — without a "reasonable suspicion" that people involved have committed a drug crime. Flynn's memo says Hatch routinely ignored that bedrock principle.
One of the male passengers — an African American — made no eye contact with Hatch and was "talking real low," Hatch said, according to Flynn's memo. "Something is not adding up. I don't know what it is yet. I'm going to talk to her, see where we go," Hatch told a fellow trooper at the scene.
Hatch further questioned the occupants, even though none of the information rose to the level of reasonable suspicion of a drug crime, Flynn subsequently concluded.
Twenty minutes into the encounter, Hatch issued Woodard a written warning for driving with a suspended license, but he persisted in asking about drugs. Hatch summoned a police canine to the scene and, contrary to proper protocol, appeared to have briefly deactivated his cruiser camera when he initially met with the canine handler. Flynn noted that police did not investigate that allegation.
The dog alerted troopers to the likely presence of drugs by the driver's-side door.
Hatch asked one of the passengers, Aaron Hightower, an African American, for permission to search him. Hightower agreed but began protesting when Hatch reached into his crotch. Hatch searched Hightower's crotch a second time.
Hatch then ordered Hightower to strip while standing behind the doors of a parked cruiser. Woodard and other passing motorists saw the search, Hightower alleged in a lawsuit he later filed. The "lump" Hatch found in Hightower's crotch turned out to be the stitched inseam of Hightower's pants, Flynn wrote.
The entire stop lasted an hour and 45 minutes. Hatch's report on the incident was five paragraphs and "did not include anything even approaching the required level of detail," Flynn wrote.
Flynn's report also said Hatch's written account had inaccurate information. Hatch wrote that his "attention was drawn to the vehicle in front" of him, but his cruiser camera showed that Hatch slowed down so he could get behind the vehicle before pulling it over. Additionally, Hatch wrote that he told the driver that she did not have to speak with him. The video shows that he said nothing of the sort, Flynn wrote.
Less than a year later, in April 2014, Hatch pulled Aaron Hightower over — again — as he drove a Chevy Impala on Route 7 in Rutland. Hatch said he stopped the car because its windows were illegally tinted, Flynn's memo says. Hightower's license was suspended. Hightower's nephew, Rahmell Hightower, was a passenger.
Hatch said he smelled burnt marijuana in the vehicle, according to Flynn's report. He asked Aaron for permission to search the car. Aaron agreed, and Hatch found nothing. Hatch then asked to search Rahmell. On the side of the road, in broad daylight, Hatch ordered Rahmell to lower his sweatpants to reveal the shorts he was wearing underneath. Hatch then ordered him to drop his shorts. He found no drugs.
Aaron refused to be strip-searched on the roadside and was taken into custody so he could be checked over at the station. Over the course of three hours there, Hatch told Aaron that he would be applying for a warrant for a full-body cavity search. Aaron "reluctantly" agreed to the less invasive strip search, according to a lawsuit he later filed.
Hatch then "manipulated his butt cheeks and either manipulated his testicles or had him manipulate his testicles," according to Flynn's memo. Hatch found no drugs.
Hatch's report about this incident, too, had scant information. And he failed to videotape the search, in violation of department protocol, Flynn wrote.
The Hightowers sued Hatch and settled their case in September 2015 for $65,000.
That was despite the fact that the Attorney General's Office had ruled that Hatch's conduct was legal during both Hightower stops, according to Hatch's appeal.
But the Hightowers saw it differently. "From the perspective of our criminal defense bar, Hatch had no regard for individuals' constitutional rights and civil liberties," their attorney, Mark Furlan, said in an interview.
Judges, too, have ruled against the trooper. In at least four cases, they threw out drug charges against defendants ensnared by Hatch's illegal searches, according to Flynn's memo.
One judge ruled that Hatch acted inappropriately in a 2013 stop in East Dorset. After becoming suspicious of a car driven by a white woman with two black male passengers, Hatch followed the Toyota RAV4 and stopped her for speeding.
He immediately launched a drug investigation, asking the driver, Rutland resident Stephanie Socia, to get out of the car and answer questions.
His justification for suspecting there were drugs in the car? Court documents reveal that he found it odd that Socia left her turn signal on after being pulled over and thought she sounded nervous when talking to him.
He later testified that Socia's refusal to say whether any passengers had drugs was, to him, confirmation that they did.
During a hearing in a criminal case that resulted from the stop, Hatch said that the people in the vehicle could have "burglarized someone. They could have shot and killed someone."
"The breadth of Hatch's speculation regarding suspected criminal activity of the driver and passengers is remarkable," Judge Nancy Corsones wrote in a April 2014 opinion throwing out the charges.
For Hatch, it was standard operating procedure.
Just one month earlier, on March 2, 2014, Hatch pulled over a car for speeding on Route 4 in West Rutland, according to court documents. A 16-year-old white woman was driving, with two black male passengers. Hatch interrogated the driver without informing her of her legal rights, a judge later found, and conducted a search for drugs. Police eventually discovered eight grams of heroin and a handgun inside the car.
What was his justification for turning that stop into a drug investigation?
Hatch deemed the presence of an air freshener, energy drinks and coffee cups in the car to be suspicious. He testified that such items were often an indication that a car was involved in drug trafficking. And he was suspicious when the driver immediately handed over her license and registration.
Judge Thomas Zonay threw out the charges, saying, "Immediately producing a valid driver's license, registration information and proof of insurance is nothing more [than] an act of benign innocence."
In November 2014, Hatch's fed-up bosses forbade him from conducting searches of vehicles without their permission.
He flouted the rules on at least two occasions, according to Flynn's memo: once by conducting a search himself and once by calling a fellow trooper, Elliott Justinger, to have him search a driver whom Hatch had pulled over and suspected of involvement in drug crimes.
When a sergeant monitoring the police radio heard what was going on, he alerted Hatch's commander. Sgt. Henry Alberico told Hatch to stay put. He was heading to the scene. But the trooper didn't stick around.
Hatch hopped into his cruiser and drove off.