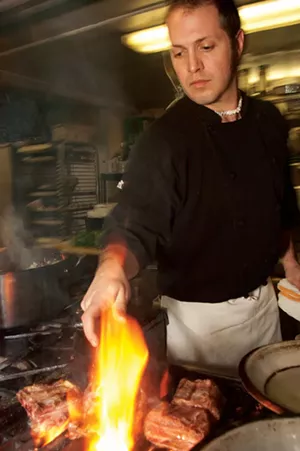 Matthew Thorsen
Bar Antidote
Step through the door of Vergennes' Bar Antidote, and it's as if you're entering either a speakeasy or, as the name suggests, a pharmacy. A warren of dim rooms leads to a backlit bar densely stocked with spirits, microbrews and local wines. A cocktail here may be just what the doctor ordered.
Half of Antidote's charms take shape in the kitchen, though. To call the comfort food here "local" is an understatement — the components of each wildly layered dish were often raised and collected by the very hands that serve it. The citrusy zing in your IPA? Thank your bartender, who's also a local hops grower. The mound of juicy ground pork, house-cured bacon and braised pork belly in your "Pig Mac"? It came from pigs raised by chef Ian Huizenga and his family, who fattened the creatures with Antidote scraps. The smooth and sweet maple in the jus of a "True Shepard" pie was tapped from maple trees on the Huizenga family farm, and a wedge of molten-chocolate silk cake was probably baked by the chef's mother.
Location Details
Antidote
35 Green St.
Middlebury Area
Vergennes, VT
802-877-2555
American (New)
Dining at Antidote is filling but energizing, especially when a local band kicks into gear on weekend nights, or the bar fills with an eclectic cast of locals. Despite the freewheeling vibe, local families nestle into high wooden booths for more sedate meals, savoring every bite of smoky mac 'n' cheese topped with crispy bits of ham, or dipping Gouda-covered fries in the rich beef gravy of poutine. Sound like a heart attack waiting to happen? More like a community cure-all.