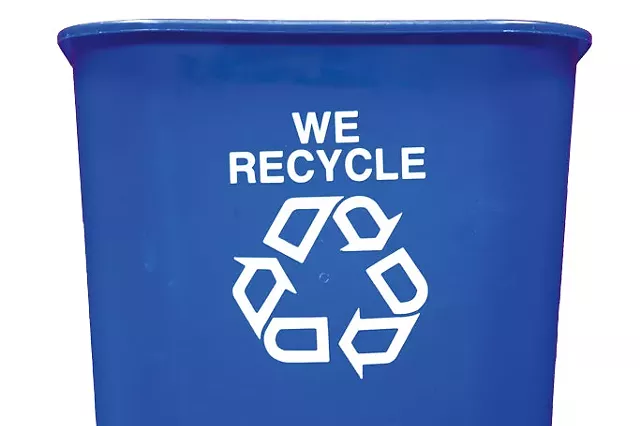 Susan McMillan of Colchester had a WTF moment recently while trying on shoes at L.L.Bean in the Burlington Town Center mall. After removing two huge wads of paper from a pair of boots — why manufacturers stuff shoes with packing material is a mystery in itself — McMillan set aside the paper for the saleswoman to recycle, she recounts. The response: "Sorry! The mall does not recycle."
"Really? Our commercial stores do not have to recycle all the cardboard and paper they dispose of each day?" McMillan asks Seven Days via email. "That's insane."
It would be, if it were true. Perhaps the real WTF question is this: How could anyone work at L.L.Bean — in its new, eco-friendly building on Church Street — and not be aware of the company's well-trumpeted commitment to environmental conservation? More on that later.
First, a brief primer on Vermont's mandatory recycling law, courtesy of Clare Innes, marketing and communications coordinator for the Chittenden Solid Waste District. Back in 2012, the Vermont legislature unanimously passed Act 148, aka Vermont's Universal Recycling Law. Notes Innes, "How often does a bill pass unanimously?"
The law, whose provisions began to take effect in 2014, now requires all residences and businesses in the state to remove so-called "blue-bin materials" — paper, aluminum, cardboard, glass, steel and hard plastics — from the waste stream. The same goes for hazardous materials, such as motor oil, batteries, household cleaning products and compact fluorescent bulbs. Since 2016, organic materials, such as lawn and yard waste and clean wood, have also been a no-go to the landfill. Ditto for food scraps from all homes and businesses starting in 2020.
Lawmakers didn't adopt these mandates to turn Vermont into a nanny state, but for reasons of both ecological and economic prudence. As Innes points out, the tipping fee, or cost for a garbage truck to empty its load, is currently $21 per ton for recyclable materials, compared with almost $100 per ton at the dump in Coventry, Vermont's last existing landfill.
That tipping fee doesn't include the cost of hauling trash 75 miles north of Burlington through some residential communities. Innes says she's spoken with Vermonters living along those trucking routes who complain that the sheer weight of garbage trucks "rattle[s] the dishes and paintings off the walls." When Vermont's mandatory composting law takes effect in three years, it's expected to reduce the volume of solid waste headed to the Coventry landfill by one third. That's a lot of egg shells, apple cores and carrot peels!
As CSWD evolves to conform to the ever-changing global recycling market, Innes says, even more types of packaging are being diverted from the rubbish heap. For example, earlier this year CSWD began recycling refrigerated food boxes, such as those that hold microwave meals. "Think of the miles of aisles of microwave meals at all the grocery stores in Chittenden County," Innes remarks. "That can now be recycled."
Why wouldn't a retail-store employee know about Vermont's Universal Recycling Law, which has been on the books for several years now? Innes suggests such ignorance could be a reflection of Burlington's large transient population of college students, seasonal residents and other newcomers from states where recycling isn't even on the radar.
"Sometimes employees are in the dark about what the business itself is doing," she adds. "But if the employees haven't been instructed to recycle, such as paper bags, they need to get that education."
And if a business won't educate its own staff, Innes says, CSWD is happy to do so. The state's largest solid waste district, which serves all 18 cities and towns in Chittenden County, or a fifth of Vermont's population, employs two business outreach staffers to help businesses comply with the law. Those that don't may get a visit from a CSWD enforcement officer. (Rumor has it, the stick they carry is made from recycled plastic.)
So what does L.L.Bean have to say about this?
"I believe that this customer was somehow misinformed," suggests Mac McKeever, a senior public relations rep at L.L.Bean headquarters in Freeport, Maine. "I can say with the utmost confidence that we do adhere to the Universal Recycling Act [sic] at the store through our zero-sort recycling program. And we have a designated store representative who oversees our recycling efforts."
McKeever, himself a former Burlington resident, points out that the company's Queen City outlet was built according to the U.S. Green Building Council's LEED (Leadership in Energy and Environmental Design) building rating system. He adds that his company donates millions of dollars to conservation and land-stewardship organizations, greenhouse gas-reduction initiatives and energy-conservation activities. In keeping with its outdoorsy, nature-loving image, L.L.Bean also uses biodiesel in its truck fleet and maintains standards — published on its website — for the percentage of recycled materials used to produce its catalogs and packaging.
So one may presume that the wads of paper stuffed into every new pair of boots aren't just recyclable — they're recycled. And blue binning them is the law.