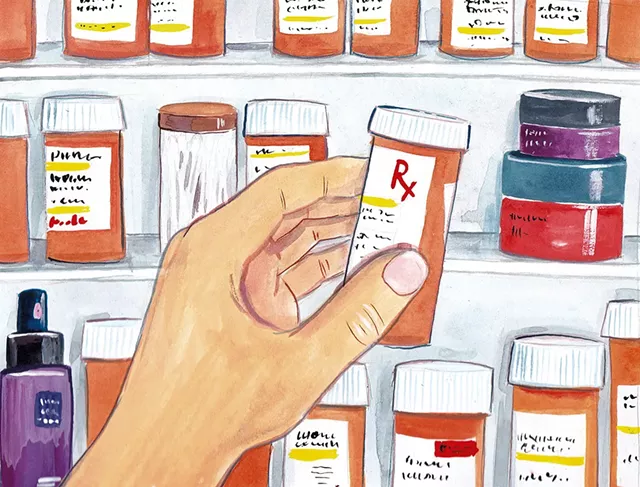 More than 60 physicians gathered in a Rutland Regional Medical Center conference room last week to hear Vermont Department of Health officials describe new rules for prescribing opiates.
Starting July 1, Vermont doctors and dentists can no longer put patients on the powerful painkillers, including OxyContin and Vicodin, after most minor injuries or simple procedures such as a sprained ankle or a pulled molar. Rules cap the number of pills they are allowed to prescribe for more severe injuries, and, in those cases, they have to educate patients about the risks of opiate addiction.
The health department presenters pitched this as a "collaborative effort," but there is nothing voluntary about the new regulations. They are being implemented after years of unregulated overprescribing steered thousands of pills into the community, supplying a growing population of opiate addicts in Vermont.
"There is a lot of unused medication out there," Department of Health public analyst Shayla Livingston said. "We know we are overprescribing. We know it's a really serious problem."
At the same time the state's stricter guidelines are being imposed upon them, some hospitals serving Vermont, including University of Vermont, Dartmouth-Hitchcock and the U.S. Department of Veterans Affairs medical centers, are finally taking steps toward self-regulation.
"I think we in the medical community need a little bit of a wake-up call, despite people's protests," said Patricia Fisher, who is a medical director at UVM Medical Center. "We need to be doing something different."
Nationally, opiate overdoses have overtaken car crashes as the leading cause of accidental death. More than 15,000 people died from overdosing on prescription opiates in 2015, and thousands more started using heroin after first becoming addicted to its legal brethren. Last year in Vermont, a record 105 people died of opiate overdoses.
Porter Hodgdon Jr. was one of them. The Swanton man had for years abused prescription drugs that were readily available in the community, said his brother, Jason. Porter couldn't kick the habit despite numerous attempts to get clean, according to his brother. Last June, he overdosed on the prescription opiate Dilaudid. He was 39.
"Personally, I think doctors overprescribe, and that's how people get started," Jason Hodgdon said. "I've always said an addict can go into a doctor's office and come out with a bagful. I believe in a lot of cases that it's too easy for doctors to say, 'Here, take this,' than to fix the problem." The regulations are long overdue, he said.
Vermont legislators passed a law last year instructing the Department of Health to draft new rules and implement them by July 1.
"In 2015, enough painkillers were handed out in Vermont to give every man, woman and child a bottle of 100 pills," former governor Peter Shumlin said in his signing statement. The new rules, he said, would "ensure that fewer Vermonters are sent home with enough painkillers to set off a lifetime of horrible addiction."
The department began training doctors on the regulations last week. While prior rules have addressed the treatment of chronic pain and injuries, the new regs focus on acute injuries.
"This is deep prevention," Livingston said. "It's as far upstream as we can go to try to reduce exposure to that first prescription."
For most cases of severe pain, doctors will be allowed to prescribe only seven days' worth of opiates for adults — three days for minors. When the drugs are first prescribed, doctors must discuss the risk with patients, consider alternatives to opiates and provide educational material. Patients have to sign an informed-consent form.
Medical providers also have to provide naloxone — the opiate overdose-reversing drug carried by cops and EMS workers — when prescribing particularly strong opiates, or if patients are taking other drugs that can make them susceptible to overdosing.
Another change: Doctors are obligated to run each opiate patient's name through the Vermont Prescription Monitoring System to make sure he or she isn't getting drugs from multiple sources.
The Vermont Medical Society opposed aspects of the bill in 2016 but participated in the rule-making process after it won passage. Some doctors voiced concerns, including that the one-size-fits-all approach, and the regs related to minors, were too restrictive. Some questioned whether limiting prescriptions decreases addiction rates; the Department of Health says overwhelming evidence indicates that it does.
"These are major changes," Medical Society executive vice president Paul Harrington said in an interview. "The Medical Society is always concerned when you have the state second-guessing the clinical judgment of physicians. But in this case, the regulations were developed with the input of many members of the Medical Society. We certainly had concerns with the initial direction and were pleased that the Department of Health listened to those concerns."
After last week's presentation in Rutland, doctors told Seven Days that they were generally supportive of the guidelines though a bit frustrated with the department and some of their new responsibilities.
"It's a good thing, because we've got a problem — there are too many opiates out there — but the rules keep changing, and that makes it hard for us to follow," said Poultney physician Michael Scovner. For example, Scovner said, the Department of Health has not yet provided any of the educational material that doctors will be obligated to give patients.
Rutland Regional Medical Center physician Rick Hildebrant said he generally supports the goals that led to the rules but worries about the time that it will take busy doctors to comply.
"We see the patients who have had drug-addiction issues. We have a big-time problem," Hildebrant said. "But there's a lot of burdens being placed on practitioners, in the ER in particular, with these new rules. It is certainly an administrative burden ... that will impact our workflow."
Limiting prescribing isn't the only new effort to curb opiates. In White River Junction, the Veterans Affairs Medical Center is going to buy back the unused opiate pills its doctors prescribe.
VA general surgeon Jean Liu got the idea several months ago, after her friend's father suffered a stroke. Cleaning out her father's medicine cabinet, the friend was shocked to find a stockpile of unused prescription drugs. She asked Liu for guidance.
While law enforcement agencies occasionally host well-publicized drug-disposal days, and some departments offer 24-7 drug drop-off, Liu said their impact is limited. Not everyone can, or wants to, visit a police station, she said.
Meanwhile, the VA serves elderly and disabled patients from a wide area, many of whom struggle to make the trip to White River Junction. With that long, difficult journey in mind, the hospital writes what might be considered overly generous prescriptions.
Liu wondered: Shouldn't officials make it more enticing to dispose of unneeded prescription drugs? And couldn't the VA, which has its own pharmacy, find a way to make that more convenient for its patients?
The resulting buyback program is for VA patients with opiate prescriptions resulting from outpatient surgeries.
Liu's project is being financed by the VA's Innovators Network Program. She's expecting a $50,000 grant, $25,000 of which will pay for 5,000 pills at $5 a pop.
A pink sticker affixed to drug vials will explain the program. Eligible patients have 60 days from the date the prescription was filled to return any unused medication in the original bottle.
VA pharmacists will check the bottles and their contents, disposing of every pill in a specially designed drop box. Patients will get paid on the spot.Liu expects the test program to last six months. If it proves successful, she hopes it will be expanded to more patients — and to other providers.
If even one person avoids addiction, Liu figures, the money will be well spent. It costs around $50,000 a year to hold someone in a Vermont prison, and addiction treatment programs can be even pricier.
"This is potentially scalable, but I need proof of concept first," Liu said. "The hospital has been extremely supportive of this. I think that everybody feels that it's a horrible problem and we need to start practicing outside the box."
Both Liu and Department of Health officials cited recent findings by Dartmouth-Hitchcock, the second-largest care provider for Vermonters, to justify their efforts.
Hospital researchers there looked at five of its outpatient procedures, including partial mastectomies and hernia repair, and determined that patients took only 28 percent of the pills they were prescribed. Further, doctors within the same units doled out pills at wildly divergent rates.
When the hospital informed its doctors of the findings, they started prescribing 53 percent fewer pills.
A similar study at the UVM Medical Center found a wide range of prescribing behaviors there, too.
After general or orthopedic surgery at UVM Medical Center, 93 percent of patients received an opiate, according to the study's preliminary findings. Of those, 12 percent didn't fill the prescription, and 30 percent that got the meds didn't use them, the department said.
Medical director Fisher said the hospital is determined to cut back on its opiate dispensing. It has already started embedding the new prescribing rules in its electronic health records system so that doctors are prompted to follow the proper procedures. The new rules, Fisher said, could be "burdensome," especially for busy emergency-room doctors and surgeons who have not traditionally discussed medication with patients.
"Big picture, though," Fisher said, "it's the right thing to do."
Update, April 26, 2017: Various sites in Vermont will accept unused prescription medicines on Saturday, April 29, as part of National Prescription Drug Take Back Day. For details, click here.