Gabriela Stanciu
Coltsfoot
In early May, wildflowers spread over the forest floor before trees leaf out and shade the forest. These perennial plants bloom quickly before turning to seed. Then their leaves wither, leaving only roots and underground bulbs. Early season flowers serve an important ecological role by providing pollinators, like bumblebees, with their first nectar. They're easy to find if you know where to look. Their colored blossoms brighten the forest floor which, at this time of year, is mostly brown, dead leaves.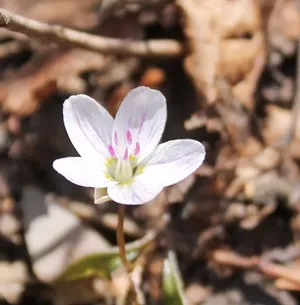 Gabriela Stanciu
Carolina spring-beauty
It's delightful to encounter a sprinkling of color — like this pink and white
Carolina spring-beauty
— during a woodsy wander.
Here are a few other wildflowers to look out for:
• The bright yellow
trout lily
, with its flouncy petals, is fun to find. Look for slender green leaves with pale brown spots — much like this flower's fishy namesake.
•
Marsh marigold
— another brilliant gold blossom — can be spotted in swamps, wetlands or along damp roadsides.
•
Coltsfoot
has dime-sized gold flowers that bloom before its leaves emerge. Look for these bright flowers along roadsides or at the edges of parking lots.
•
Painted trillium
— a striking three-petaled flower with a red center — are prolific in the woods. The
red trillium
is also known as a wake robin; its red color signals spring like a red-breasted robin. Keep your eyes open for
large white trillium
, too.
•
Jack-in-the-pulpit
is an unusually shaped plant. Its green-and-purple-striped hooded tube hides beneath three leaves. Inside the tube stands Jack — the preacher in his pulpit. Remember where you spy this plant. In late summer, a cluster of red berries appears where the flower once bloomed.
Don't pick ephemerals. Bring a pad and pencil and find a comfy spot in the woods for a sketching session. Or snap a photo and make a pretty painting of wildflowers when you get home!
For more information about wildflowers, visit the Green Mountain Club website.