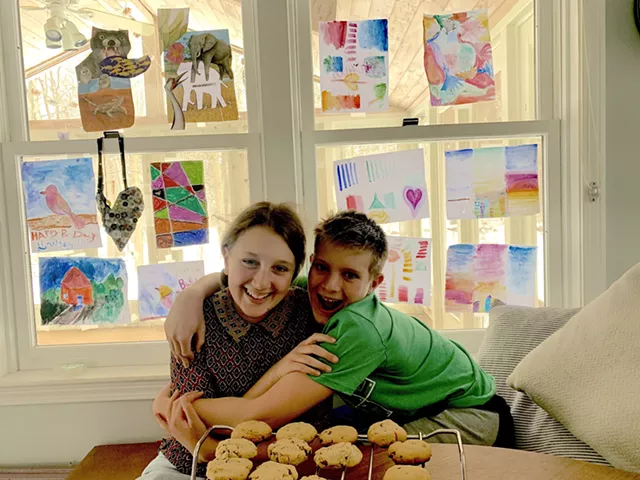 Alison Novak
Mira and Theo with the fruits of their labor
Everyday, my family and I have been trying to do small things that bring us comfort, amidst the stressful and uncertain environment we find ourselves in. Long walks in the woods are one way that we're finding temporary relaxation. Baking is another.
My 12-year-old daughter, Mira, has always loved to experiment in the kitchen, but the frequency of her culinary exploration has increased in the past week or so. She's also graciously welcomed the help of her 10-year-old brother, Theo. These team baking projects provide some time for my husband and I to get work done (and, hey, measuring ingredients counts as a math lesson, right?).
Chocolate chip cookies are one of those classic comfort foods, especially when eaten warm, right out of the oven. Some of our favorite chocolate chip cookie recipes are
this one
, with lots and lots of butter, from Savannah, Georgia-based
Back in the Day Bakery
and
this one
(secret ingredient: shredded coconut), which comes from the wonderful graphic memoir,
Relish
by Center for Cartoon Studies graduate
Lucy Knisley
. Knisley also penned
Kid Gloves: Nine Months of Careful Chaos
, a graphic memoir about her pregnancy, which
we wrote about last year
. If your local bookstore or library is doing curbside pickup, I highly recommend both of these books.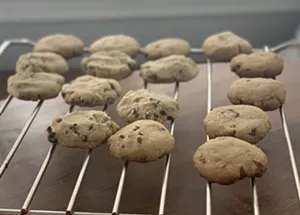 If you're looking for resources to extend your kid's learning, Mira and I found these videos and articles interesting:
Read: An interview with test kitchen baker Jocelyn of Norwich-based King Arthur Flour about how different ingredients and bake time affect your finished chocolate chip cookie.
Read and discuss together: An article from the New Yorker about the history of the chocolate chip cookie. "In a single inexpensive hand-held serving, it contained the very richness and comfort that millions of people were forced to live without in the late nineteen-thirties," the piece states. "Ingesting a warm chocolate-chip cookie offered the eaters a brief respite from their quotidian woe." Sounds like advice worth heeding in our current turbulent times.