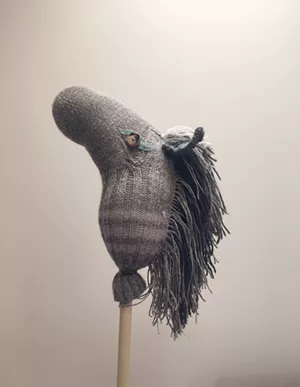 Elisa Järnefelt
The finished hobby horse
If you're looking for a craft project that uses household objects,
Kids Vermont
contributor Elisa Järnefelt has a fun idea. Below, find her visual directions for how to make a hobby horse — a classic toy that kids have been using to gallop around their homes and yards for hundreds of years. All you'll need is a wooden dowel, an old sock, yarn, felt, buttons and some soft material for stuffing. Järnefelt sewed on the horse's button eyes and used a crochet hook to create the mane. However, she says, the eyes can be easily affixed using a hot glue gun. The process of attaching the mane can be simplified by using a needle to pull yarn through the sock (see third drawing). Happy crafting... and y
ee haw!
Directions for making attaching the yarn mane: