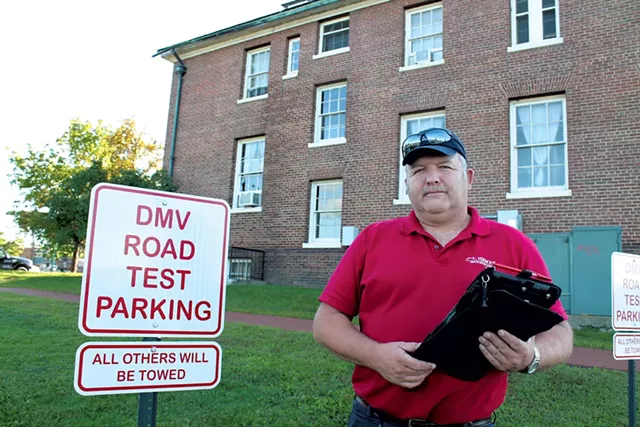 Name: Robert Brewster Jr.
Town: Newport
Job: DMV licensing examiner
Just over a hundred years ago, in 1913, the State of Vermont registered 4,538 vehicles. That was an average of one vehicle for every 78 people. Just three years later, the number quadrupled to 16,000 registrations and 19,000 licensed drivers. Back then, law enforcement officers served as the licensing examiners. Today, Vermont's Department of Motor Vehicles oversees the licensing and registration of more than half a million drivers. Aspiring vehicle operators must pass both a written exam and a road exam administered by a DMV examiner.
First-time or reapplying drivers taking the test in the Newport and St. Johnsbury DMV offices — the only ones in the Northeast Kingdom — are likely to find Robert Brewster Jr. in their passenger seat. As one of the state's seven full-time examiners, Brewster handles the written and vehicle tests in Newport four days a week. On Thursdays, he evaluates drivers for motorcycle and commercial driver's licenses in St. Johnsbury.
The 56-year-old examiner remembers riding along with his grandmother, a postal carrier, on her twice-a-day mail route between Craftsbury and Hardwick. Later, he learned to drive by practicing in the fields and sand pits of Orleans County. Brewster worked as a technician-mechanic for the Vermont National Guard for 15 years, followed by six years of driving a school bus. For the past four, he's been belting himself into the cars of wannabe licensees.
On a busy day, Brewster says, he'll evaluate 11 road tests in the morning — "if everyone shows up." On the day he meets with this reporter, he's administered five written tests (two failed) and nine road tests (one failed).
Surprisingly, Brewster admits to having acute test anxiety himself. In a testing situation, he says, he's liable to forget his own name. The empathetic but strictly professional examiner went for a spin with Seven Days and spoke about what it's like to get in a car with total strangers.
SEVEN DAYS: Have you ever instantly failed someone?
ROBERT BREWSTER: If I get in a car and the windshield is broken, or there's a hole in the tire and you can see through to the cords, or there's no exhaust, yeah, the test is over.
SD: What's the craziest car interior you've experienced?
RB: [Chuckles.] Chickens. [The car owners] had live chickens they took out of the vehicle just before the test.
SD: What's the most exciting car you've been in?
RB: A 1969 Olds 442 convertible with the top down.
SD: Has anyone tried to cheat on their test?
RB: They can ask me anything they want before the [road] test, but once the test is under way, I cannot answer anything. Also, I do not inform them if they've passed or failed the test until we're back in the parking lot. At which point, I have had bribes; I've been propositioned.
SD: What's the most common error?
RB: Not looking over your shoulders for your blind spots.
SD: Has anyone ever aced this with a perfect score?
RB: About four to six times a year, someone gets a perfect score.
SD: Have you ever been in an accident with a driver during the exam?
RB: Test drivers have hit other cars, light poles, telephone poles ... People ask me how I can do it. I don't know. I never was a good backseat driver. All I can say is, you shake it off, you get out of that car and into the next one. The best way to explain it is: It's my job.
SD: Have any of your testers exhibited road rage?
RB: I've experienced road rage from the public — in response to a testing driver who is doing a turnaround or backing into a parallel parking space. They'll be tooting the horn or yelling. I want people to know, if you are driving in a town that has a DMV, please think before you react.
SD: What's the most counterintuitive thing about taking the test?
RB: Well, a lot of times people are so nervous, they think they're going to fail. They're so nerved up, they give up. You can only fail the test three times; then you have to wait a month before you can take it again. I had someone who took the test six times.
But this past summer, I had the most amazing teenager. Her mom told her to use her nervousness as a tool to pay attention and do things right. And she did. She channeled her nervousness into intense concentration.
I had another guy who failed the test, and I found out he was a wrestler. So, when he took it again, I said, "Think of this as a competition where you are going to beat the other guy," and that made such a difference.
SD: Are you afraid driverless cars are going to make your job obsolete?
RB: Well, somebody in the car has to have a license, right? It kinda seems like a space-age thing that's not gonna happen yet. I guess I'm too old to be bothered by it.