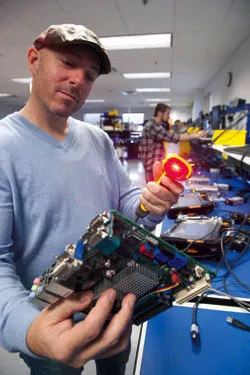 Matthew Thorsen
Scott Aguiar
Thirty-seven percent: That's how much Logic Supply, a computer manufacturer based in South Burlington, plans to save on health insurance next year.
It's a strikingly different narrative than the doom-and-gloom story playing out for other employers. No health exchange maze to navigate. No benefit changes to parse. That's because Logic Supply is choosing an unusual path for a company its size: It's "self-insuring," which means Logic Supply and its employees, instead of a traditional insurance company, will pay the health care expenses of the 46 full-time employees.
"Personally, I will save $168 a month" on premiums, says Logic Supply human resources director Mark Heyman, who insures himself and his family through Logic. A zero rate increase would have been a pleasant surprise in the world of health insurance, Heyman says. Thirty-seven percent is practically unheard-of.
Not having to purchase insurance through an outside firm will save Logic Supply — a company that shares profits with workers — $100,000 next year. Benefits will largely stay the same, and where they change, they'll change for the better, company officials say. Employer contributions to employee health savings accounts will double. What's left will go straight to Logic Supply's bottom line.
Self-insuring isn't a revolutionary concept. Nor is it particularly unusual — for larger companies. According to the Self-Insurance Institute of America, an estimated 50 million workers and their families receive benefits through self-insured group health plans sponsored by their employers.
In fact, many of those employees may not even realize that their companies self-insure; the plans and benefits are often administered by other insurance companies — Cigna, in Logic Supply's case — and closely resemble plans in the traditional insurance marketplace. Logic Supply's broker, Tim Cope of Fleischer Jacobs Group, says employees often don't care how claims get paid, just that they do.
But the concept of self-insurance is making headlines now, as some politicians — notably, former New York governor George Pataki — label it an "escape hatch" from Obamacare. Pataki, in an op-ed published in the New York Post last week, called out the White House for "leading the charge to close what it calls the 'self-insurance loophole.'"
"The administration and its allies fear that the more people gravitate toward the successful, free-market self-insurance approach, the worse their government-engineered health 'reform,' will look," Pataki wrote.
If Logic Supply hadn't chosen to go self-insured next year, the company's employees would have purchased insurance on the Vermont Health Connect exchange, as mandated by state law. Heyman says his firm's choice wasn't motivated by an urge to dodge Obamacare or the Vermont exchange. But after recent headlines about website glitches, he says he's glad he's in a position to say, "I support the health care reform, but we don't have to deal with the technical problems. I get to have my cake and eat it, too."
Logic Supply operates from a spare gray cube of a building, built in 2007, off Route 116. It is set to break ground on an addition that will more than double the company's space next spring. Logic Supply manufacturers rugged computers for harsh environments — think dusty factory floors, mining machinery and sea-going vessels. The company grew rapidly from three employees in 2004 to 46 as of last week. By February, when a few more vacant positions are filled, it should crack 50, Heyman predicts.
How will self-insurance work? The company and its employees will make monthly payments not unlike the insurance premiums they now pay for their Blue Cross Blue Shield of Vermont plan. A portion of that pool of money goes to pay the bills if an employee has a baby, or needs surgery, or just heads to the doctor for a cold.
Another portion finances what's called "stop loss" insurance, which functions like catastrophic insurance if a company's claims exceed a certain amount.
Self-insurance makes sense for Logic Supply in large part because of demographics. "You have to have enough employees to spread the risk," says Cope — and they have to be a reasonably healthy group.
Logic Supply officials say that self-funding won't influence their hiring decisions; discriminating based on age or health would be illegal, Heyman says. More importantly, it would also run counter to Logic Supply's company culture.
"It just so happens … that we've got a lot of young'uns running around," Heyman says. That makes the company an attractive bet for larger insurance companies that administer self-insured plans. Logic Supply's generally young and healthy workforce brings lower risk and, thus, lower rates.
But demographics aren't everything. At least one of those Logic Supply "young'uns" is expecting a baby in the next year, and, on the flip side, the company hires plenty of mid-career professionals. Heyman adds, "Anybody can have needs or medical issues."
That self-insurance is especially attractive for companies with younger, healthier workers has some experts worried. The Center for American Progress warned in June that small businesses opting to self-insure could increase insurance premiums for the small-group market by taking those young, healthy workers out of the larger insurance pool. A top lawyer to the Montana insurance commissioner told the New York Times earlier this year that stop-loss plans are free to reject less healthy groups because they aren't subject to the same regulations as commercial insurers.
In its position paper, the Center for American Progress also pointed out that because self-insurance plans aren't required to provide the same level of benefits as the federal health care law mandates, some employers could look to self-funded plans as a way to skirt the new regulations.
Of course, there's a certain degree of risk for self-insured companies, even if their workforces are fairly healthy. A few expensive medical cases — for example, a cancer diagnosis or premature birth — could ratchet up costs dramatically. Stop-loss insurance kicks in at a certain point, but carriers can always raise premiums or decline to renew coverage if a group becomes less attractive from a risk-assessment perspective.
But Heyman points out that insurance costs could fluctuate regardless of whether a company is self-insured or purchasing a plan through a major insurance company.
"I think we've positioned ourselves as well as we can to provide good benefits at a great cost," Heyman says. "Next year, if rates skyrocket, we'll be out looking for something [different]."
Employees at Logic Supply aren't raising many concerns. Heyman says most questions run along the lines of, "Hey, are my benefits going to change?" The answer — no — is what many care about most.
"I can't see a downside to this in any direction," says operations manager Scott Aguiar. "It's a win-win all the way around."
Aguiar snags a Granny Smith apple and steps away from his standing desk station in Logic Supply's computer production room.
"It's fun to give great news like this to the team, especially in a time like this when there are some scary stories out there," he says. "We're sitting pretty."
Will more companies follow in Logic Supply's footsteps? That depends.
"I don't think there's going to be a mad gold rush here, because I don't think everybody knows about it," says Cope.